Every four years, the Special Olympics USA Games provide an opportunity for athletes to compete at the national level in summer sports. The 2022 USA Games were held in Orlando, Fla. The 2026 USA Games will be in Minneapolis, Minn., June 20-26, 2026.
To qualify for Team MO Magic, individuals need to receive a gold medal in their sport of choice during the year prior to selection camp, attend selection camp, and be selected to Team Missouri. For more information, contact Susan Shaffer at shaffer@somo.org.
2026 USA Games Information
Applications will be available in the Fall of 2024. We will accept applications from athletes, Unified partners, coaches and volunteers. To qualify, athletes and Unified partners must earn a gold medal in their respective individual or team* sport at one of the following state competitions: 2024 State Outdoor Games, 2025 State Indoor Games, 2025 State Pickleball Tournament or 2025 State Summer Games.
*Team sports have to qualify and apply as a team.
Here is a list of the available sports to apply for (subject to change): basketball, cheer, flag football, softball, volleyball, track and field (athletics), bocce, bowling, golf, pickleball, powerlifting, swimming and tennis.

2022 Special Olympics USA Games Recap
Date: June 5-12, 2022
Location: Orlando, Fla.
SOMO brought 77 athletes, 24 coaches/sports managers, 17 unified partners and 8 staff members to the 2022 USA Games in Orlando!
In total – Team Missouri brought home 71 medals in nine different sports!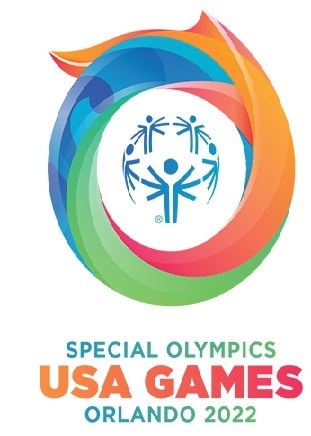 2022 Team sports:
Basketball (Women's) 3-on-3 -- two teams
Flag Football (Unified) -- two teams
2022 Individual sports:
Athletics
Bocce
Bowling
Golf (Levels 1: female only; Levels 2-3: male only)
Powerlifting
Swimming
Tennis (1 female spot; 1 male spot; 1 female Unified Partner spot)
Every four years, Special Olympics conducts a national summer games in the United States that includes athletes from all 52 US Programs.
The 2022 Special Olympics USA Games brought 3,500 athletes to the greater Orlando area to compete in a variety of sports at the ESPN Wide World of Sports Complex.