The Impact of Young Athletes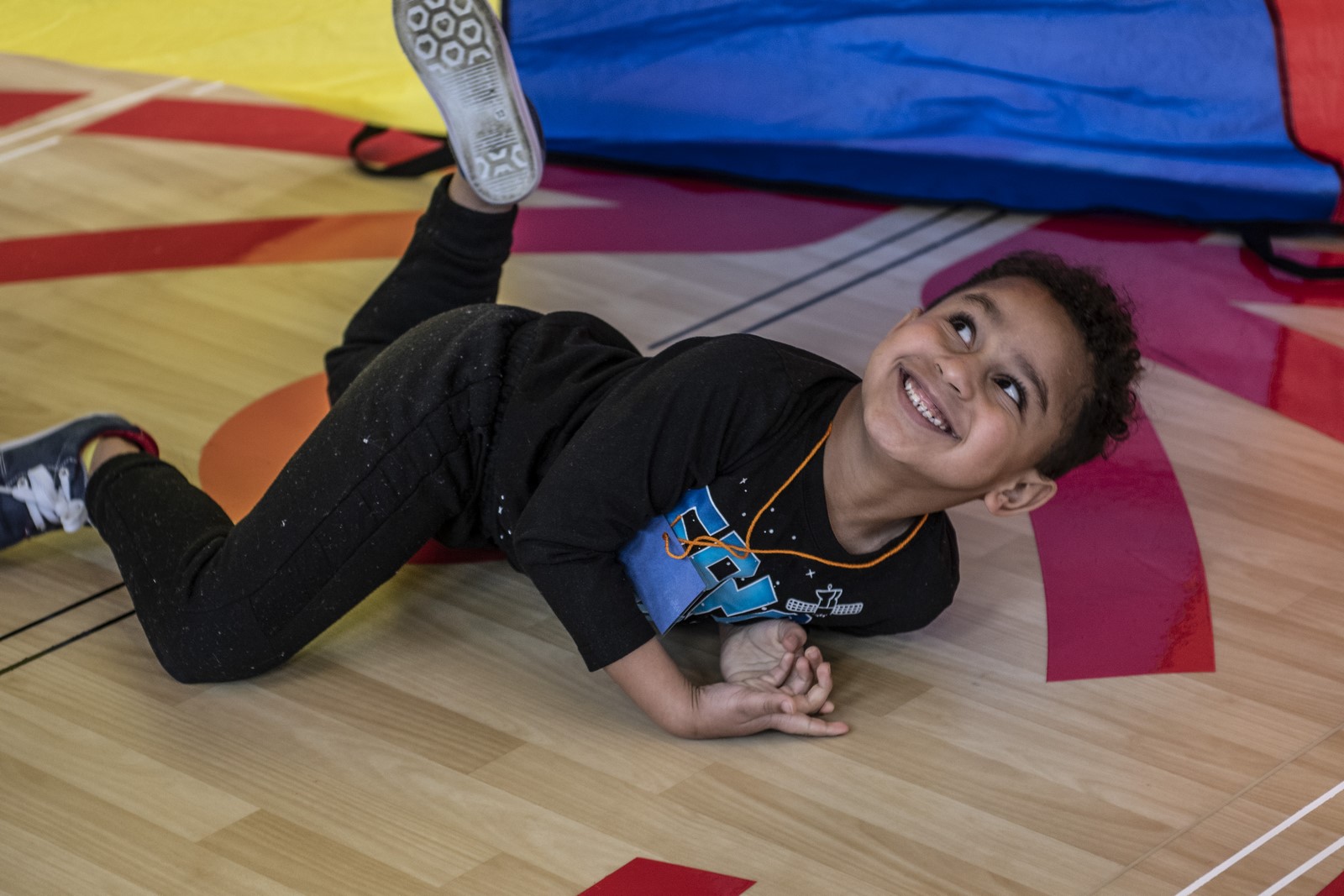 Editor's note: This session of Young Athletes concluded in early May 2019. On May 22, an EF3 tornado tore through Jefferson City, destroying our athletic field and damaging the roof and most interior spaces at the Training for Life Campus. The campus is now closed for extensive repairs which are expected to take many months to complete. Visit www.somocampus.org for updates on the #SOMORebuild.
In early 2007, Special Olympics created the Young AthletesTM program to reach out to children ages 2 to 7, with intellectual disabilities, and to welcome them and their families to the Special Olympics movement.
For the past several months, students from Southwest Early Childhood Center in Jefferson City have been coming to the Training for Life Campus to participate in the Special Olympics Missouri Young Athletes program. Southwest Early Childhood Center provides special education programs to assist children ages 3 to 5 with disabilities and developmental delays.
Sarah Wilding, principal of Southwest Early Childhood Center, said they partnered with Special Olympics Missouri in 2010 in conjunction with the Torch Run. At that event, they participated in a one-day program on the front lawn of the capitol – it was called Young Athletes.
Young Athletes introduces basic sport skills, such as running, kicking and throwing. The program offers families, teachers, caregivers and people from the community the chance to share the joy of sports with all children.
"It was such a wonderful experience for our children to engage in the physical and social activities," Wilding said.
"Our partnership with Special Olympics is important because it lets families know that Special Olympics exists and it gets kids and families comfortable with the facilities here so that as they get older maybe they will participate in some of the Special Olympics games and the different opportunities that they have," said Lisa Wieberg, a teacher at Southwest Early Childhood Center.
With the opening of the Training for Life Campus in Jefferson City in September 2018, Special Olympics Missouri has been able to provide more services and resources, and host more programs for our athletes, such as Young Athletes. This facility is the first of its kind in the world, with the purpose of enriching the lives of athletes with intellectual disabilities through sport, health and leadership opportunities. It was built to inspire a new drive in our athletes so that they may continue to develop their physical and social skills.
"It's a place we didn't have before, where kids can come and where things are modified and there are accommodations made so that they can participate in activities that they may not be able to do at other places in our community," Wieberg said.
Wilding said, "When Special Olympics opened their training center…we actually really jumped at the chance to partner with Special Olympics because it's such an amazing program and such an amazing facility."
Young Athletes provides children with activities and games that meet their individual skill and ability levels, while allowing them to play together in a fun and inclusive environment. The program shows that all children should be valued for their talents and abilities.
"It's an opportunity for our children to come out and participate in the physical development activities, to practice their language skills, their social skills, to those taking-turns things that are so important," Wilding said. "But it's not just the kids that are gaining from this, if you look at the smiling faces on these adults, they're having fun with the children, they're practicing skills in a real life meaningful way."
Through Young Athletes, volunteers introduce young children to the world of sport, with the goal of preparing them for Special Olympics Missouri sports training and competition at age 8.
"For a lot of our families this is an opportunity for them to get to know the broad range of services that are available through Special Olympics because for some of our families this will be a lifelong relationship with Special Olympics," Wilding said. "It's really a great opportunity for our children and our families to get out in the community and know what's available for them."
The program focuses on the basics that are crucial to cognitive development: physical activities that develop motor skills and hand-eye coordination, and the application of these physical skills through sports skills programs.
"My daughter Deandra Mckaye has been attending the Special Olympics Young Athletes program for over a month now and it has been great with her development because she has had some physical challenges in the past and so this program has really helped her to overcome those challenges," said Dianna Mckaye, parent of a young athlete.
Children learn how to play with others and develop important skills for learning. Children also learn to share, take turns and follow directions. These skills help children in family, community and school activities.
"I very much appreciate the opportunity for him to come and get to play and participate in sports," said Heather Heidbreder, parent of a young athlete. "He has a hard time with language skills and listening to directions, so having an adaptive program like this where he can play with his peers and participate in team sports, it means the world to us. I am just very happy that we have this facility here and that my son is able to participate in these sports and I hope that we continue to have these opportunities available for other children like my son so that they can learn what it's like to be in sports."
Torrence Malone, parent of a young athlete, said Young Athletes is a fun way for children to get fit. He said it is important to teach children healthy habits while they are young.
"The Young Athletes program has helped my son Carter build teamwork with other children and learn how to be a teammate," said Malone. "I believe it's a great program because if it wasn't for the Special Olympics Young Athletes program, some of these kids probably wouldn't even be active."
Special Olympics Missouri served more than 1,450 young athletes in 2018. For many of their families, this is their first introduction to the resources and support Special Olympics offers for children (and adults) with intellectual disabilities.
"Special Olympics is really here as a resource," said Susan Shaffer, Program and Outreach Director for Special Olympics Missouri. "At an early age, we have so much that we can offer them to see what their child can do. Special Olympics is a lifelong (partnership), from sports to our leadership program, these are the things we can start when they are young. I really want the parents to know that it's through sports that behaviors change, they become stars. I want the parents that come into the building to know that we are here for them to help them and not just in Special Olympics, but in life."
Through Young Athletes, all children, their families and people in the community can be a part of building an inclusive team together.
Young Athletes helps lead children into a bright new world of sports and social skills — one full of pride and possibility.
Mckaye said, "I think this is a very good program for children with special needs. I would recommend this program to anybody and everybody."