SURPRISE VIDEO: Special Olympics Missouri athlete nominated to compete at 2023 Special Olympics World Games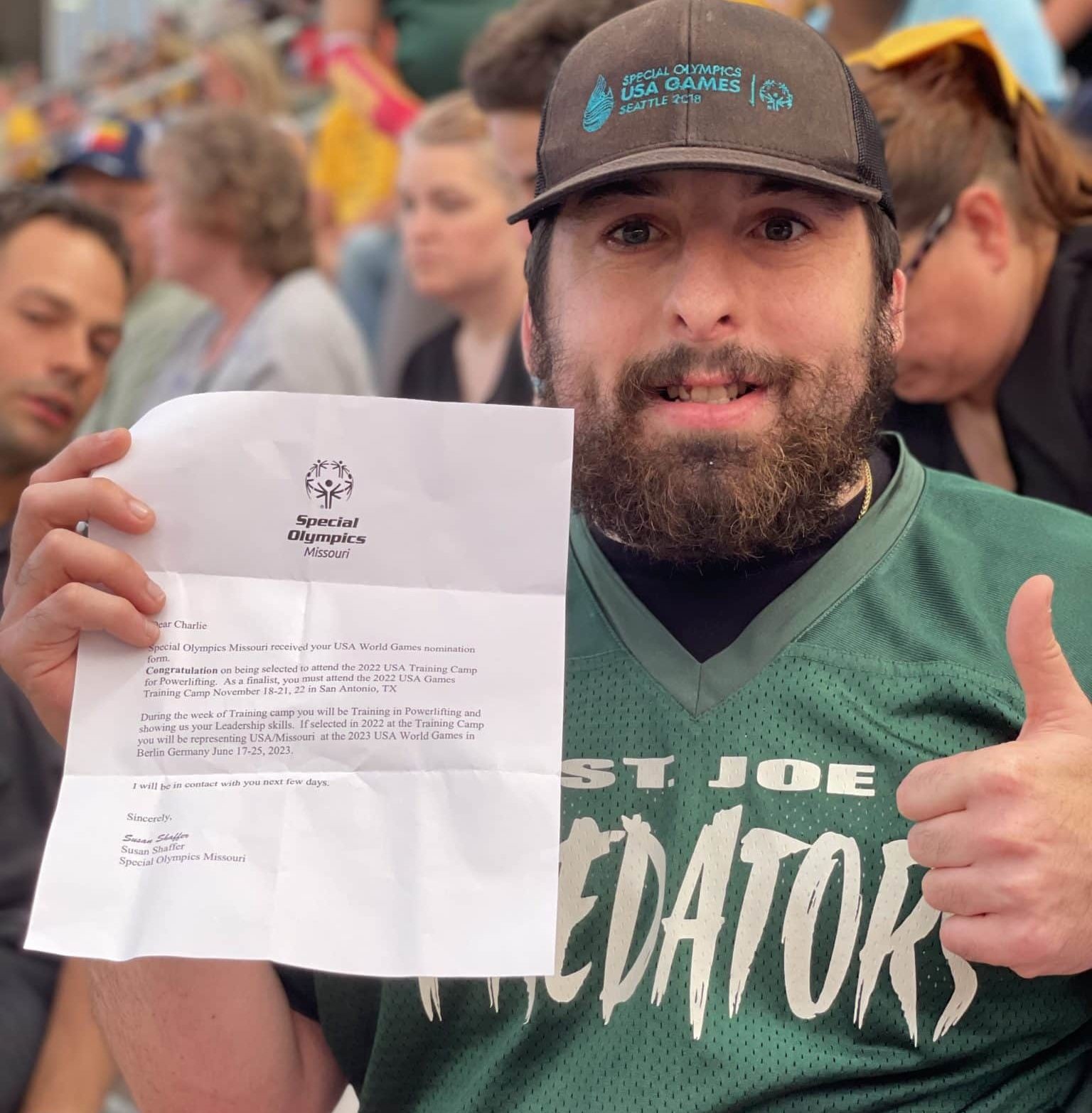 ST. JOSEPH, Mo. – Special Olympics Missouri (SOMO) is very excited to announce longtime athlete Charlie Phillips has been nominated to represent Special Olympics Missouri and Special Olympics USA at the 2023 Special Olympics World Games in Berlin, Germany.  
Before he's officially selected to compete for Special Olympics USA, he will have to complete Special Olympics USA Team Trials in San Antonio, Texas this November. He is the only SOMO athlete to be nominated for the 2023 Special Olympics World Games.
Charlie learned about this amazing honor at the Missouri Western State University football game on Thursday night. You can watch the emotional surprise announcement during the first quarter break in the video below.
"It's tears of joy, and I can't believe I got nominated by wonderful people who I call my Special Olympics family," Phillips said after the announcement. "I just can't wait to go to the next level. Right now, I'm so excited. I just can't wait to call everyone and tell them I'm going to camp!"
Charlie is 25 years old, and he's already accomplished so much in his Special Olympics career. Charlie grew up in central Pennsylvania. He got his start with Special Olympics Pennsylvania (SOPA) almost 15 years ago. In 2010, Charlie participated in his first-ever Special Olympics USA Games as a part of SOPA's track team. Charlie's family ended up moving to Savannah, Mo., and he never skipped a beat. In 2018, Charlie was back at the USA Games as a powerlifter for SOMO. During his career, Charlie has participated in five different sports: basketball, track, soccer, flag football and powerlifting.
The Special Olympics World Games will be held June 17-25 in Berlin, Germany. 7,000 Special Olympics athletes and Unified partners from approximately 170 countries will compete in 24 sports. The athletes will be supported by more than 3,000 coaches and 20,000 volunteers.
The Special Olympics World Games offer the opportunity to unite the world like no other event can. Here people with and without disabilities, people of different nations, cultures, political views and religions meet and can overcome existing prejudices with the power of sport.
Special Olympics Missouri
Special Olympics Missouri is a year-round program of sports training and athletic competition for children and adults with intellectual disabilities. Thousands of athletes participate in 16 Olympic-type sports throughout the state. Special Olympics provides people with intellectual disabilities continuing opportunities to develop physical fitness, demonstrate courage and experience joy as they participate in the sharing of gifts and friendship with their fellow athletes, their family and friends and communities across Missouri.
Special Olympics Missouri is proud of our financial health returning 78% of every dollar back to program services. We are privileged to be recognized with these honors: Better Business Bureau A+ Charity Accreditation, Charity Navigator 4-star rating and Guidestar Gold Level. Special Olympics was also recently named Morning Consult's No. 4 most trusted nonprofit.
Thank you for trusting us with your donations, volunteer time and your goodwill.
Visit Special Olympics at www.somo.org. Engage with us on Twitter and Facebook.