SOMO athlete works for CBS Sports at PGA TOUR event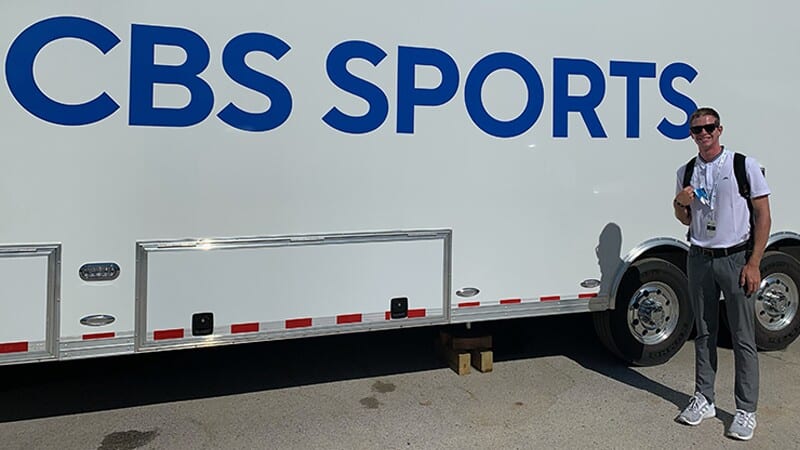 SILVIS, Ill. – Within the sports television industry, golf is widely considered to be one of the most difficult sports to put on the air.
It takes a complete team effort to produce a broadcast. Camera operators, audio specialists, video tape personnel, graphics artists, truck engineers, spotters, utilities, and caterers work together with a full production crew and announcers to create some television magic.
This past Fourth of July holiday weekend, Thomas Cleek—a Special Olympics Missouri golfer—contributed to the magic of the Emmy Award-winning CBS Sports team's production of the John Deere Classic in Silvis, Illinois.
The 22-year-old Columbia, Missouri, native says golf is in his DNA and rightfully so. Thomas has participated in several Special Olympics golf events, including the 2018 USA Games in Seattle where he finished in fourth overall and the 2022 Brightspot Unified Golf Challenge at the Wells Fargo Championship in the Washington, DC metropolitan area where he was named the best all-around golfer in the Ryder Cup-style event.
At the John Deere Classic, Thomas worked as a spotter under associate producer Mark Dibbs and head spotter Wayne Richardson.
"I had a radio headset on and would be assigned a group to walk the course with each morning. I would then relay information like the playing order of the group, club selection, what shot it was for each player and the yardage to the hole," Thomas said. "This information would go to Mark and Wayne in the CBS truck who would then take it and distribute it to the graphics team and the announcers."
Thomas' role was pivotal to the overall success of the broadcast, as the information he was able to obtain by communicating closely with tournament volunteers, players and caddies ultimately helped to better inform the viewers at home.
"It was just an unreal experience to work a PGA TOUR event," Thomas said. "Getting to be a member of the CBS Sports team and interacting with the world's greatest golfers was an experience I'll never forget."
Thomas is a regular viewer of CBS' golf coverage and considers them the "gold standard" when it comes to broadcasting the sport.
"It was awesome to see what it feels like to work for a world-class company," Thomas said. "Working with some of the most outstanding professionals within golf television like Mark Dibbs and Wayne Richardson was awesome. Everyone was incredibly welcoming to me, and I really appreciated their guidance over the course of the tournament."
No doubt, Thomas' job wasn't easy. Working outside in high temperatures and humidity for elongated periods of time presents its challenges and being tasked with a critical role for the broadcast adds some extra pressure. But for Thomas, it was an opportunity of a lifetime.
"I mean, come on, I got to work for CBS Sports at a PGA TOUR event," he exclaimed. "It's an opportunity I'll never forget."
Editor's note: This story was originally posted on specialolympics.org