SPECIAL OLYMPICS MISSOURI ATHLETE INDUCTED INTO THE ST. JOSEPH AREA SPORTS HALL OF FAME
The first-ever St Joseph Area Sports Hall of Fame class was inducted by the St. Joseph sports commission Sunday, September 19, 2021.
Mike Grossman, of St. Joseph, Mo., was one of the 10 influential and decorated sports figures inducted into the St. Joseph Area Sports Hall of Fame. Grossman was chosen to receive this incredible honor based on his dedication to Special Olympics Missouri and his accomplishments within the organization.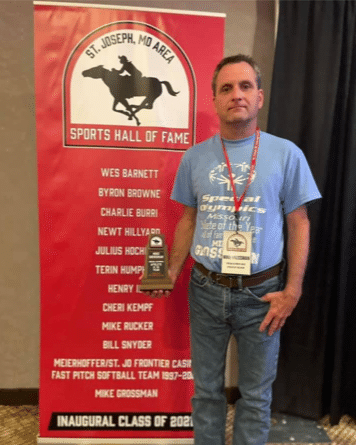 Mike Grossman is not only a supreme sportsman, he is a supreme human being. Mike has participated in several sports over the years, such as bowling, softball, track and field, and basketball. During his many competitions, he brought home several medals in his multiple sports, but he is best known for his participation in track and field. In 1999, Mike was selected to attend the 1999 Special Olympics World Games, in North Carolina, as part of Team Missouri to compete in track and field. He brought home a fourth place award, a Bronze medal and a Gold medal. After 35 years in SOMO, Grossman is still just as active as ever. He has never let what might be a physical or mental challenge stop him from what he wants to do. Mike still competes in Track and Field today. As he has gotten older, he decided to hang up his softball cleats and become an assistant coach with his mom to which they coach the St. Joseph Sluggers Special Olympics team. Mike's love for Special Olympics does not stop on the playing fields. He's never far from a fundraising event to help doing whatever is needed. Grossman is the essence of what Special Olympics is all about.
The St. Joseph, Missouri Area Sports Hall of Fame, owned by the St. Joseph Sports Commission, strives to recognize those individuals, teams, entities or significant feats/accomplishments that have made a significant impact on sports history in the St. Joseph region.
"We are extremely excited and grateful for this opportunity to recognize our Hall of Fame inductee alongside other great Missouri sports figures," says Susan Stegeman, SOMO President and CEO. "And we're proud that the St. Joseph Area Sports Hall of Fame Board of Directors and staff recognize Special Olympics as a true sports organization."