WHAT IS SOMOJO?
SOMO + MOJO = SOMOJO
#SOMOJO4ALL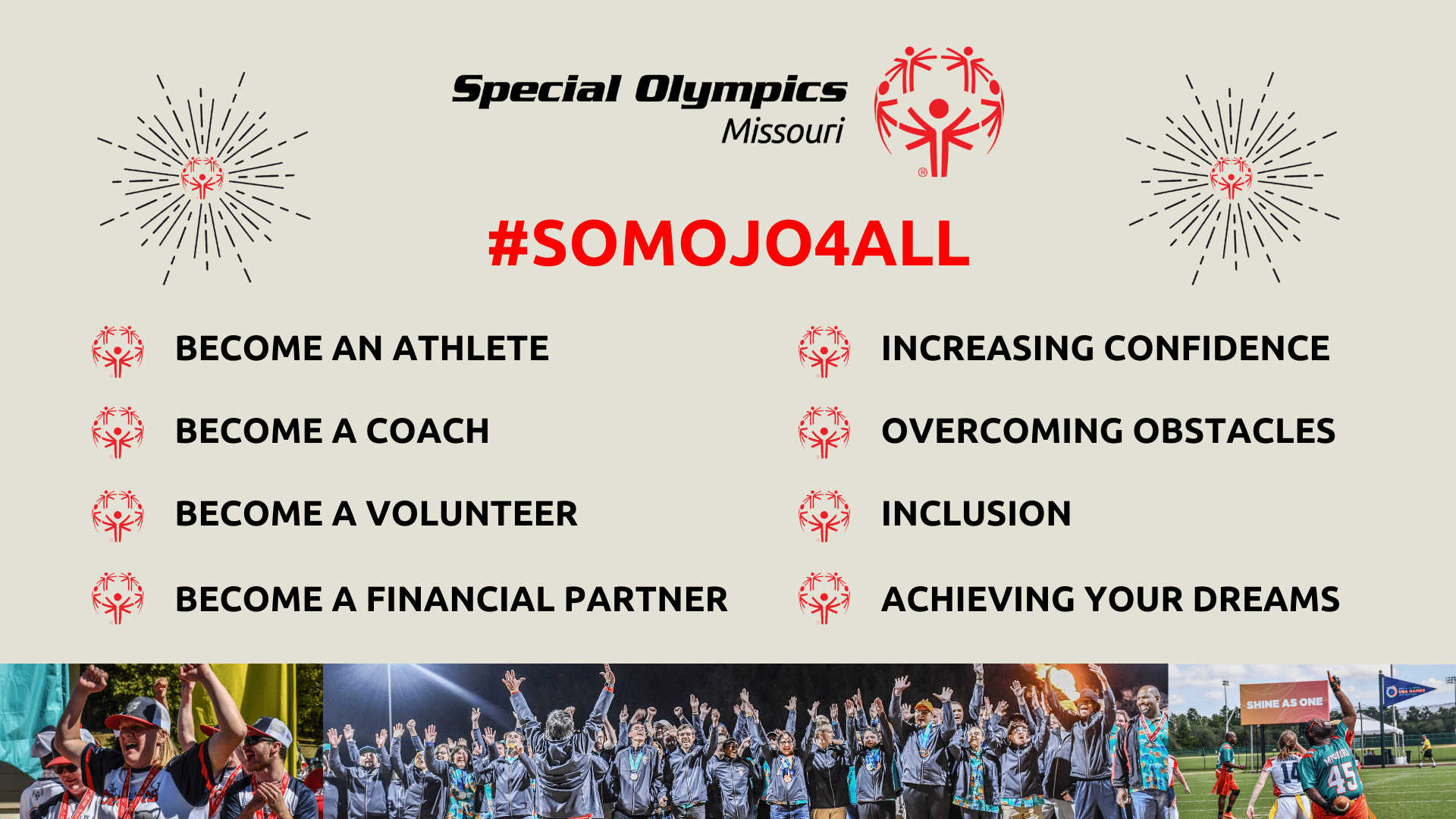 Increasing confidence

Overcoming obstacles

Inclusion

Achieving your dreams
We want you to know Special Olympics Missouri is for EVERYONE!
SOMO reveals the CHAMPION in all of us.
Hear from our Athletes
"SOMO makes me feel happy and joyful because I meet new friends. I feel spirited because I get to play the sports I love."
Emma Michaelsen
SOMO Athlete
"I love helping people learn the sports, and I love making new friends and hanging out with friends."
Daniel Rhoads
SOMO Athlete
"I love SOMO because I get to spend time with my mom doing sports. I have friends and coaches that support me. I get to learn new things and have fun."
Nicole Noblet
SOMO Athlete
Hear from our Staff
"We've all heard the saying 'You can do anything you set your mind to if you just work hard.' Well, I have personally seen that actually happen, and that is from the guidance and support from Special Olympics."
Grace Davis
SOMO Staff Member
"SOMO means a sense of belonging and unity. Athletes, staff, volunteers and friends of SOMO have a way of making everyone feel like they are a part of something bigger - something that can truly make a difference in our own communities. There is not a day that goes by that someone reminds me of how much every one of us matters to each other. The athletes at SOMO are an inspiration to our communities and show us what it means to be empowered to be the best we can be, no matter the circumstances."
Haley Blevins
SOMO Staff Member
"It was my dream to work for the organization that has gave me so many opportunities to do things that I would never been able to accomplish. That has impacted me in every aspect of my life that is possible."
Allen Tobin
SOMO Staff Member and Athlete
"SOMO, to me, has proven the importance of inclusion and pride. Seeing the athletes enjoy what they do and how proud they are to be a part of our organization is what helps me love my job. I'm very lucky to experience it and to continue doing my part so the athletes can further their opportunities."
Mackenna Branch
SOMO Staff Member
"SOMO provides an opportunity for those individuals that get looked over in the regular day-to-day operations. We're all about the athletes!"
Melody Prawitz
SOMO Staff Member
SOMO means inclusion, confidence and joy for EVERYONE!"
Jessica Anderson
SOMO Staff Member
"SOMO – SO Many Options for those with disabilities…acceptance, education, growth, health, inclusion. Making a difference for the athlete and awareness for the community!"
Carol Griffin
SOMO Staff Member
"SOMO means bringing a sense of togetherness regardless of ability or disability to be treated as equals."
Greg Wingrath
SOMO Staff Member
"SOMO is a driving force for unity and inclusion in Missouri. This organization promotes community, connection and growth in leadership skills for people with and without intellectual and developmental disabilities. By participating in SOMO events, I have had the opportunity to experience joy, be courageous, and include others. I would encourage everyone to get connected as an athlete, Unified partner, coach or volunteer because the positive impact you have on SOMO will be reciprocated back through phenomenal relationships and memories."
Emma Thomas
SOMO Staff Member
"Being part of the SOMO team is far and away the highlight of my career. It's so much more than a job for me. Everything we do is for our athletes who inspire me to keep working hard and to keep striving for excellence in everything we do. It's a lot of hard work and sometimes long hours, but it's more than worth it. Because of our athletes, I come to work with purpose and passion every single day."
Luke Lamb
SOMO Staff Member
"I absolutely love being surrounded by high quality people. The emphasis on building confidence in each person is everything that I believe in. I am thankful to be a part of an organization that believes in making a difference for all involved, no matter the role."
Ben Johnson
SOMO Staff Member
"I think everything we do revolves around providing the best possible experience for our athletes. We want to serve as many Missourians with intellectual disabilities as possible but still honor the individual and crossing all the roadblocks it takes to get and keep them engaged - and everyone has a different story of engagement. In my mind, the processes of our program, development and operations team all come back to attaining that goal as efficiently as possible."
Jocelyn Diehl
SOMO Staff Member
"SOMO means opportunity and inclusion, both for our athletes and the wider community."
Meg Ward
SOMO Staff Member