SOMO wows Knights of Columbus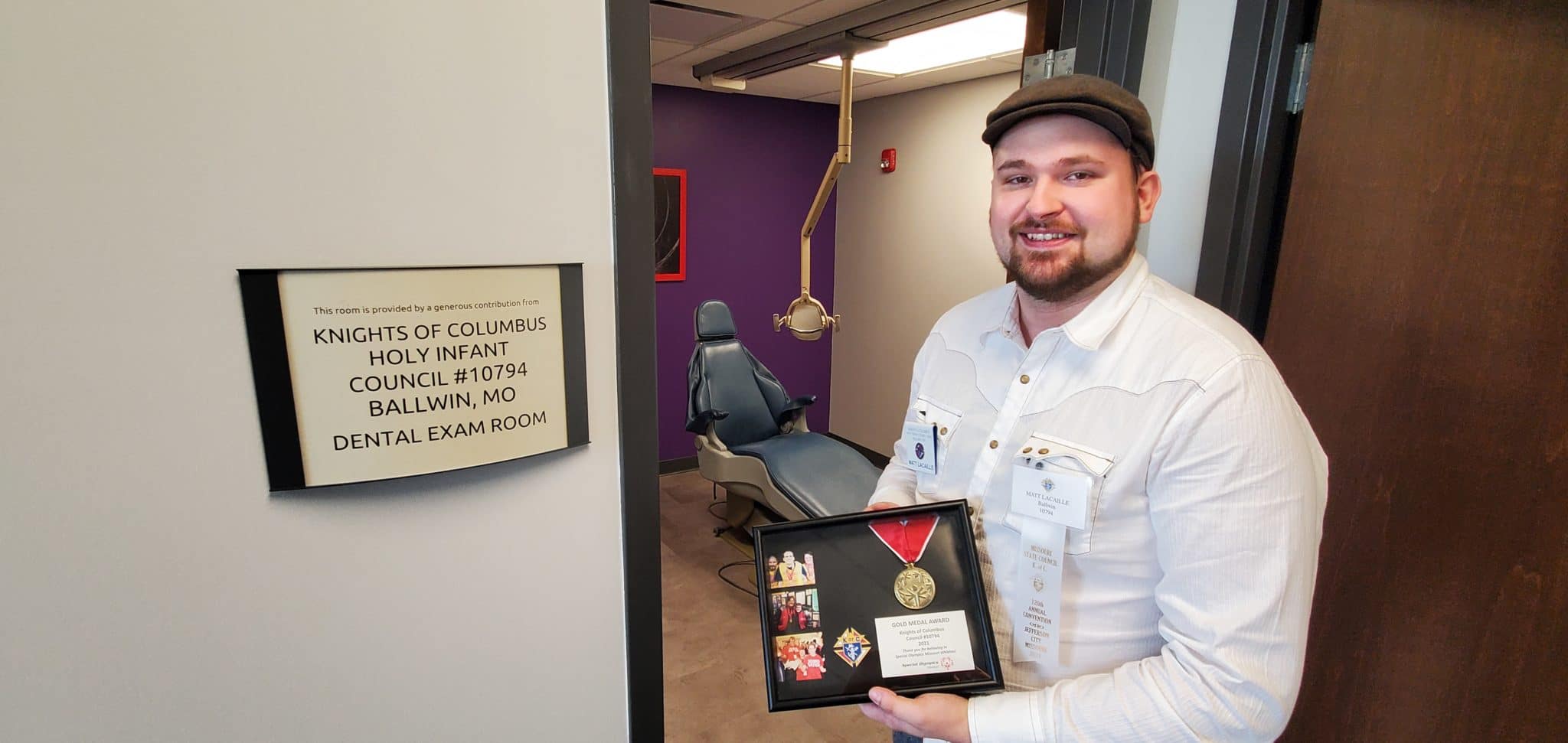 By JODIE JACKSON JR. | Special Olympics Missouri
JEFFERSON CITY – Seeing really was believing for Matt LaCaille and a hundred or so other Knights of Columbus members who recently toured the Special Olympics Missouri Training for Life Campus.
"Forget the notion that you know anything about Special Olympics," LaCaille said after his eye-opening experience. "Spend time here – spend an hour here. It will completely change your perception."
LaCaille, representing Holy Infant Council #10754 in Ballwin, also had an opportunity to see the Healthy Athletes wing of the Training for Life Campus (TLC). His father, Richard LaCaille, spearheaded the Knights' fundraising for the dental exam room.
"This is the first time I got to see the room," Matt said.
The tour of SOMO and the TLC was "optional but highly encouraged" for Knights attending the 120th annual Knights of Columbus Convention in Jefferson City the last weekend of April.
Longtime Special Olympics athlete Beth Brokamp and her mother, Linda Brokamp, who is also a member of the SOMO board of directors, were the first greeters to capture the group's attention. Beth has been a Special Olympics athlete for 35 years. She and Linda introduced visitors to the TLC and recounted the May 2019 tornado that slammed into the building, and then the pandemic that followed in 2020.
"Thank you for the part you played in us having this campus," Linda Brokamp said. "We know that without your commitment, we wouldn't be here."
Beth Brokamp noted that she has participated in numerous athletic endeavors including the softball throw, bowling, standing long jump, and other track and field events. Her mother added, "We are now back to play. So let the games begin."
Visitors went from station to station for a complete tour of the TLC, led by staff, athletes, and volunteers. Derek Sandbothe, athlete leadership assistant and campus host, was the first station after the greeting from the Brokamps. Sandbothe participates in numerous events, including softball, basketball, bocce, and others.
"Our athletes want to be respected. Our athletes want to be accepted," Sandbothe said. "We want to be included."
He added, "I love what I do here. I love the people I work with." Sandbothe said Special Olympics Missouri provides him "a way to give back."
"I've been very, very blessed," he said.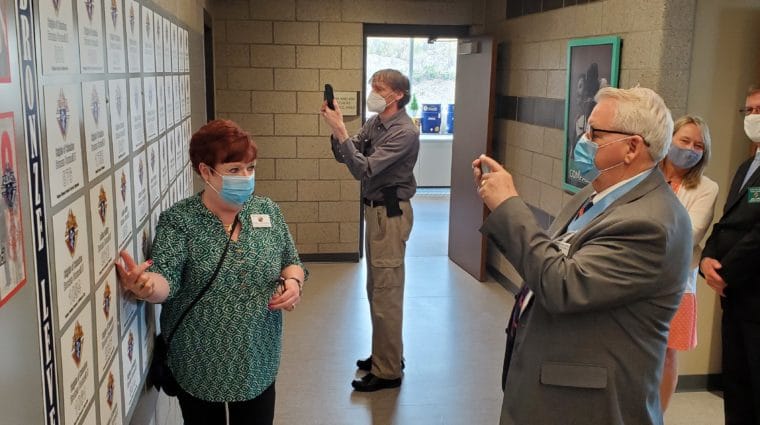 One of those blessings was a mix of emotions and an escape from danger, even if the overall result on the building was devastating. Referring to the May 22, 2019 tornado that slammed into the front of the building and sprayed glass and debris – directly through the front desk where he works – Sandbothe noted that the 10:30 p.m. storm occurred when the building was empty.
Just five hours earlier, as many as 150 people – staff, athletes, volunteers, and coaches – had been in the Training for Life Center.
"It could have been a heckuva lot worse," he explained. Sandbothe recalled the twister and its aftermath while standing in a hallway with walls bedecked with Knights of Columbus plaques.
"You guys are total rock stars," he told the Knights. "We can't thank you enough for what you've done for Special Olympics Missouri."
SOMO Director of Development Brian Neuner explained to guests that Knights of Columbus and the Law Enforcement Torch Run are two of the key organizations that provide volunteers and funds for Special Olympics Missouri. Like the Knights of Columbus, the Law Enforcement Torch Run encompasses the state and has a wall of honor with plaques and photos.
"You have ownership here," Neuner told each group of Knights that rotated to his presentation. "Without the Knights of Columbus and law enforcement, this building would not exist."
He encouraged the Knights to continue their support and to help spread the message about Special Olympics Missouri. While SOMO provides programs and support for some 16,000 individuals with intellectual disabilities, there are around 92,000 other Missourians with intellectual disabilities who are not yet in the SOMO fold.
"You all have already been ambassadors for a long time," Neuner added.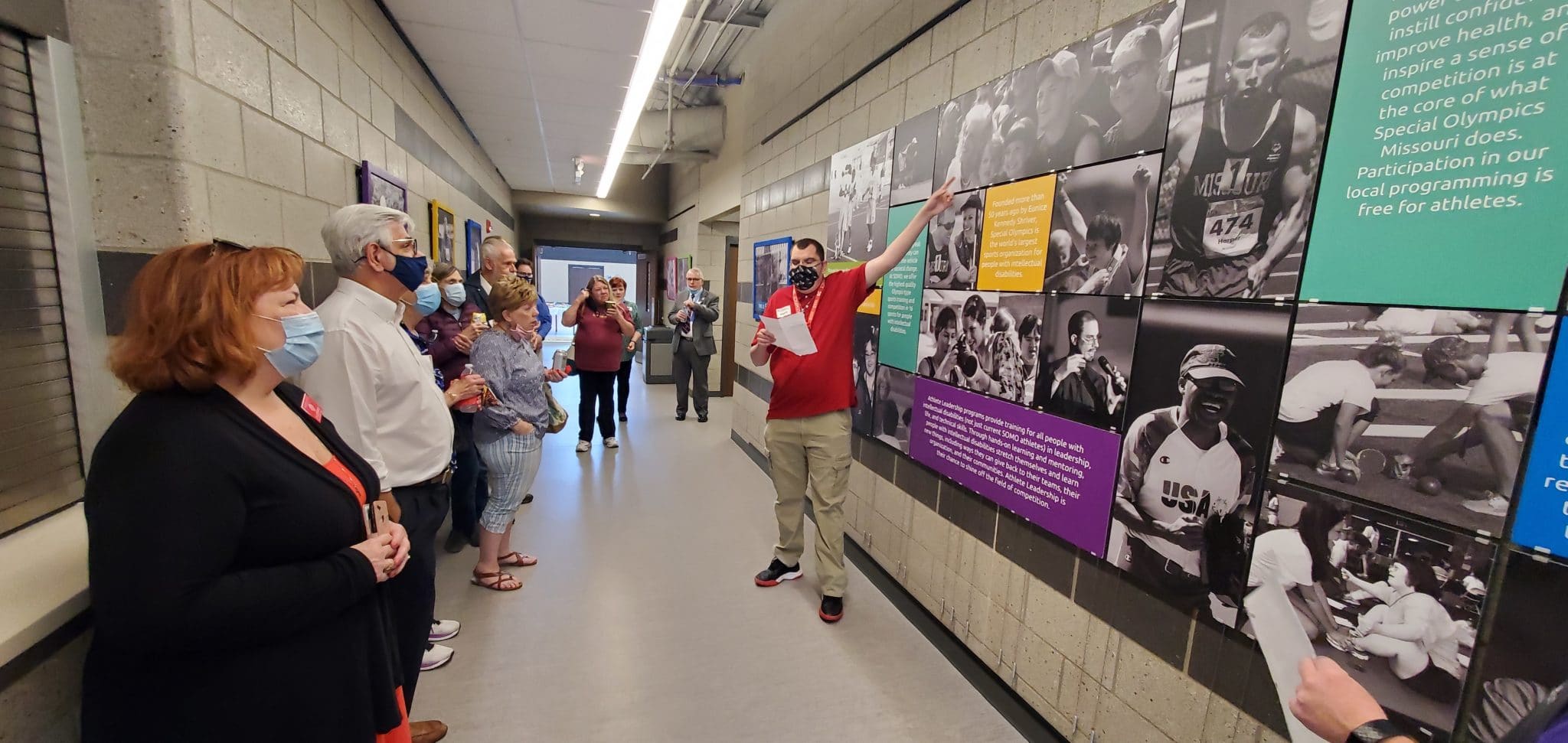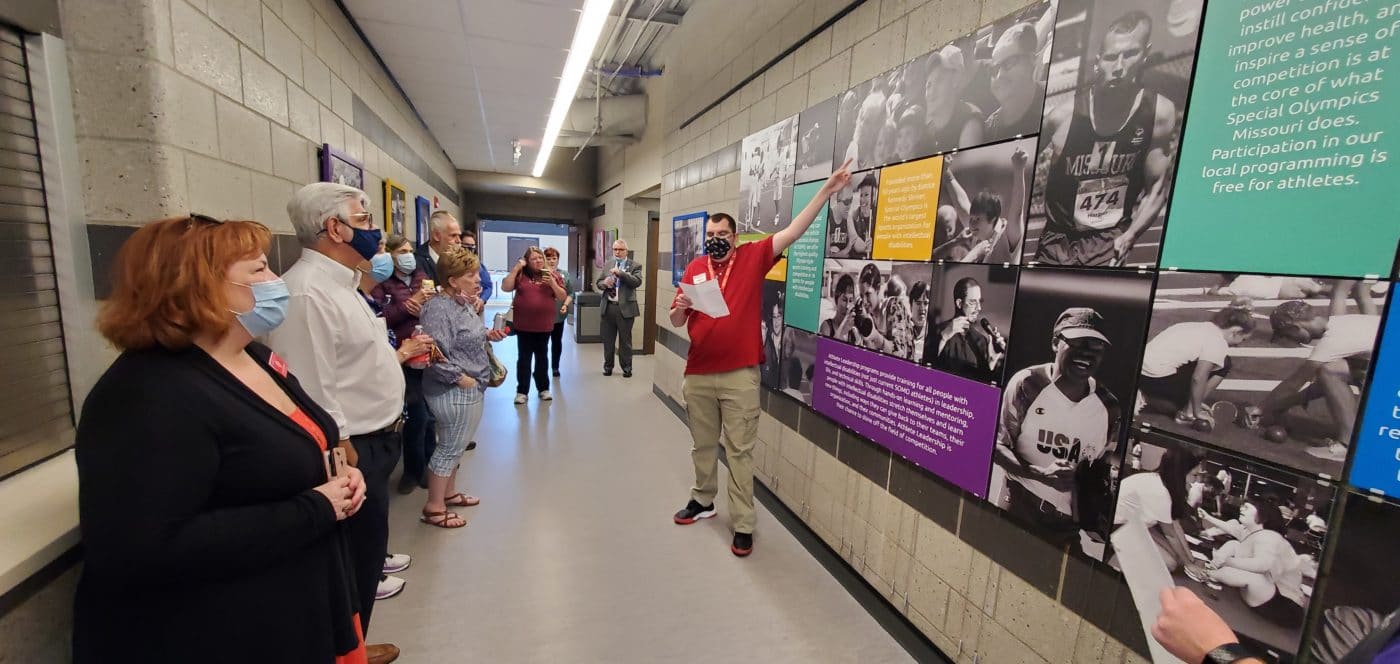 SOMO board member Gary Wilbers, the chairman of the TLC Capital Campaign Committee – and a fellow Knight – was stationed outside overlooking the track and practice fields. He explained that SOMO athletes raised $240,000 for the campus development. Those athletes are recognized with commemorative bricks in the TLC flagstone.
"Now it's time to go forward," Wilbers noted. "As a fellow Knight, one thing I'd like to tell you is: Thank you, thank you, thank you."
Tony Leonardo, District Deputy #4 Kansas City, was part of the tour with his wife, Jo, who mentioned that the technology used in displays and throughout the campus was impressive, especially in the ways it highlights SOMO athletes. They both agreed on the most impressive feature.
"To me, the best part is meeting the athletes – and seeing the spark in their eyes," Tony said.
That was also Matt LaCaille's conclusion.
"Seeing the athletes and seeing how happy they are really makes all the difference," he said.
LaCaille is now more eager than ever to gets volunteers and the Holy Infant Council involved with SOMO. He's especially passionate about sharing the SOMO story and making it known that Special Olympics isn't "just an event" – but so much more.
"It's not an event. It's not a building. It's so much bigger than any building or any exam room," LaCaille said. ""It's so much more than what everybody thinks it is."