SOMO partners with Mizzou, MU Health Care, UM System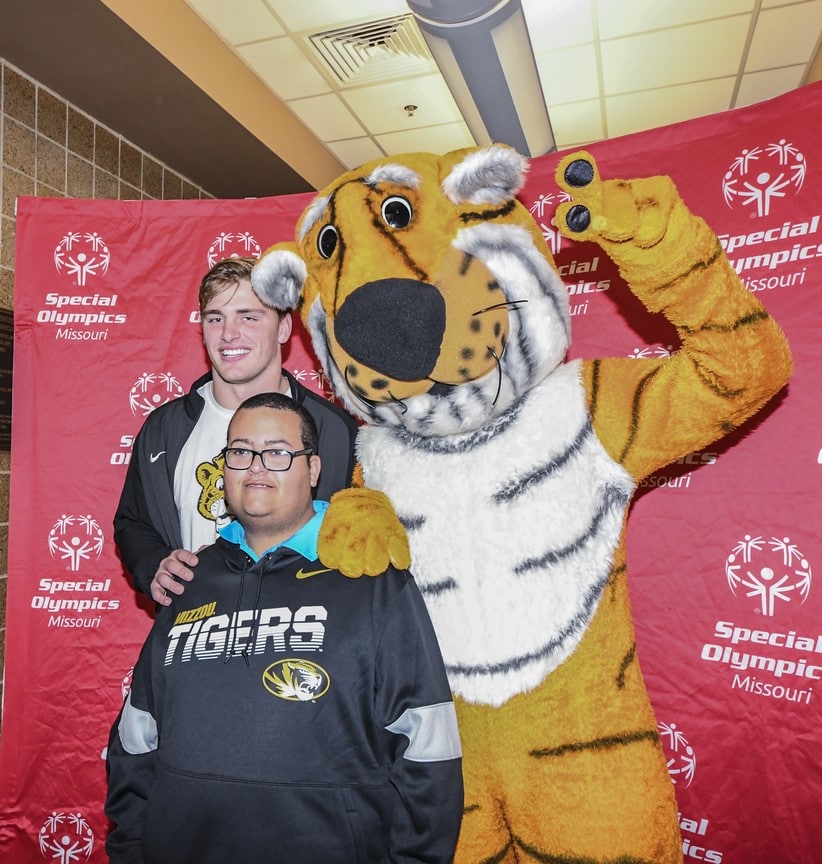 COLUMBIA, Mo. — On Nov. 6, Special Olympics Missouri announced a major statewide partnership with the University of Missouri, MU Health Care and the University of Missouri System.
"We are thrilled to begin this partnership," said Susan Stegeman, president and CEO of Special Olympics Missouri. "We have barely scratched the surface in terms of how we can combine our resources in order to impact lives across the state. From volunteer engagement and internships to education opportunities and health and wellness services for our athletes, this partnership is truly a win-win."
The partnership was announced on the heels of news that Special Olympics Missouri will hold its State Summer Games in Columbia in 2020 after hosting the games in Springfield for the previous three years. The new relationship will allow Special Olympics Missouri to tap into the statewide reach of MU, MU Health Care and the UM System.
The news was shared at the aquatic mezzanine inside the MU Recreation Complex, where SOMO athletes have competed previously and will continue to do so in the future. The partnership could include collaboration across the universities in areas such as business, medicine, education, social work, and human development and family science.
"We are honored to partner with Special Olympics Missouri, a collaboration that will provide our community with more opportunities to interact with this esteemed organization that is important to so many Missouri athletes and their families," MU Chancellor Alexander N. Cartwright said. "Celebrating the achievements of all people, including those with intellectual disabilities, is central to our core values of Respect, Responsibility, Discovery and Excellence. Furthermore, the breadth of Mizzou's enterprise, from our scholarship to spirit of service, will bolster the success of this partnership."
MU, as well as the UM System's University of Missouri-Kansas City, Missouri University of Science and Technology and the University of Missouri-St. Louis, already have deep ties to Special Olympics Missouri. For example, this fall marks the sixth semester that Special Olympics Missouri has consulted with the Novak Leadership Institute at the Missouri School of Journalism at MU. The College of Optometry at UMSL has provided vision screening and eyeglasses, sunglasses or sport goggles to SOMO participants. UM System organizations, particularly fraternities and sororities, have raised thousands for the organization over the years. Earlier this year, when a tornado tore through Jefferson City and damaged the state's headquarters office and brand new Training for Life Campus, members of the baseball, wrestling and women's basketball teams assisted with cleanup.
Jon Sundvold, chair of the University of Missouri Board of Curators, said the partnership dovetails with the university's mission.
"The core mission of the university is education, and this partnership will add opportunities to extend those education possibilities," said Sundvold, who also is president of the Missouri Junior Golf Foundation, which operates the first nine-hole course in the country especially designed to meet the unique needs of children and individuals with disabilities. "At the same time, this partnership will allow us to serve the people of this state, which we endeavor to do in all our activities."
By partnering with the UM System, organizers hope to leverage the reach of the UM System to support Special Olympics Missouri in a multitude of ways.
"With campuses located in Columbia, Kansas City, Rolla and St. Louis, the University of Missouri System is uniquely positioned to support the statewide reach of Special Olympics Missouri," UM System President Mun Choi said. "I am excited to see where this partnership will lead."
Brian Neuner, chief development and marketing officer for Special Olympics Missouri, said the collaboration could include a variety of direct engagements, such as giving business students experience working with a non-profit; providing athletes with fitness and wellness programs administered by health science students; or providing a platform for journalism students to tell engaging stories about athletes, coaches, families and volunteers.
"I view this partnership as one punctuated with possibility," Neuner said. "There are so many volunteer opportunities at Special Olympics Missouri, and I'm excited to see the University of Missouri System answer this call for support. It is personally gratifying to see two organizations I love work together in support of individuals with intellectual disabilities. As a graduate of the University of Missouri, I have never been more proud of my alma mater."
Special Olympics is one of the world's largest sports organizations with nearly 5 million athletes in more than 172 countries. In Missouri, the organization serves 16,400 athletes competing in 16 sports, has 30,000 volunteers and 1,100 coaches. The organization aims to engage youth and adults with intellectual disabilities in activities designed to build community, increase confidence, improve health and teach them how to live independently.