SOMO athletes shine at State Indoor Games in St. Charles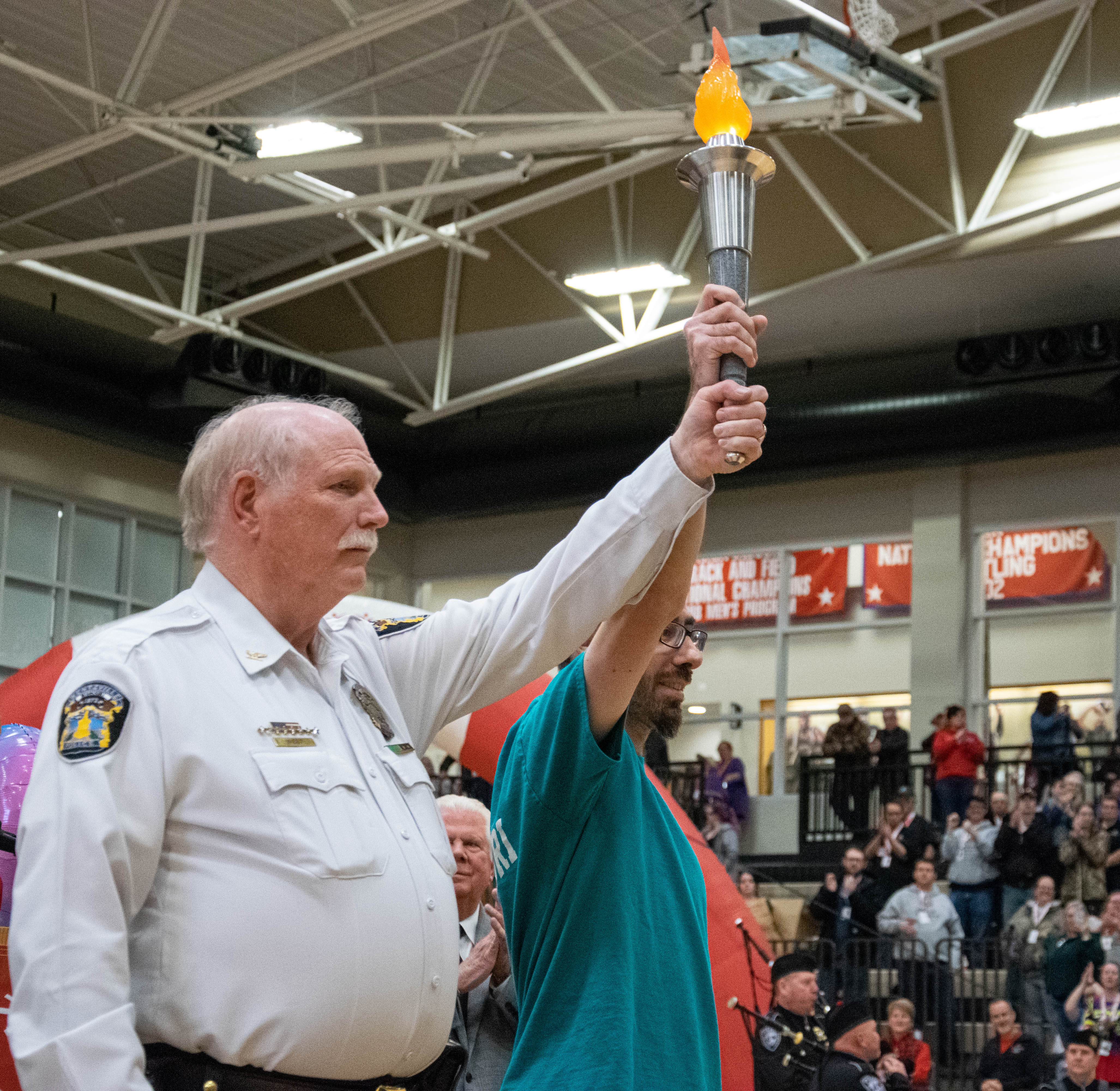 ST. CHARLES – The 2023 Special Olympics Missouri (SOMO) State Indoor Games brought more than 1,500 athletes, coaches, volunteers and Unified partners from across the state to St. Charles, March 24-25. The Games were held at Lindenwood University, Duchesne High School, Rec Plex South, St. Charles West High School, Cave Springs Lanes, Harvest Lanes and St. Charles Lanes. The theme this year was disco!
This year's State Indoor Games featured two sports: Basketball and Bowling. Our bowling competition was on Friday, and our basketball competition was on Saturday.
"It's an incredible feeling to witness the culmination of countless hours of hard work from SOMO staff, hundreds of volunteers and coaches and roughly 1,300 athletes," said Luke Lamb, SOMO's director of sports competition and statewide training. "The competitiveness and sportsmanship displayed at this event simply amazes me, and I'm so proud to be a small part of it. Congrats and thanks to everyone involved!"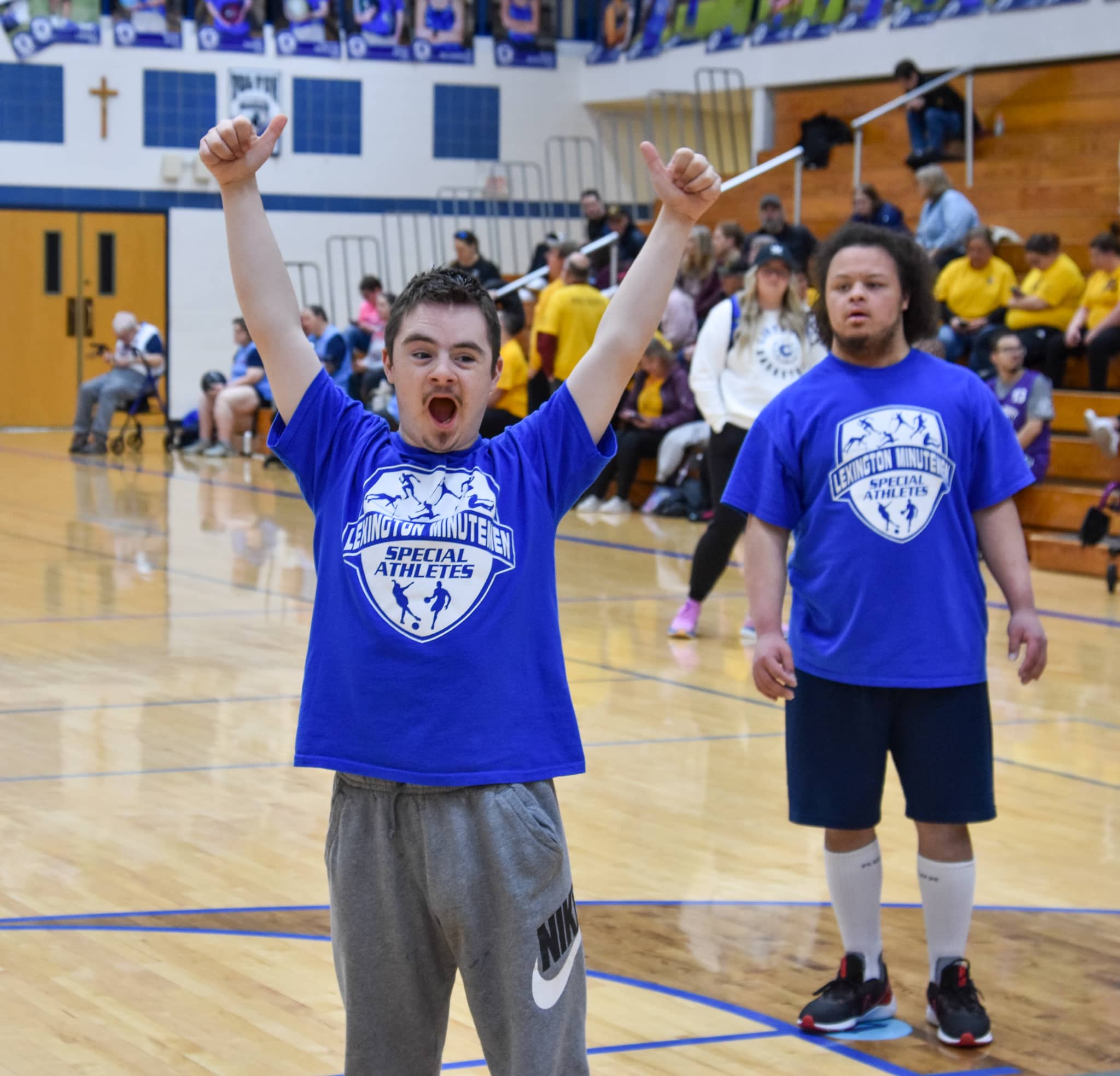 HIGHLIGHTS: Check out some of the best plays from our basketball competition at the #StateIndoorGames2023! #SOMOPremier pic.twitter.com/3Ix8M5qJ0W

— Special Olympics MO (@SOMissouri) March 26, 2023
"It was fantastic to be back to a full State Indoor Games format this year," said Melinda Wrye-Washington, SOMO's Sr. Director of Programs. "To see the smiles and positive interaction between athletes and families makes all the hard work in planning worthwhile. Great team effort by the SOMO staff to put on a wonderful event! Special thanks to Chris Wilson and St Charles for hosting!"
Sportsmanship was on full display throughout the weekend. SOMO staff members recognized two individuals with Eunice Kennedy Shriver Sportsmanship Coins!
Tipton head coach Dylan Cooper was the first to receive an EKS Sportsmanship Coin. He and his team displayed incredible sportsmanship during the Cardinals game against Liberty on Saturday.
Congrats to @TiptonRVIdist head coach Dylan Cooper and his team for earning a Eunice Kennedy Shriver Sportsmanship Coin for cheering on their opponents and helping them succeed! Tipton also won a Gold Medal! Great work Cardinals! #SOMOPremier #StateIndoorGames2023 pic.twitter.com/Y9jBl94F8O

— Special Olympics MO (@SOMissouri) March 25, 2023
Lee's Summit basketball player Quinton Ford also earned a Eunice Kennedy Shriver Sportsmanship Coin. He helped lead the Vipers of Doom to a gold medal, and he displayed excellent sportsmanship along the way!
"The coin, it just means so much," Ford said. "Man, I love this team. All I want to say is congratulations, and thank you to all these kind men for helping me win this 'ship today."
WHAT A DAY for Quinton Ford and the Lee's Summit Vipers of Doom! After winning the gold medal game by one point, Ford was awarded a Eunice Kennedy Shriver Sportsmanship Coin for his great sportsmanship throughout the tournament! #SOMOPremier #StateIndoorGames2023 pic.twitter.com/7nF3PkEYVB

— Special Olympics MO (@SOMissouri) March 25, 2023
The State Indoor Games officially kicked off with the Opening Ceremony at Lindenwood University's Hyland Arena on Friday, March 24 at 6 p.m. Fox 2's Kevin Ryans did an amazing job emceeing the program. SOMO athlete Billy Meacham brought the house down with his amazing rendition of the national anthem.
#SOMO athlete Billy Meacham ROCKED the national anthem at the #StateIndoorGames2023 Opening Ceremony! What a performance! #SOMOPremier pic.twitter.com/lmDIHyRm0r

— Special Olympics MO (@SOMissouri) March 25, 2023
Two of SOMO's local cheer teams, the SOMO Spirit Squad and the SOMO Sparks, performed during the ceremony along with Lindenwood's cheer team.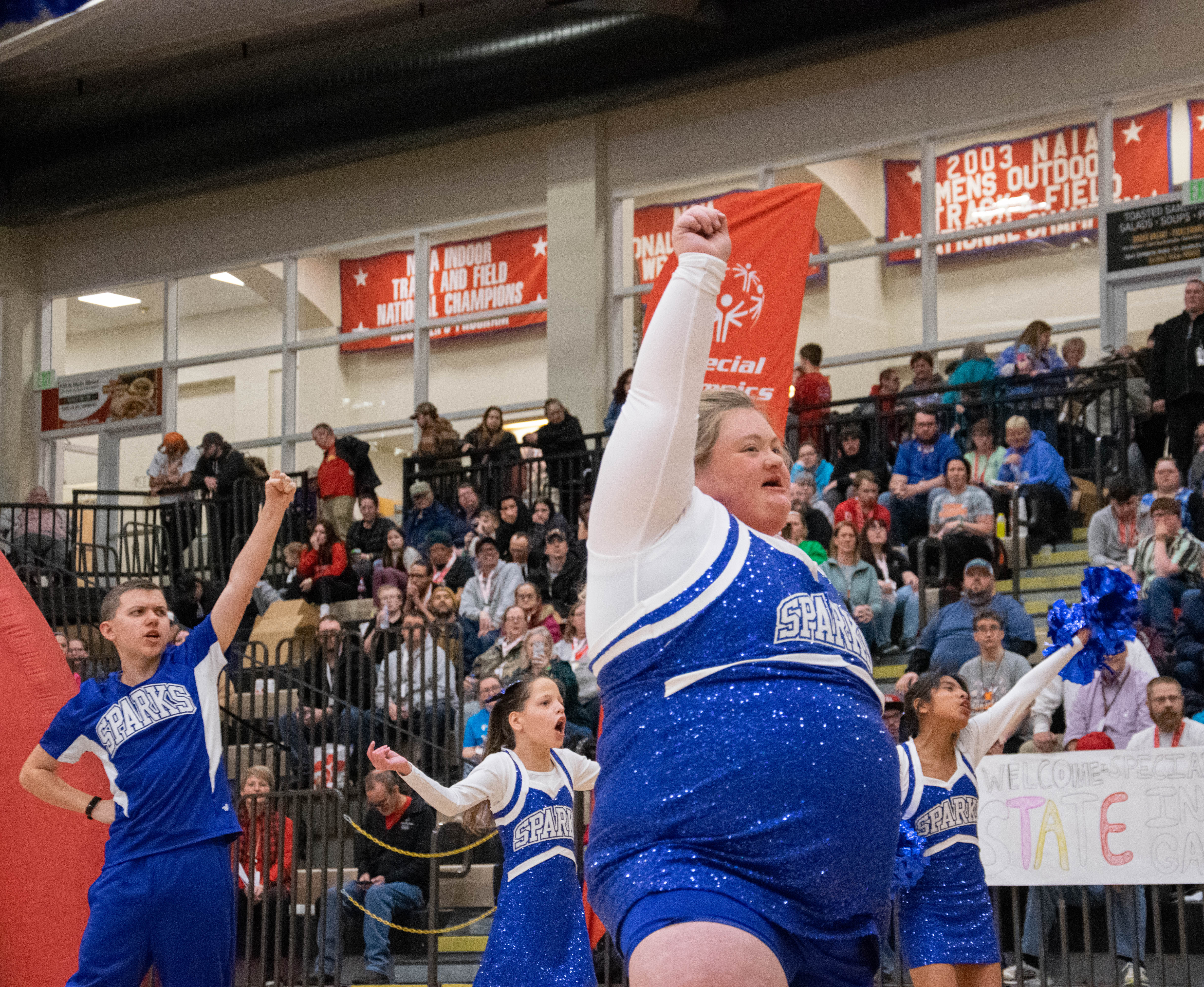 SOMO's St. Louis Metro Area Athlete of the year, Brent Kampert, lit the Law Enforcement Torch Run Flame of Hope with Chief Paul West from the Wentzville Police Department!
The #StateIndoorGames2023 are officially open! Let the games begin! #LETR #SOMOPremier pic.twitter.com/ermVKqMXa2

— Special Olympics MO (@SOMissouri) March 25, 2023
After the Opening Ceremony, SOMO held its annual State Indoor Games' dance and bingo event at Hyland Arena. St. Louis Blues mascot Louie and Cardinals mascot Fredbird both joined in on the fun. Special thanks to local band Biscuits and Gravy for performing at the dance!
Along with the competitions, SOMO also held its health and wellness clinics – Healthy Athletes and Sports Zone. Throughout the weekend, we offered all of the following: Opening Eyes, Healthy Hearing, Special Smiles, Medfest, FUNfitness and Health Promotion. In total, our volunteer clinicians gave out 353 free health screenings. You can see the breakdown below.
Special Smiles: 63 screenings
FUNfitness: 65 screenings
Healthy Hearing: 58 screenings
Health Promotion: 65 screenings
Opening Eyes: 97 screenings
Medfest: 5 sports physicals
SOMO's Health Partner, United Healthcare, was also present at Healthy Athletes, providing athletes and families with important information!
Fontbonne University students led our nutrition and hydration stations. 241 individuals participated in these stations! The Saint Louis University Dietetics program had 151 individuals participate in its fitness, stress management and goal setting stations as well.
"We had a lot of fun in our Sports Zone area at State Indoor Games," Health and Development Manager Krista Evans said. "1st Phorm provided our athletes, families and many others with their athletic apparel and latest fitness products! Athletes and families were able to gather more information about the importance of living a healthy lifestyle in our performance stations. There were multiple stations to pick from: Fitness, Hydration, Nutrition, Stress Management and SMART Goals. We really appreciate the time Fontbonne University and SLU Dietetics contributed to creating engaging stations. "
Special Olympics Missouri is dedicated to improving the overall health and fitness of its athletes, not only through organized sports training and competition, but by also providing free health screenings through the Healthy Athletes program. All of these screenings are provided for SOMO athletes free of charge. For more information on these free health screenings, visit somo.org/health.
SOMO would like to thank all of its incredible volunteers all weekend long, including dozens of members of local law enforcement.
"Just all of the excitement, the camaraderie with all the teams and everything, it's been a treat," O'Fallon Police Officer Demetrice Williams said.
Thank you so much to all of our sponsors!
Statewide Partners: Law Enforcement Torch Run (LETR), Missouri Association of Student Councils (MASC), Diamond Pet Foods, Veterans United Home Loans, Knights of Columbus, University of Missouri System, University of Missouri and MU Health Care.