SOMO athletes participate in Jayson Tatum Basketball Camp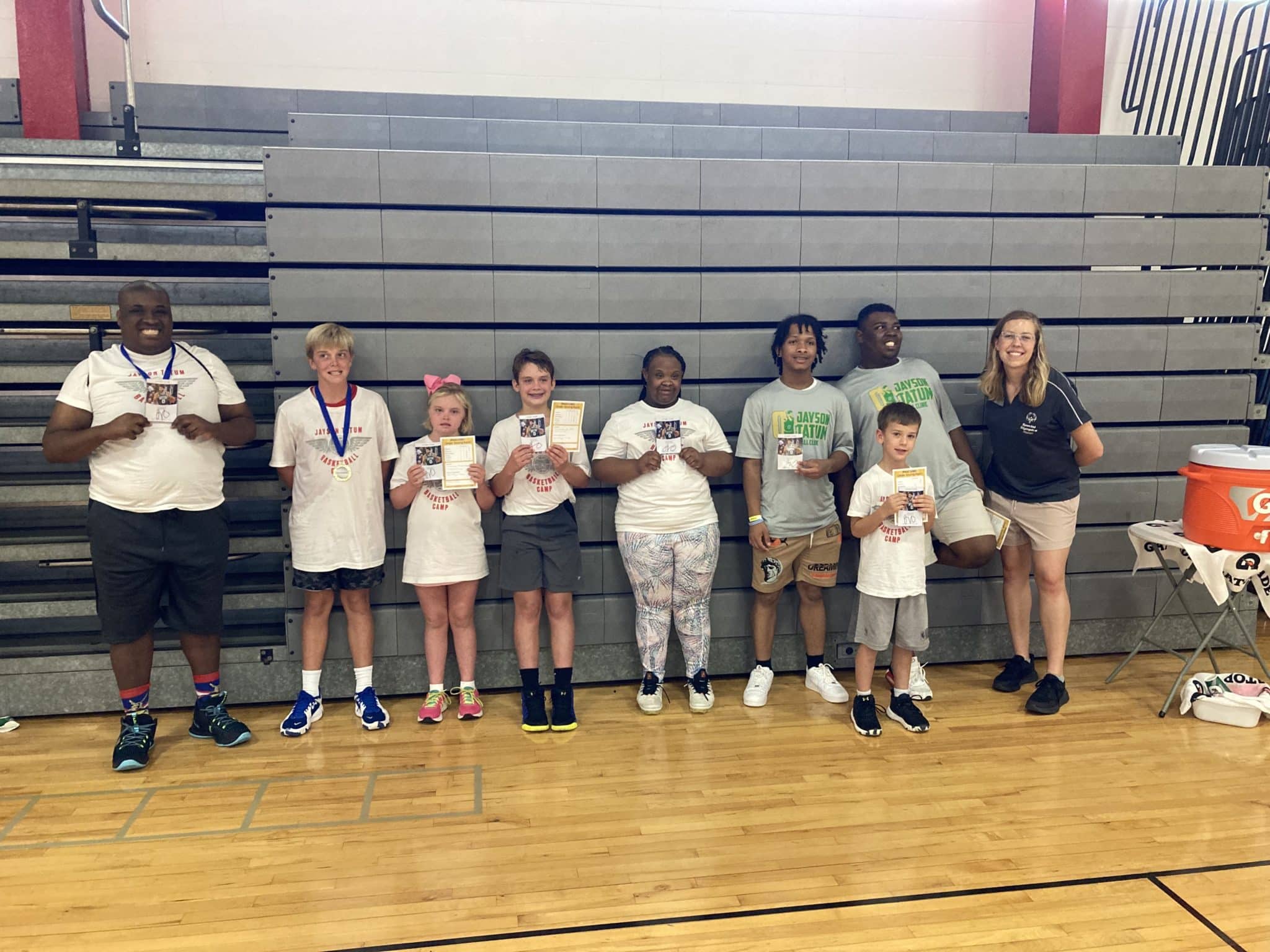 ST. LOUIS – Several Special Olympics Missouri athletes and Unified partners had the opportunity to participate in the annual Jayson Tatum Basketball Camp August 4-5 at Chaminade College Preparatory School. Tatum is a St. Louis native, and he currently plays for the Boston Celtics.
"I think the game of basketball is meant for everybody, and it brings us all together and closer," Tatum said.
In total – seven athletes and four Unified partners attended the two-day camp at Tatum's alma mater. Tatum provided these spots free of charge to our SOMO athletes and Unified partners. Each spot was valued at $199.
"The excitement they bring to the gym and their enthusiasm – it lights up our room," Tatum said. "It makes my day."
All of the SOMO participants are school-aged, and the hope is they will be able to take the skills they learned at camp back to their respective schools. This opportunity supported ongoing efforts from our Unified Champion Schools to practice inclusion through Unified sports.
Tatum said he was extremely impressed with the SOMO athletes' ability to stay positive throughout camp.
"One of the athletes missed a shot, and he told me stay right there, and he was going to make the next one, and I was happy to see that," Tatum said.
Here's a list of all of the SOMO representatives at camp:
Athletes:
Christian Estill Lackey- Francis Howell
Dailon Costello – SSD Northview School
Jordan Jones – SSD Northview School
Katy Sibenmann – SSD Nipher Middle School
Demarion Young- SSD Jennings
Amelia McGhee- SSD Jennings
Cassidy Stewart- SSD Parkway South
Unified partners:
Duke Paciorek- Principia
Bobby Lewis- SSD Jennings
Charlie Marsh – SSD Nipher Middle School
Timmy Sibenmann- St. Peter Catholic school
Unified Champion Schools Manager Emma Thomas had the chance to watch the athletes enjoy camp on Day 2. She wrote the following recap:
"I attended the second day of the Jayson Tatum Basketball Camp. Athletes Amelia and Demarion participated on Team 5 and 6, respectively. Amelia was so excited Jayson talked to her, and she got to take home Jayson's autograph. Demarion loved the water balloon fight with Jayson Tatum! Unified partner Bobby made sure they were included by passing them the ball, coaching them to be in the right spot and modeling encouragement to the rest of the team. Their coaches were Chaminade Prep High School students. They were incredibly kind and inclusive.
Athletes' Christian and Dailon were on Team 11 with high school peers. They partnered together for the drills. The coach from Team 12, who lead the passing drill, made fantastic accommodations to support their growth. Christian said this camp made him better at basketball, and he's going to go home and practice shooting. He is excited for the Special Olympics Missouri basketball season to start.
Athlete Jordan and Unified partner Timmy were on Team 12. The coach for Team 12 went above and beyond! He gave specific feedback to Jordan about his strengths and weaknesses, which brought dignity and respect to Jordan's role as an athlete at the camp. Timmy supported Jordan by giving him positive attention between drills and pointing out his expected location for different activities. Their team won the upper division culminating tournament!
Athlete Katy and Unified partner Charlie were on the same team. Katy worked hard, stayed focused and had a great attitude! She is a huge Jayson Tatum fan and has been for a long time. Charlie consistently passed Katy the ball, encouraged her, modeled expectations for Katy and checked to see that she understood.
Overall, it was a wonderful event!"
A few days following the camp, Tatum hosted his second annual Jayson Tatum Foundation Golf Tournament in St. Louis. A few SOMO representatives had the chance to stop by and meet Jayson.
SOMO is very grateful for all of the support from Jayson Tatum!