SOMO athletes dig in to garden

21 join pursuit of a green thumb
Now that sunnier skies and longer, warmer days are the rule, it's time for those April showers to bring May flowers – as well as green beans, tomatoes, watermelon, and other scrumptious goodies from the garden.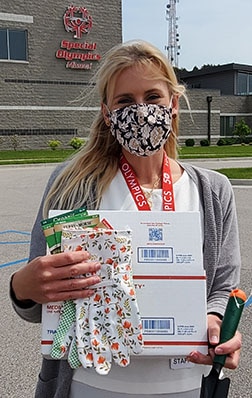 The Health and Wellness program at Special Olympics Missouri has joined the quest to develop and nurture additional green thumbs, the term for the natural or learned ability to grow plants. Health and Wellness Manager Krista Dye says 21 SOMO athletes signed up to be part of the Grow A Garden initiative, which is a joint venture with Special Olympics Kansas. Dye, who is also the wellness and fitness director for Team Missouri, mailed the Grow Garden seed and supply boxes to participants on April 27. The boxes included seeds, gloves, planting containers, a small shovel, and instructions.
She quickly discovered that the fresh food focus of the program was already catching on.
"Fruit and vegetables taste better – and you want to eat healthier," said SOMO athlete and Grow A Garden participant Anna McDaniel, who already has an established green thumb after growing tomatoes, pepper, and basil in pots last summer.
SOMO athlete Lynna Hodgson already has gardening experience from helping with her family's garden. She's especially eager to expand her gardening knowledge with her Grow Garden package, "to see how the seeds grow and how long it takes – to see the progress."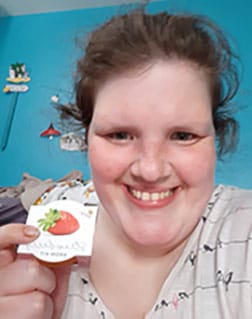 Hodgson is an athlete leader and one of the Health and Wellness program's five health messengers. She's already an enthusiastic advocate of the Grow A Garden program, adding that gardening is "very important" for health and fitness.
"The stuff we grow, it's what we eat," she Hodgson added. "Fruits and vegetables are important to have."
McDaniel also enjoys seeing fruit and vegetables grow as a visible example of making healthy food choices. There's even benefit just from the activity of gardening and "being outside and around plants and relaxing," she said.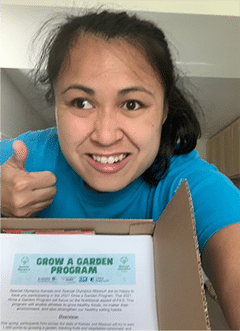 Hodgson echoed that thought, noting one of the important things she has learned about growing plants: "Patience."
Dye will check in with her gardeners every week and gardeners will track their progress in a fun, competitive way. At the SOMO Training for Life Campus, Dye will oversee planting in a raised bed next to the track.
"We are going to use the gardens throughout the summer during STARR Camp as an educational plot," she says, "and we will also work it into our Health and Wellness sessions for Selection Camp."
Even though gardening isn't a sport, the Special Olympics Oath easily applies to planting seeds: "Let Me Win, But If I Cannot Win, Let Me Be Brave In the Attempt."