RELEASE: SOMO inducts 2023 Hall of Fame Class and announces annual award winners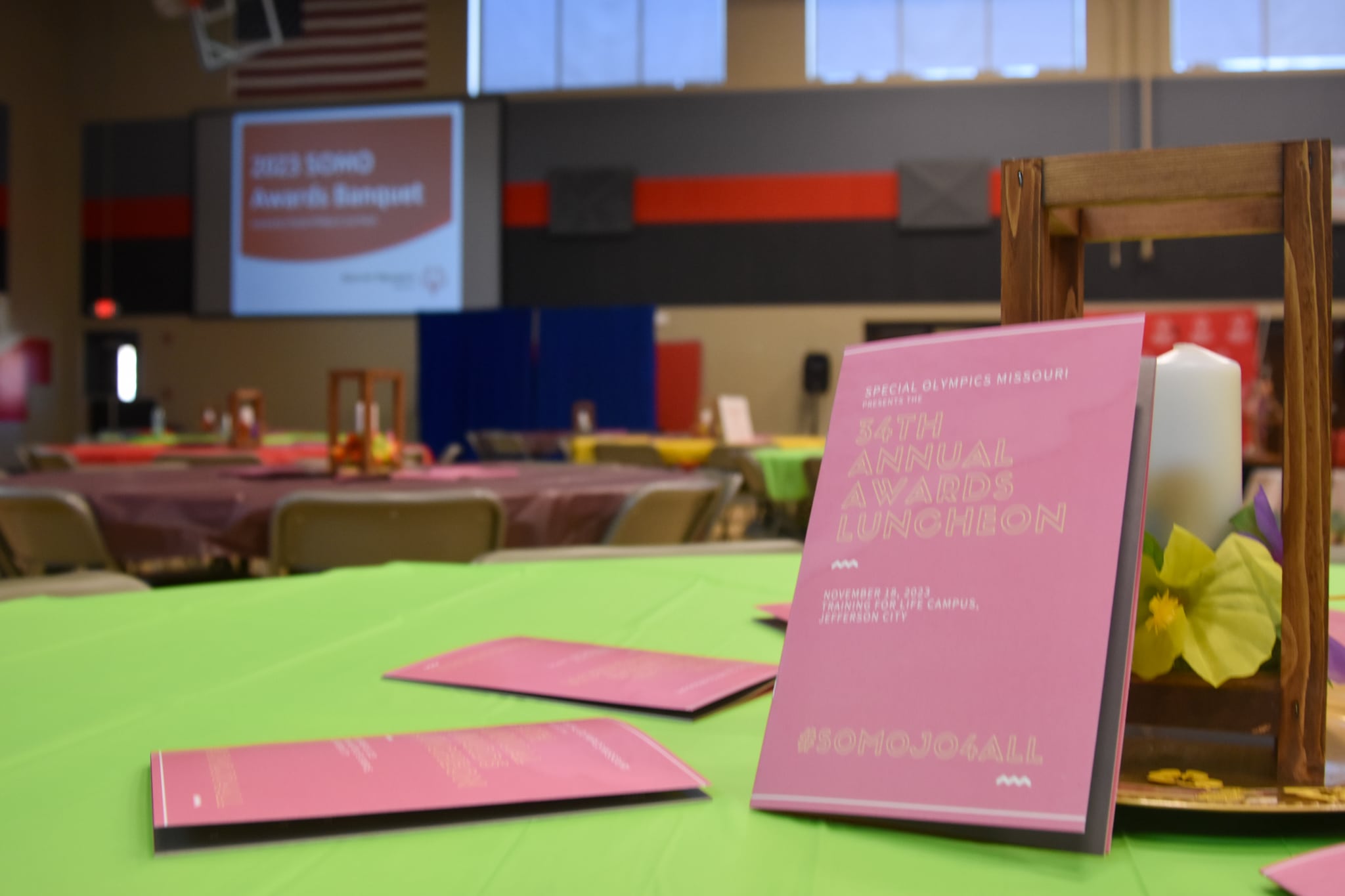 JEFFERSON CITY – Special Olympics Missouri (SOMO) inducted its 2023 Hall of Fame Class and honored several of its most outstanding athletes, coaches, volunteers and financial partners at the 2023 Awards Banquet on Saturday, Nov. 18, 2023 at the Training for Life Campus.
Special Olympics USA standout Charlie Phillips and Joe Peart with Missouri State Highway Patrol Troop I emceed the program. Along with awards, SOMO was excited to have a performance from Gillam Family Illusions during the program.
This year's 2023 Hall of Fame Class is made up of four outstanding individuals, Chris Ringot, Daniel Fultz, Stan Smith and Genice Fisher. SOMO surprised all four of them with the news earlier this year. You can see the surprises above their bios below.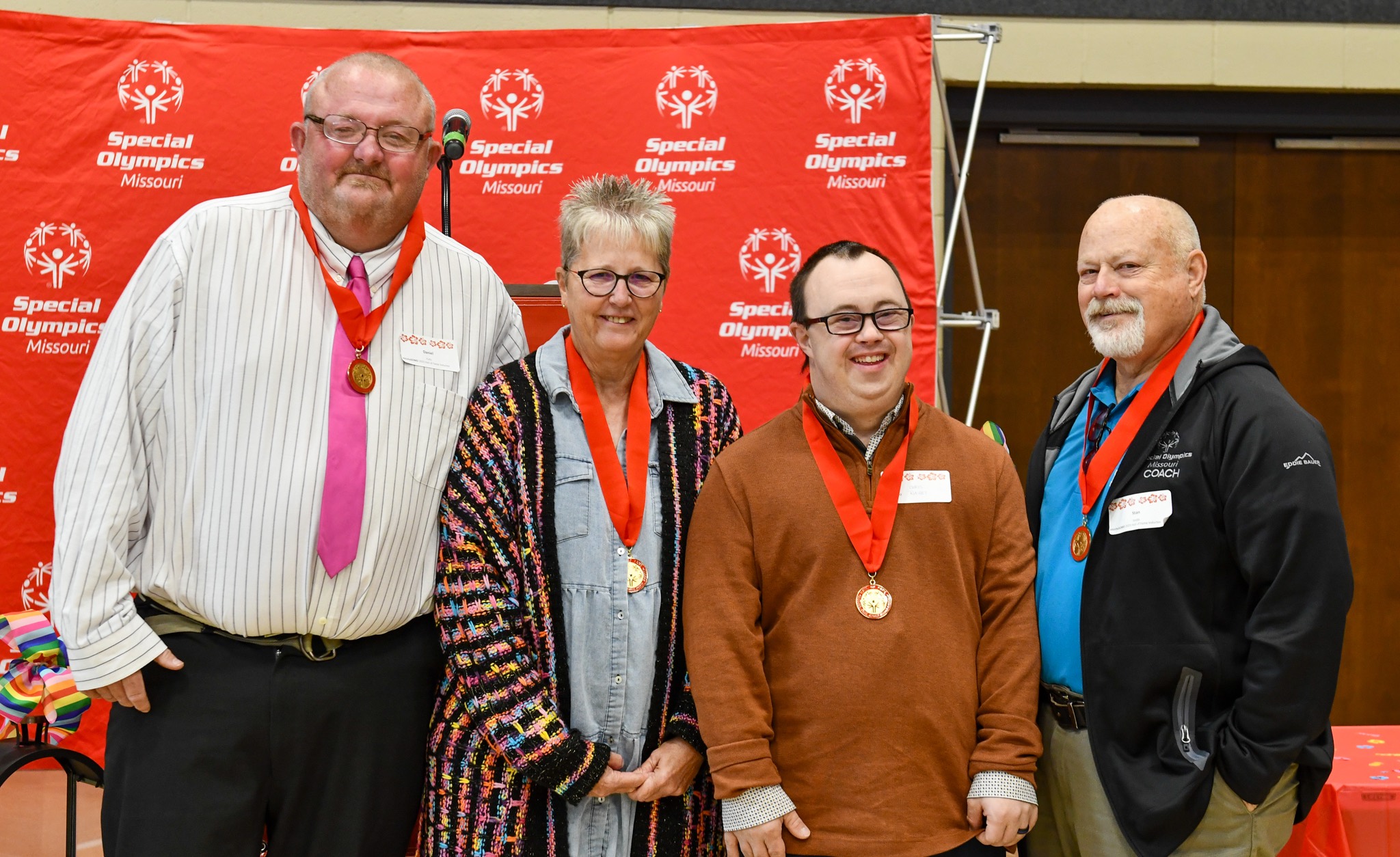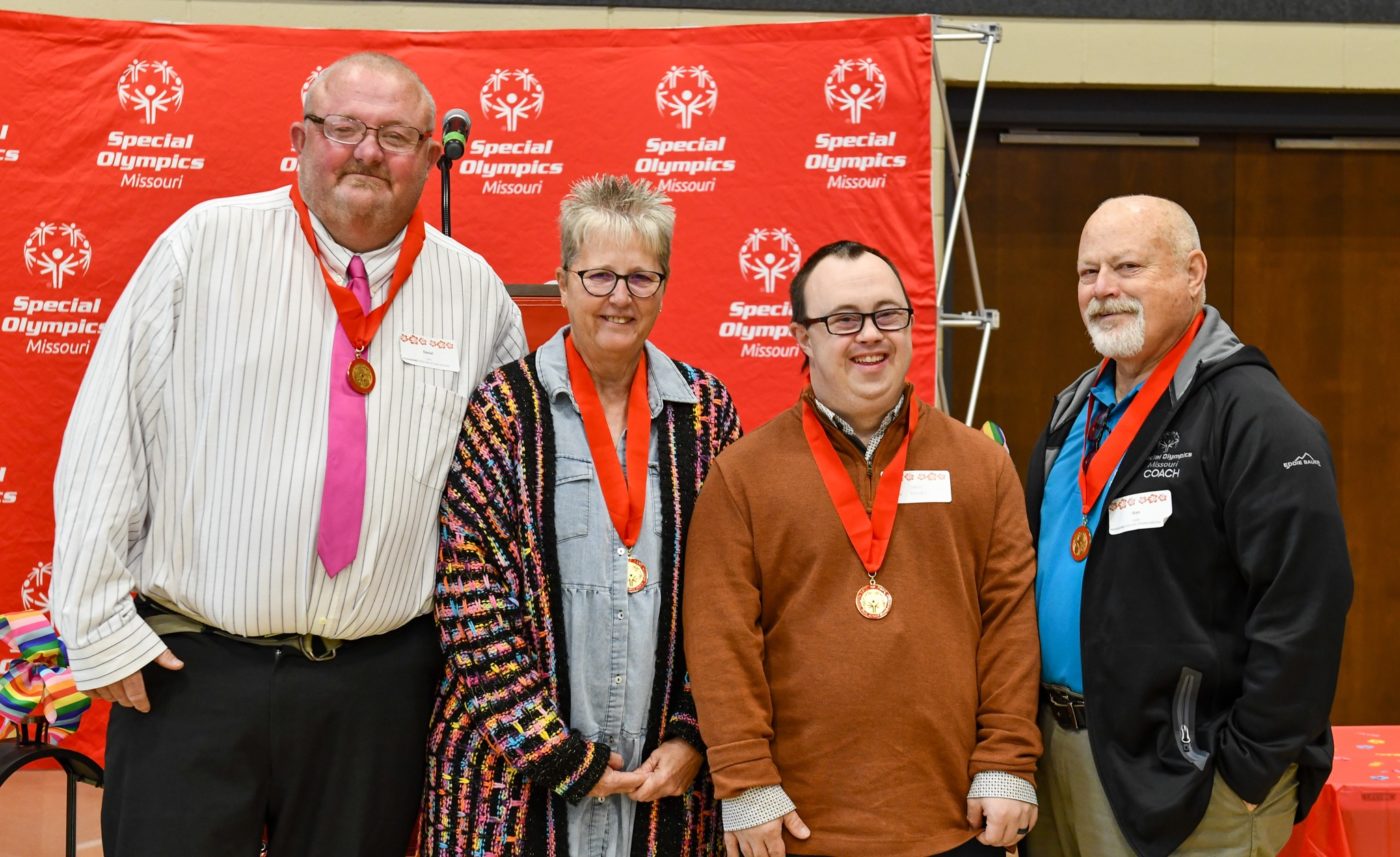 Chris Ringot: Kansas City Metro Area Athlete
Chris Ringot, a devoted Special Olympics Missouri athlete for nearly 30 years, excels across multiple sports, including swimming, golf, bowling, bocce, softball, and basketball. With a passion for Special Olympics, he's earned four world medals, numerous national medals, and countless state and local honors in Missouri. Beyond his athletic achievements, Chris's standout SOMO moment is becoming a coach. Both he and his parents, who are dedicated to SOMO, have played a significant role in empowering North Area athletes. In case you missed it, Chris found out about his induction into the hall of fame while he was working his day job at Children's Mercy Hospital in Kansas City. You can watch the surprise here!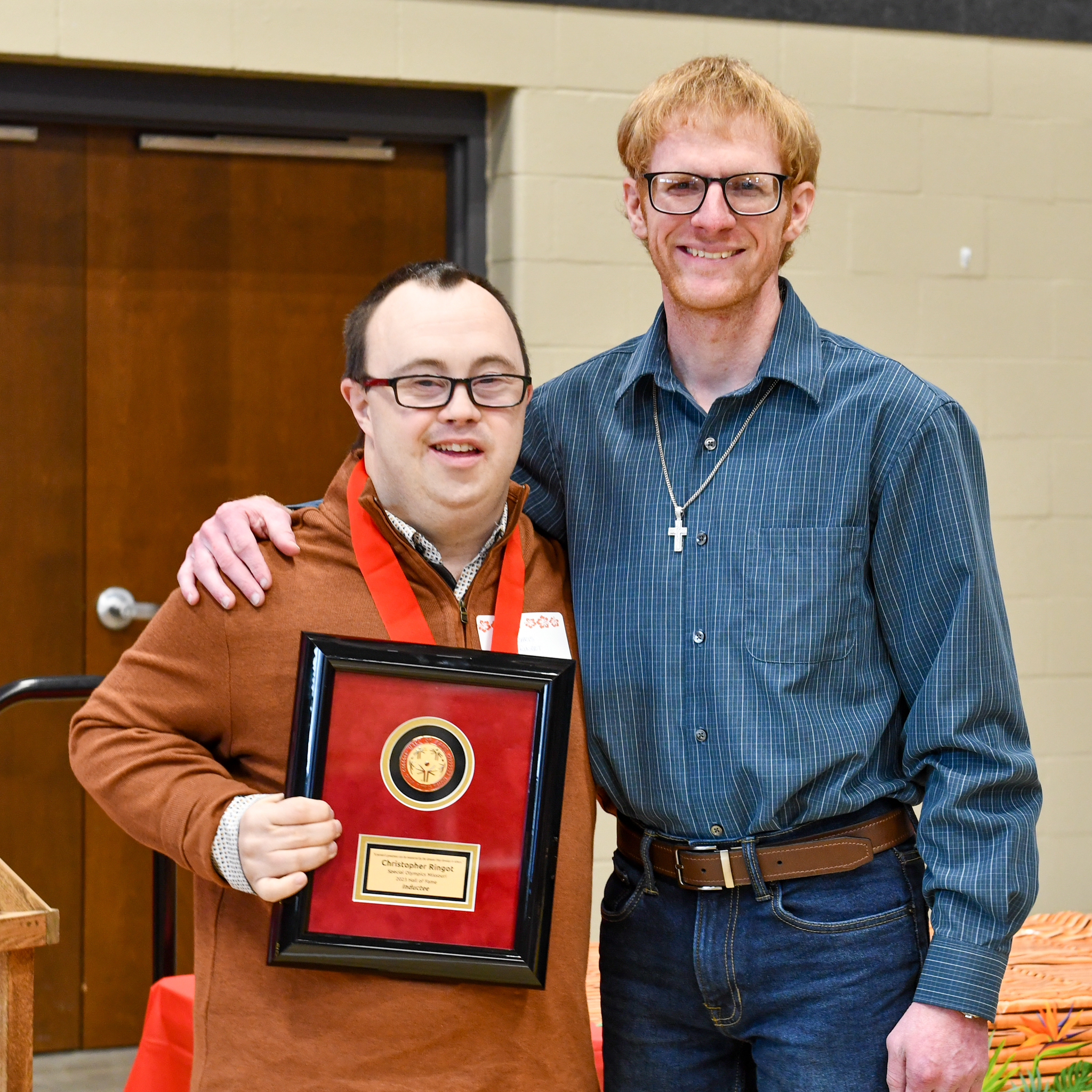 Daniel Fultz: Southeast Area Athlete
Daniel Fultz, AKA Big D, boasts a remarkable 25-year involvement with Special Olympics Missouri. A versatile athlete, he's participated in bowling, bocce, track, soccer, basketball, volleyball, and softball. Beyond sports, Daniel contributes significantly—he's been part of the Cape Girardeau Polar Plunge Committee, Games Management Team for Southeast Area Spring Games, and serves as a Global Messenger. With four USA Games under his belt, Daniel has secured numerous medals. When not competing, he's a dedicated fundraiser for the Southeast Area, showcasing leadership through hands-on involvement in various events, from hanging banners to hitting the dance floor. Daniel's passion for SOMO is evident, making him a prominent figure in the Southeast Area. In case you missed it, Daniel found out about his induction while he was working his day job at the Osage Center in Cape Girardeau. You can watch the surprise here!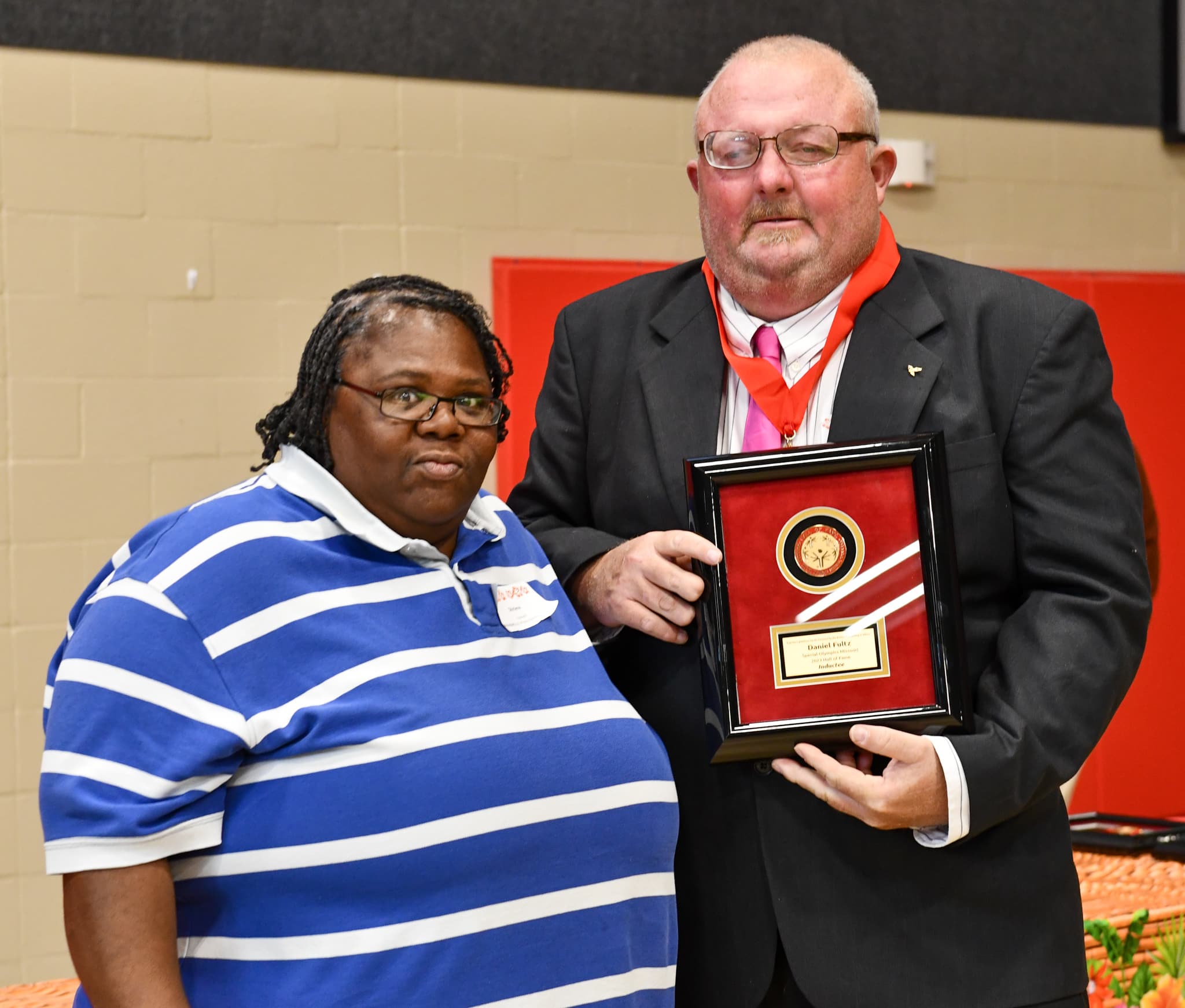 Stan Smith: Southeast Area Non-Athlete
Stan Smith, a devoted member of Special Olympics Missouri for over 30 years, wears many hats—volunteer area director, chaperone, mentor, and, notably, a dedicated year-round coach. His coaching spans basketball, track and field, softball, swimming, powerlifting, and bowling. Stan's coaching journey includes multiple national games, such as the 2006 USA Games for Track, 2010 USA Games for softball, 2014 USA Games for basketball, 2018 USA Games for powerlifting, and 2022 USA Games for powerlifting. In 2019, he served as the assistant coach for Team Missouri softball at the World Games in Los Angeles. Recently after stepping down as SOMO powerlifting commissioner, Stan received a Eunice Kennedy Sportsmanship Coin at the 2023 State Summer Games. Beyond coaching, he stands out as a leading fundraiser in the Southeast Area. Stan's exceptional dedication to SOMO and its athletes earns him a well-deserved nomination for the Hall of Fame. You can watch Stan find out about his hall of induction here!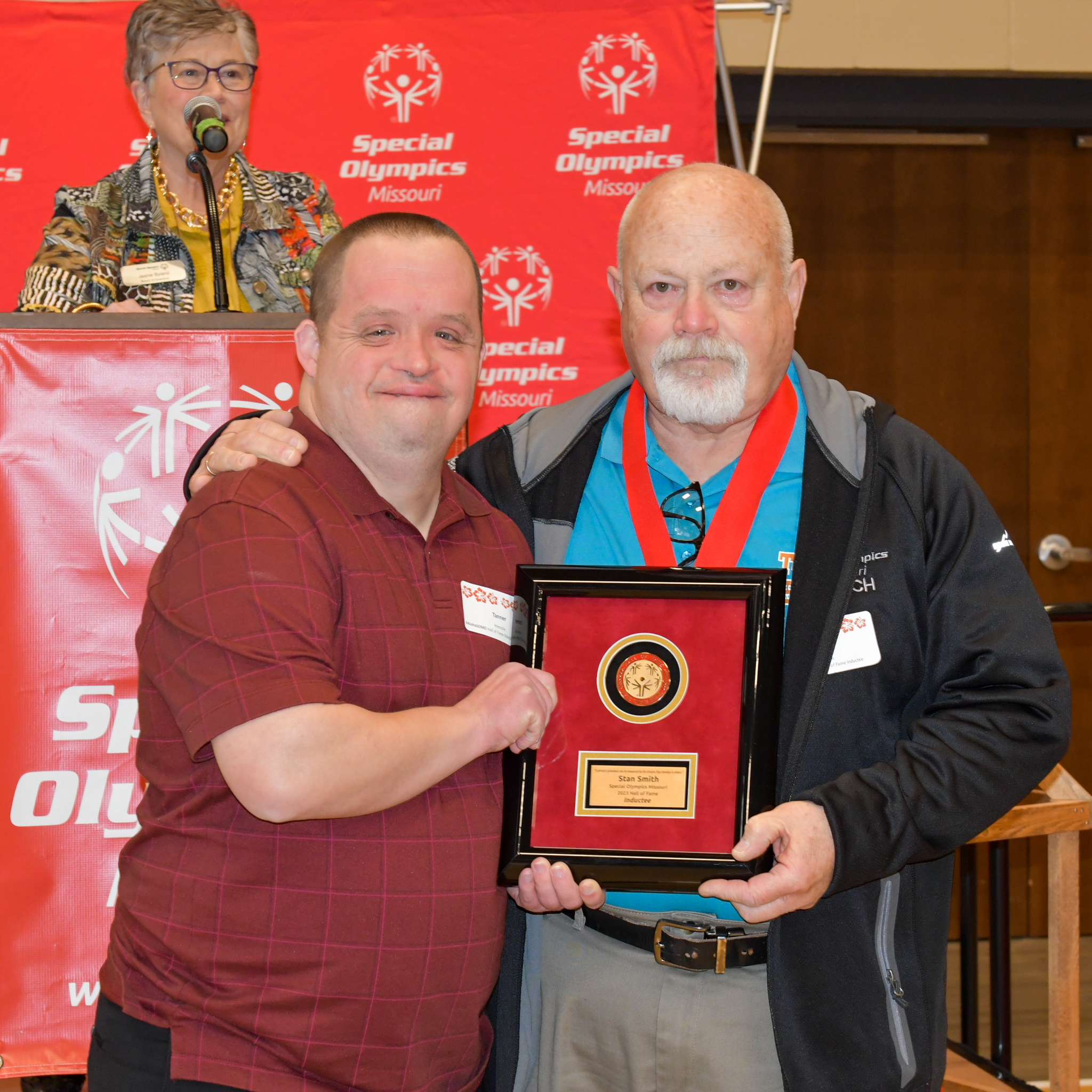 Genice Fisher: Central Area Non-Athlete
Genice Fisher, a dedicated figure with SOMO, has served in various roles—coach, Unified partner, event manager, sports commissioner, and more—at local, area, regional, and state levels. A longstanding ALPs mentor and instructor, she earned the Central Area Volunteer of the Year award in 2022. Genice, a track and basketball coach at multiple USA Games, cherishes the annual Gary Brimer Sports Camp, attending every year since its inception. Known as "Thelma from Las Vegas" at the camp's talent shows, she embodies the essence of volunteering by consistently offering her time and support. Genice is an advocate, teacher, mentor, and friend to all SOMO athletes, making her a fitting inductee into the SOMO Hall of Fame. In case you missed it, Genice found out about her induction while she was working as the scorekeeper for the Hickman volleyball team. She had no idea what was coming. You can watch the surprise here!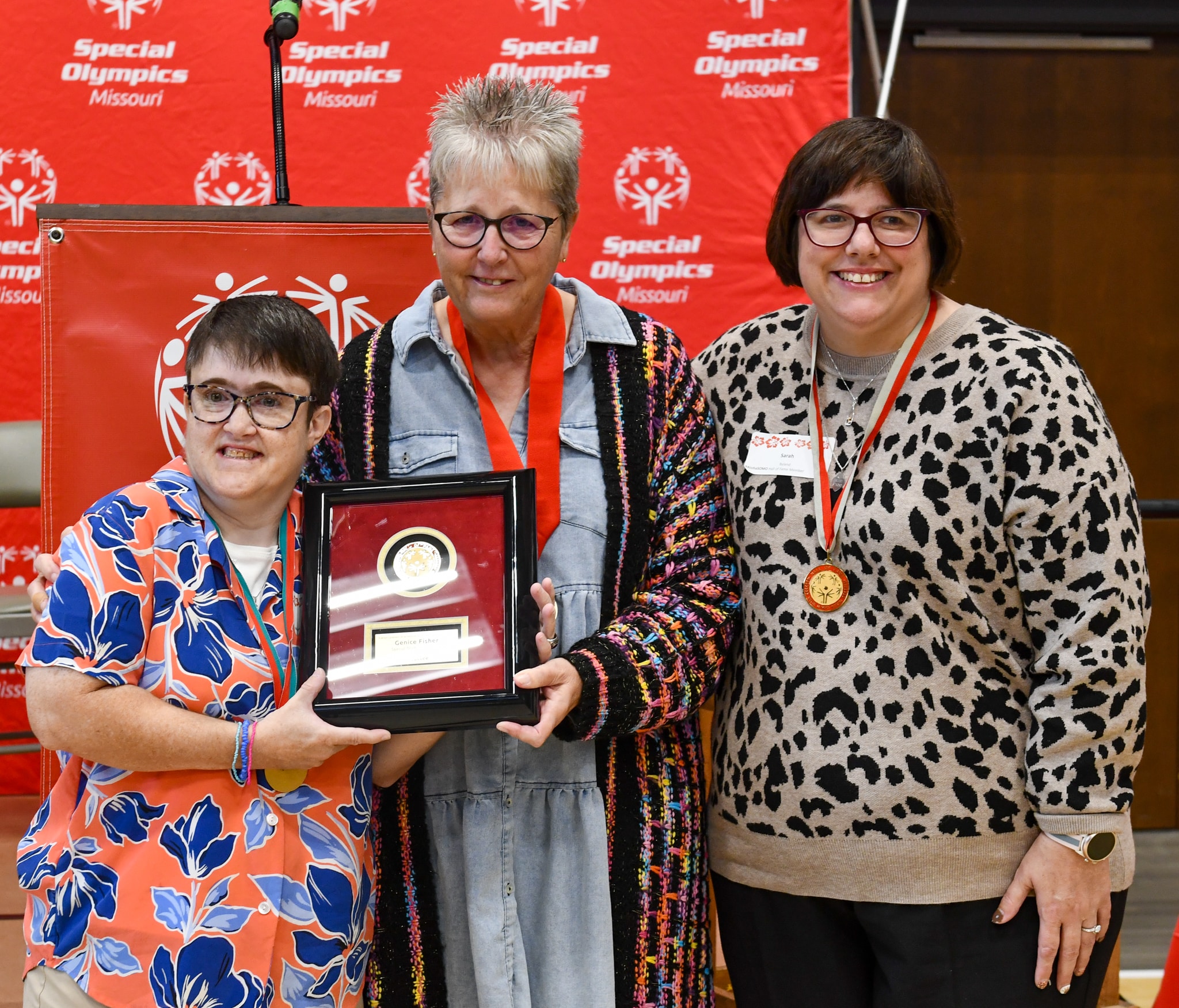 The SOMO Hall of Fame was created in 1997 by the Board of Directors as a way to recognize longevity and achievement of athletes and volunteers within the organization. A voting committee, appointed by the SOMO Chairperson of the Board, is responsible for reviewing all nominations and voting on no more than two inductees in each category (athlete and volunteer).
To be inducted, finalists must be named on 75% of the ballots. A permanent video display, housed in the Missouri Sports Hall of Fame in Springfield, features photos and bios of each year's SOMO Hall of Fame inductees.
---
SOMO also announced its annual statewide award winners at the Awards Banquet in the following categories: Outstanding Family of the Year, Outstanding Coach of the Year, Outstanding Volunteer of the Year and Outstanding Athlete of the Year. The area winners were selected in August, and these area winners were the nominees for the statewide awards. This year, Special Olympics Kansas voted to determine the statewide winners. The winners are below.
Outstanding Family Award Winners
Statewide Winner: Kathy, Mark Freeman and Mike Grossman
Central Area Winner: Petterson Family
Southwest Area Winner: Priebe Family
North Area Winner: Kathy, Mark Freeman and Mike Grossman
Kansas City Metro Area Winner: Pineda Family
St. Louis Metro Area Winner: Phil McHenry and Angie Clark and Family
Southeast Area Winner: Hurt Family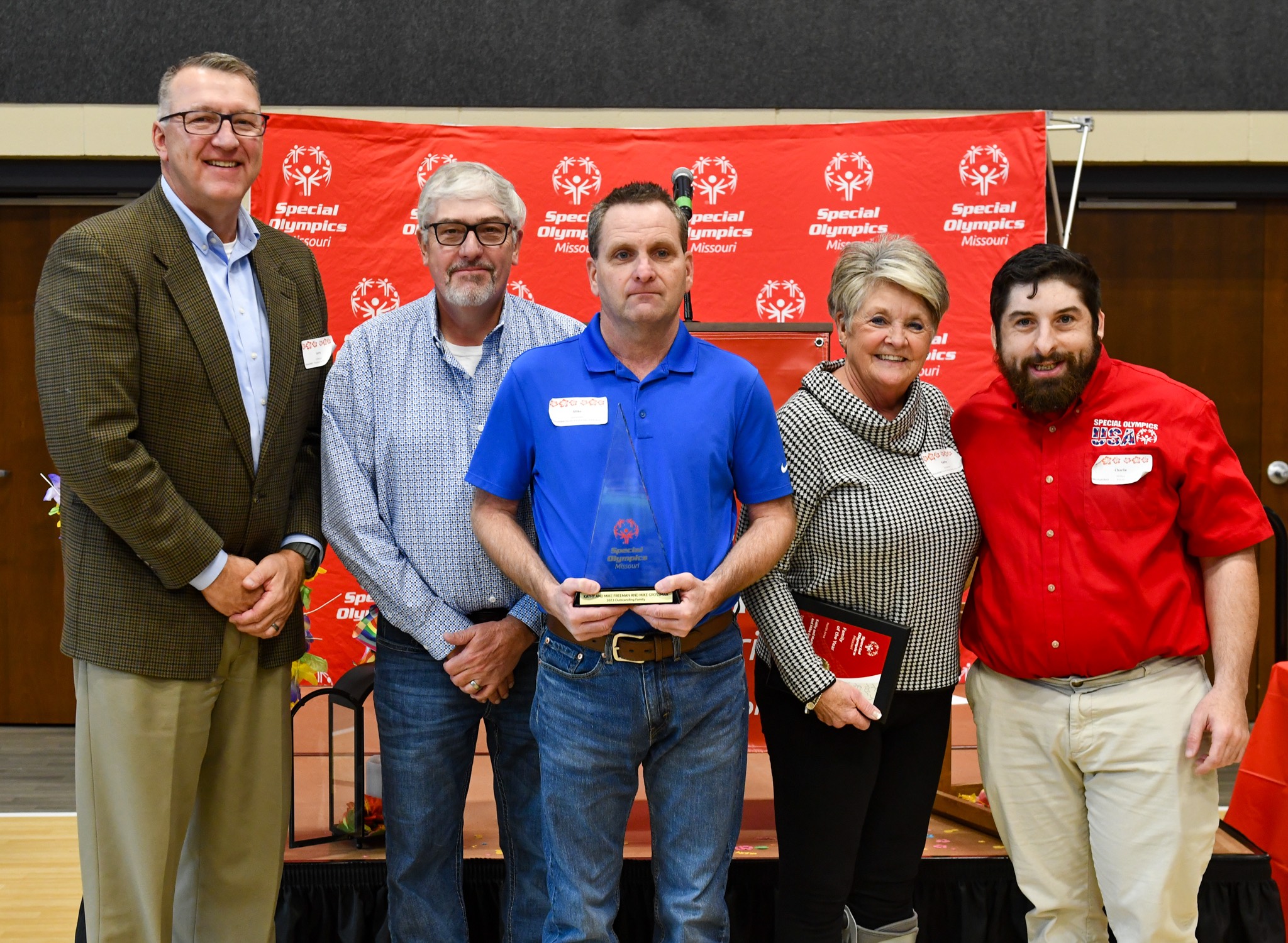 Outstanding Coach Award Winners
Statewide Winner: Sheri Mason
Central Area Winner: Jessica Nunan
Southwest Area Winner: Jorden Bratcher
North Area Winner: Shirley Heideman
Kansas City Metro Area Winner: Jim Smith
St. Louis Metro Area Winner: Kama Totherow
Southeast Area Winner: Sheri Mason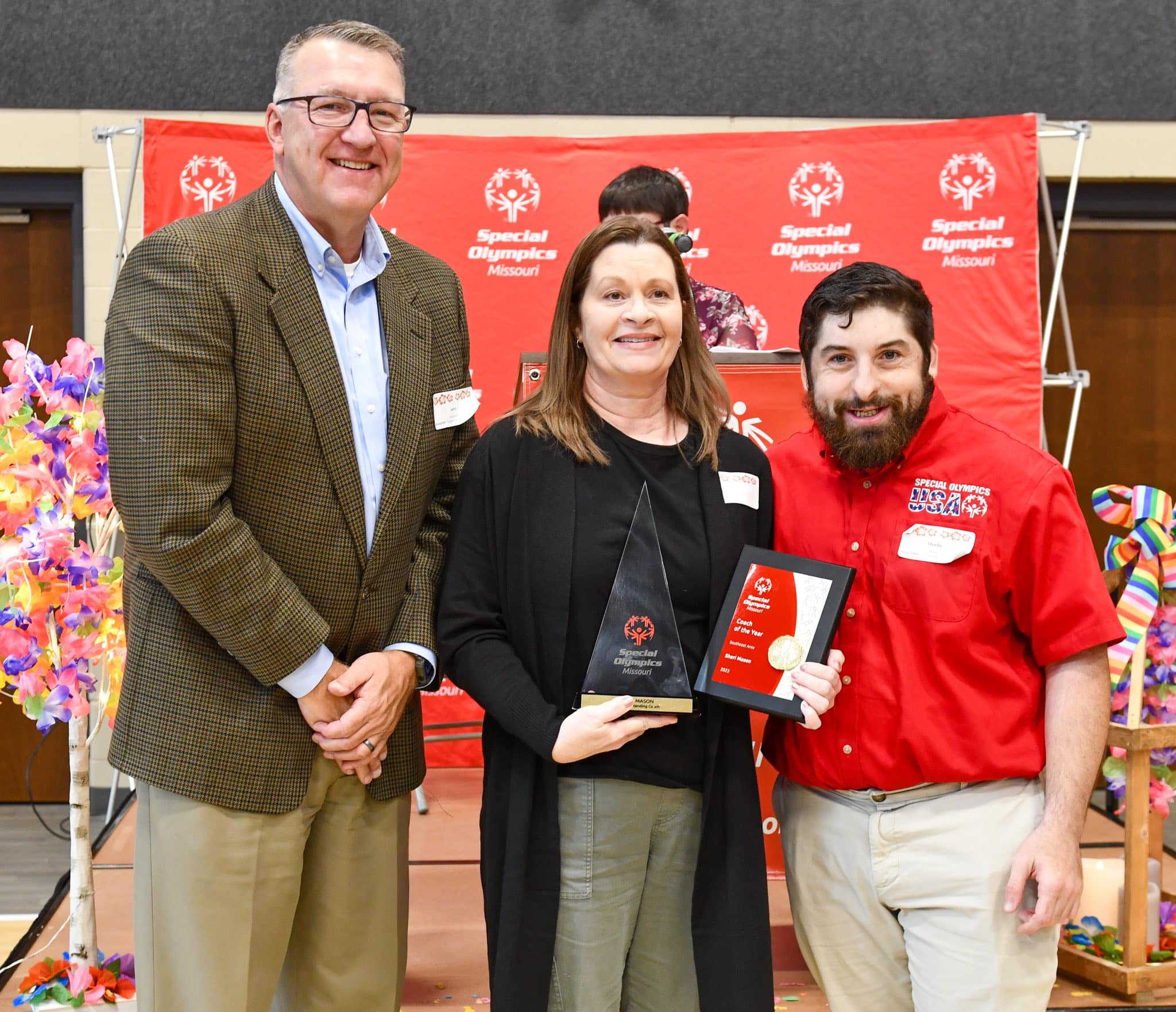 Outstanding Volunteer Award Winners
Statewide Winner: Curt Yaeger
Central Area Winner: Curt Yaeger
Southwest Area Winner: John and Julie Clarke
North Area Winner: Greg and Paula Burns
Kansas City Metro Area Winner: Heather Rolli
St. Louis Metro Area Winner: Linda Tyler
Southeast Area Winner: Holly Godwin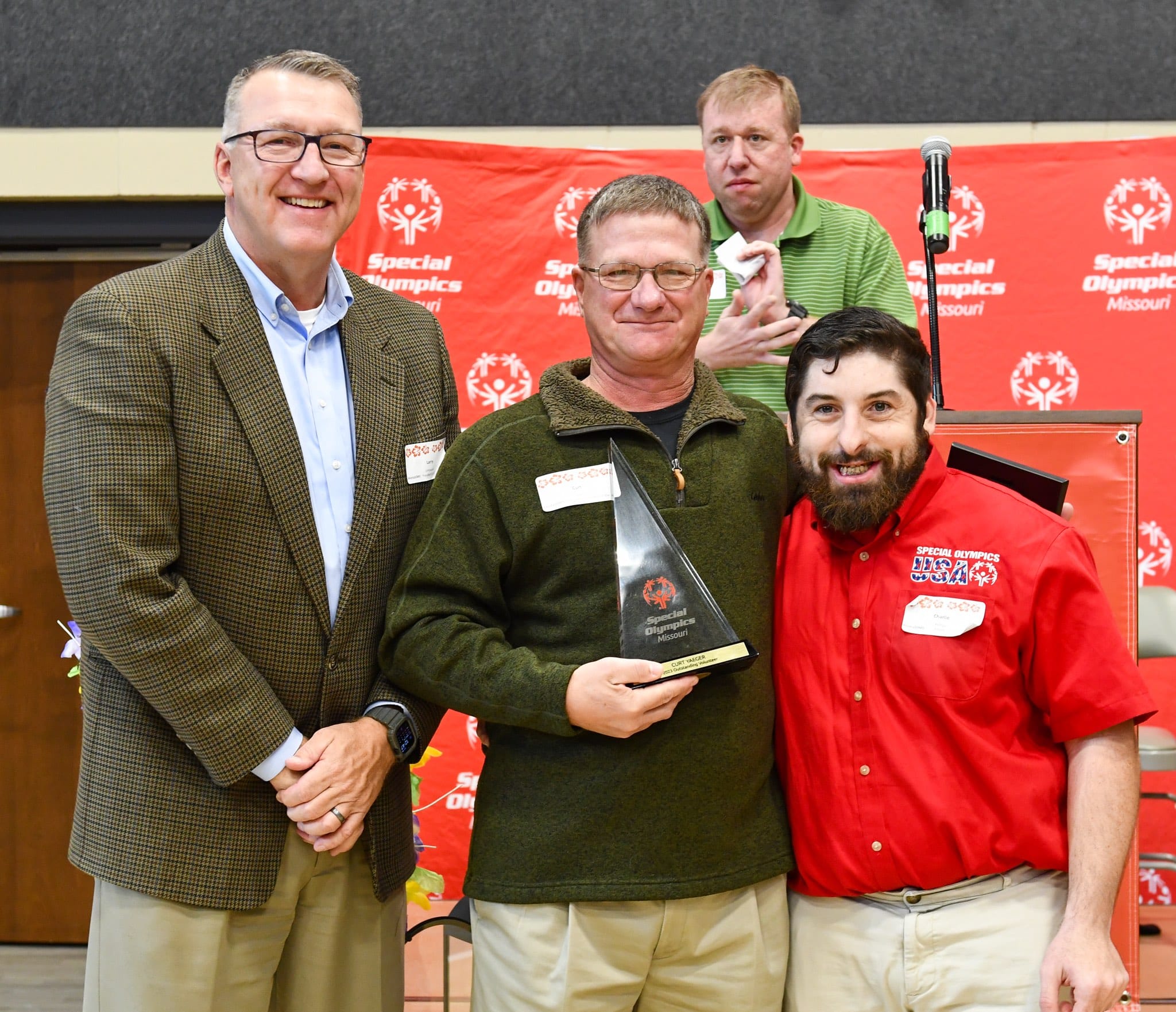 Outstanding Athlete Nominees
Statewide Winner: Jody Davis
Central Area Winner: Patrick Baker
Southwest Area Winner: Jody Davis
North Area Winner: Nate Carter
Kansas City Metro Area Winner: John Eckart
St. Louis Metro Area Winner: Jessica Bush
Southeast Area Winner: Lynn Shuffit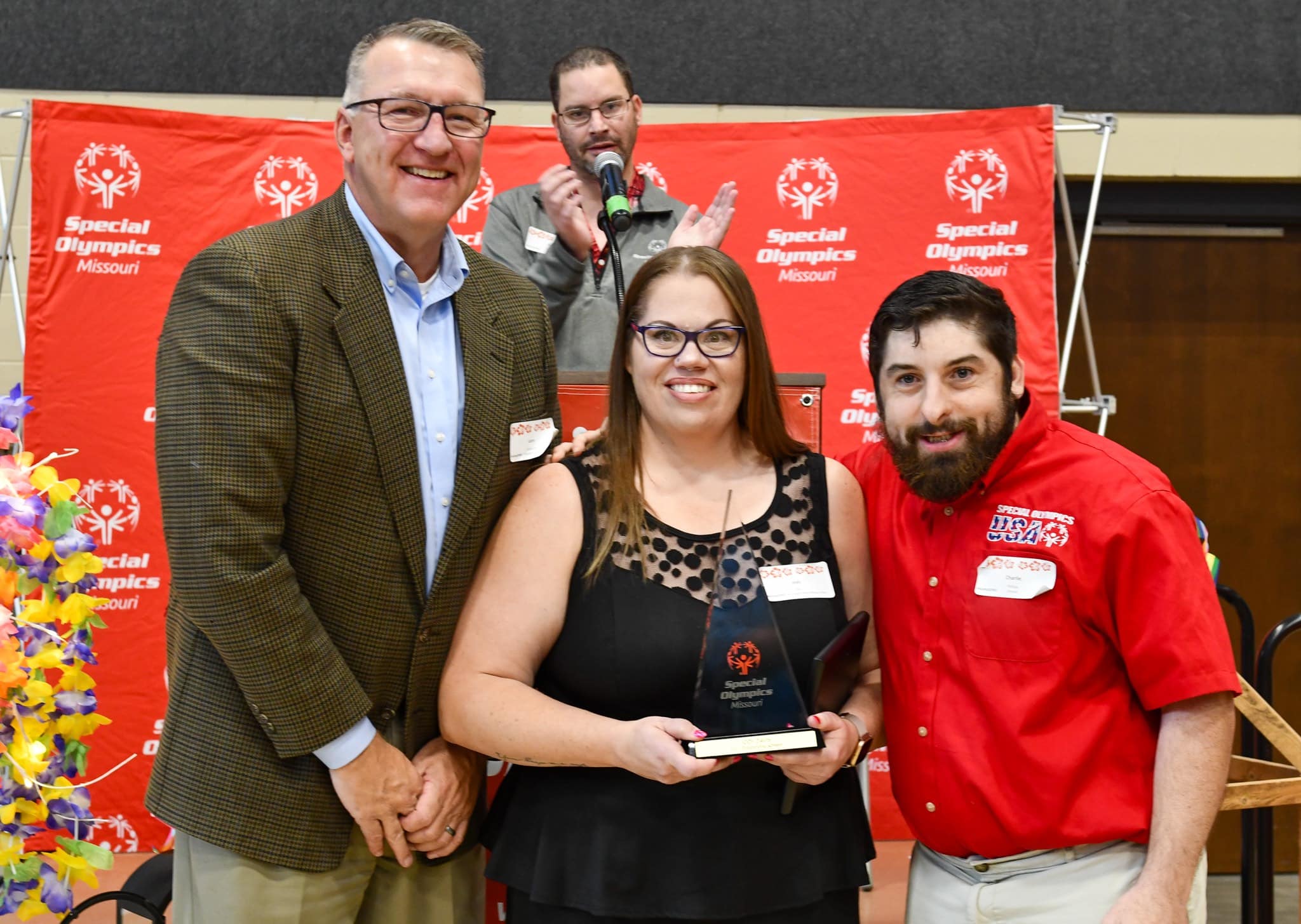 ---
SOMO concluded the Awards Banquet by giving out the 2023 Eunice Kennedy Shriver Award of Excellence. This year's winner is KRCG-TV. SOMO surprised the Mid-Missouri television station with the news at the 2023 State Outdoor Games!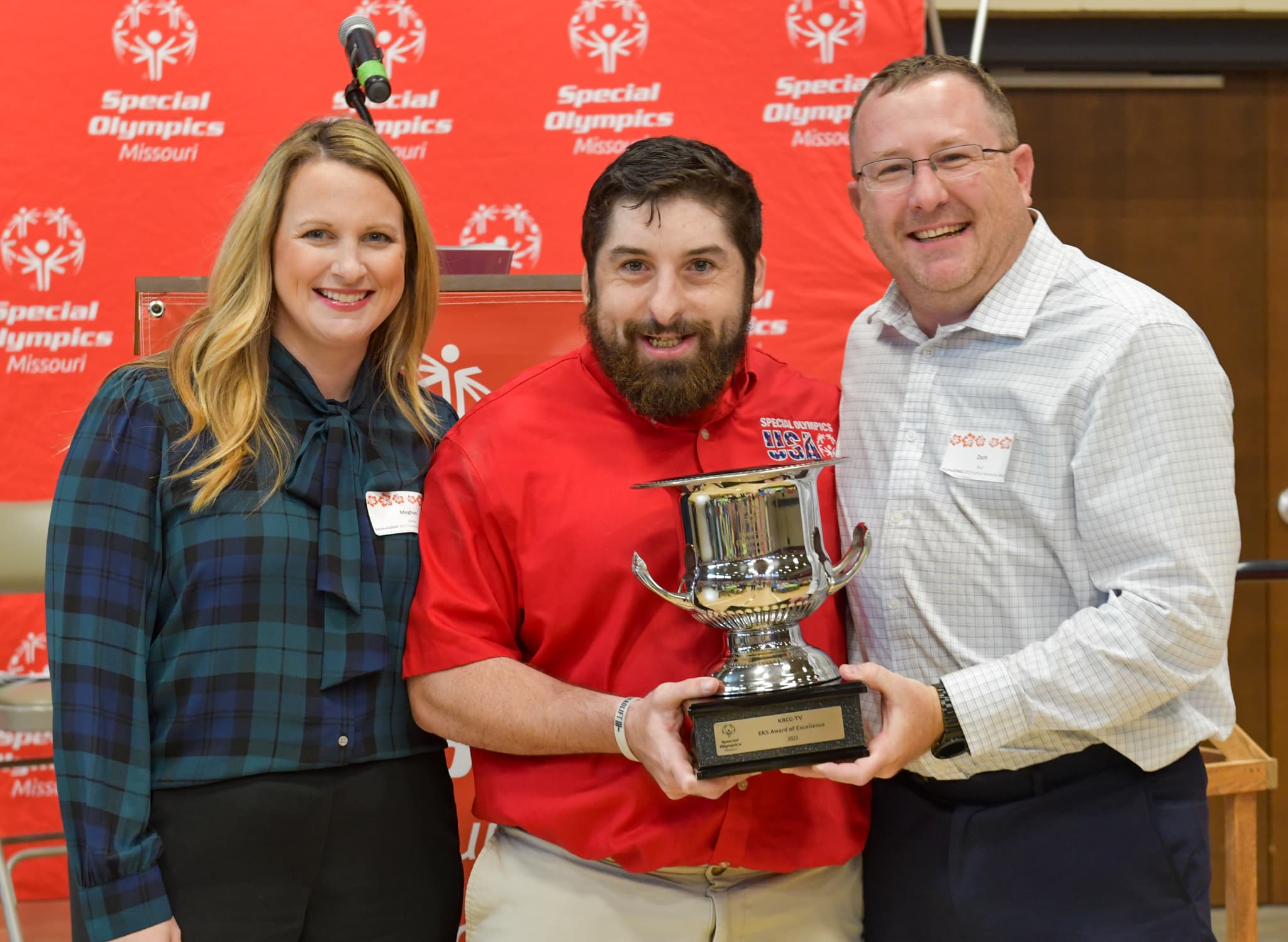 The SOMO Board of Directors implemented this award in 1988 as the Award of Excellence. But, in August 2018, the SOMO board voted to change the name to the Eunice Kennedy Shriver Award of Excellence to honor the founder of Special Olympics. The EKS Award of Excellence is deemed the highest honor the board bestows on an individual or organization for its years of service and impact on the SOMO program.
Congratulations to all the award winners and Hall of Fame inductees!