RELEASE: SOMO gets set for first-ever State Pickleball Tournament in Jefferson City
July 11, 2023
|
Area News, Athletes, Central Area, Coaches, Competition, Events, KC Metro Area, North Area, Press Releases, Southeast Area, Southwest Area, Sports, St. Louis Metro Area, Volunteers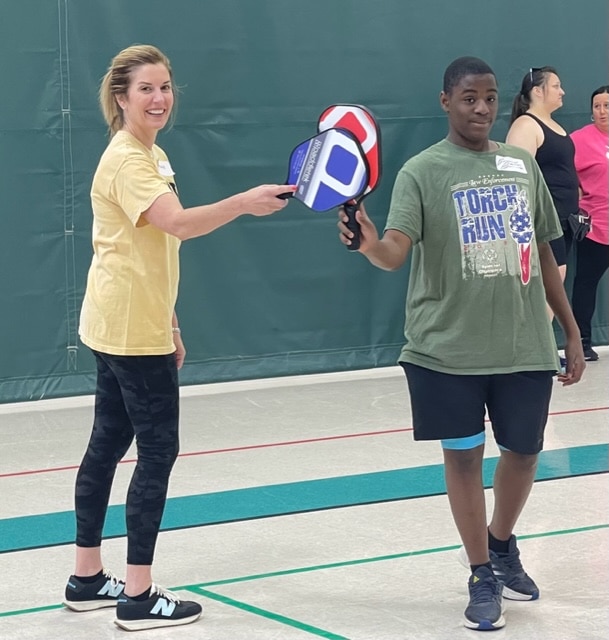 JEFFERSON CITY – Special Olympics Missouri (SOMO) will be hosting its first-ever State Pickleball Tournament on Saturday, July 15 at the Firley YMCA in Jefferson City on Ellis Blvd.
More than 80 athletes, coaches and Unified partners from across the state will head to the Capital City for this inaugural event. Competition will run from 9 a.m. to 3 p.m., and it will be all indoors.
"I'm really excited to bring pickleball to SOMO," said Luke Lamb, SOMO's director of competition and statewide training. "I think it's going to be a fast growing sport. It's already extremely popular with our athletes."
SOMO is one of four Special Olympics programs in the pilot year of Special Olympics pickleball. Special Olympics is partnered with USA Pickleball.
"Last year, we surveyed our athletes, and pickleball was unanimously selected as a new sport they wanted to try," said Melinda Wrye-Washington, SOMO's Sr. Director of Programs.
Wrye-Washington added, "We launched clinics in all six of our areas across the state and had very positive returns. Pickleball provides a great opportunity for people with and without intellectual disabilities to play together on the same playing field."
SOMO is actively looking for volunteers to fill two different shifts on Saturday. SOMO is especially in need of volunteers for the afternoon session.
Shift One: 7:30-11:45 a.m.
Shift Two: 11:30 a.m. to 4 p.m.
You can sign up to volunteer here!
SOMO appreciates any and all coverage of this event!