RELEASE: Daniel Fultz and Stan Smith to be inducted into SOMO Hall of Fame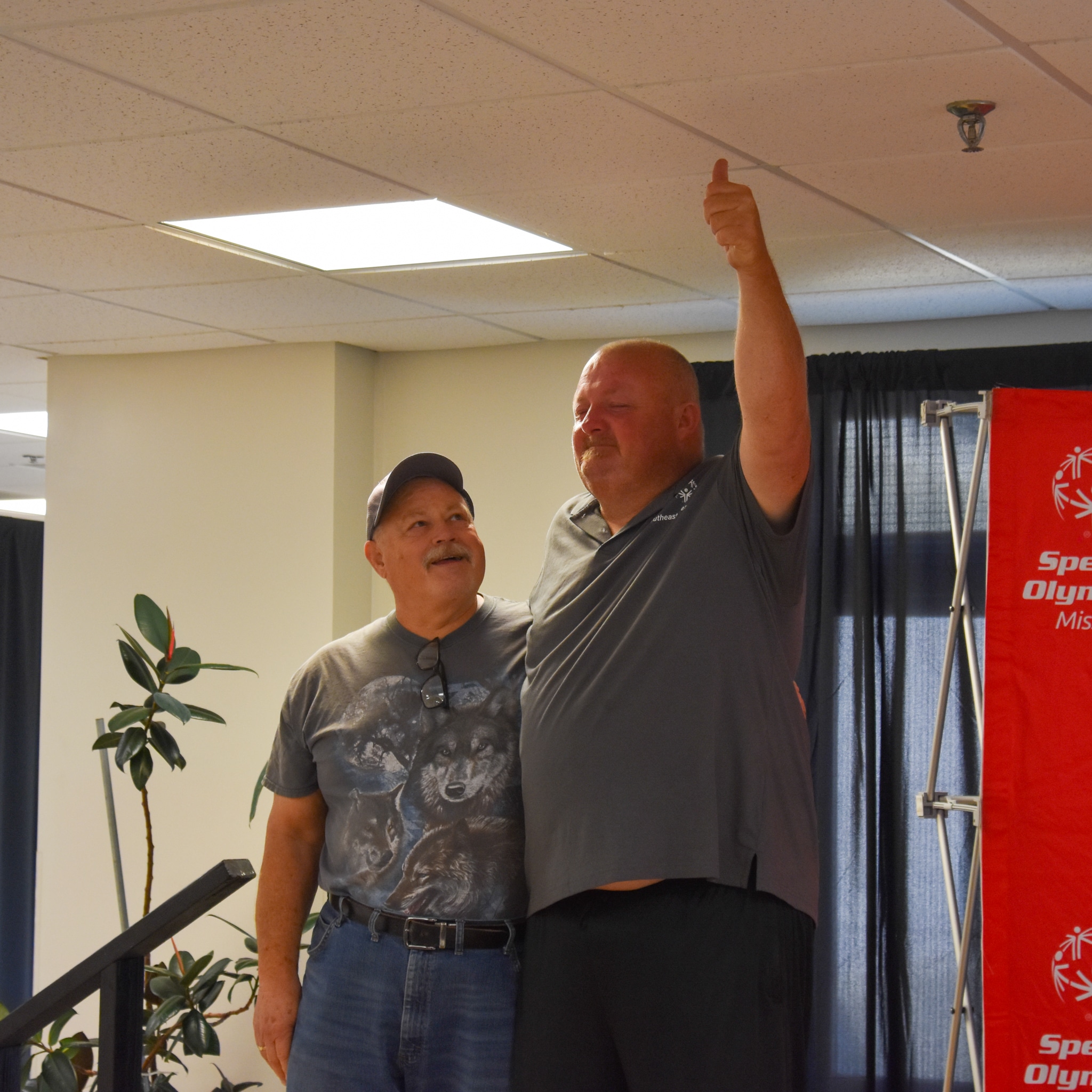 CAPE GIRARDEAU – Special Olympics Missouri (SOMO) surprised longtime athlete Daniel Fultz and longtime volunteer Stan Smith with some big news at Osage Centre on Tuesday, Oct. 3!
Daniel and Stan found out they will both be inducted into the SOMO Hall of Fame! The surprise was in front of about 50 of Daniel and Stan's closest family and friends.
"I'm a little stunned," Smith said. "It's just quite an honor. I'm very thankful."
Fultz added, "I just feel good. That's all I can tell you. I've been waiting on this for years."
The surprise was even more meaningful because Stan has coached Daniel for more than two decades. They both had no idea this is coming!
"Thank you for Special Olympics to the main upstairs," Fultz said. "Let's keep it going."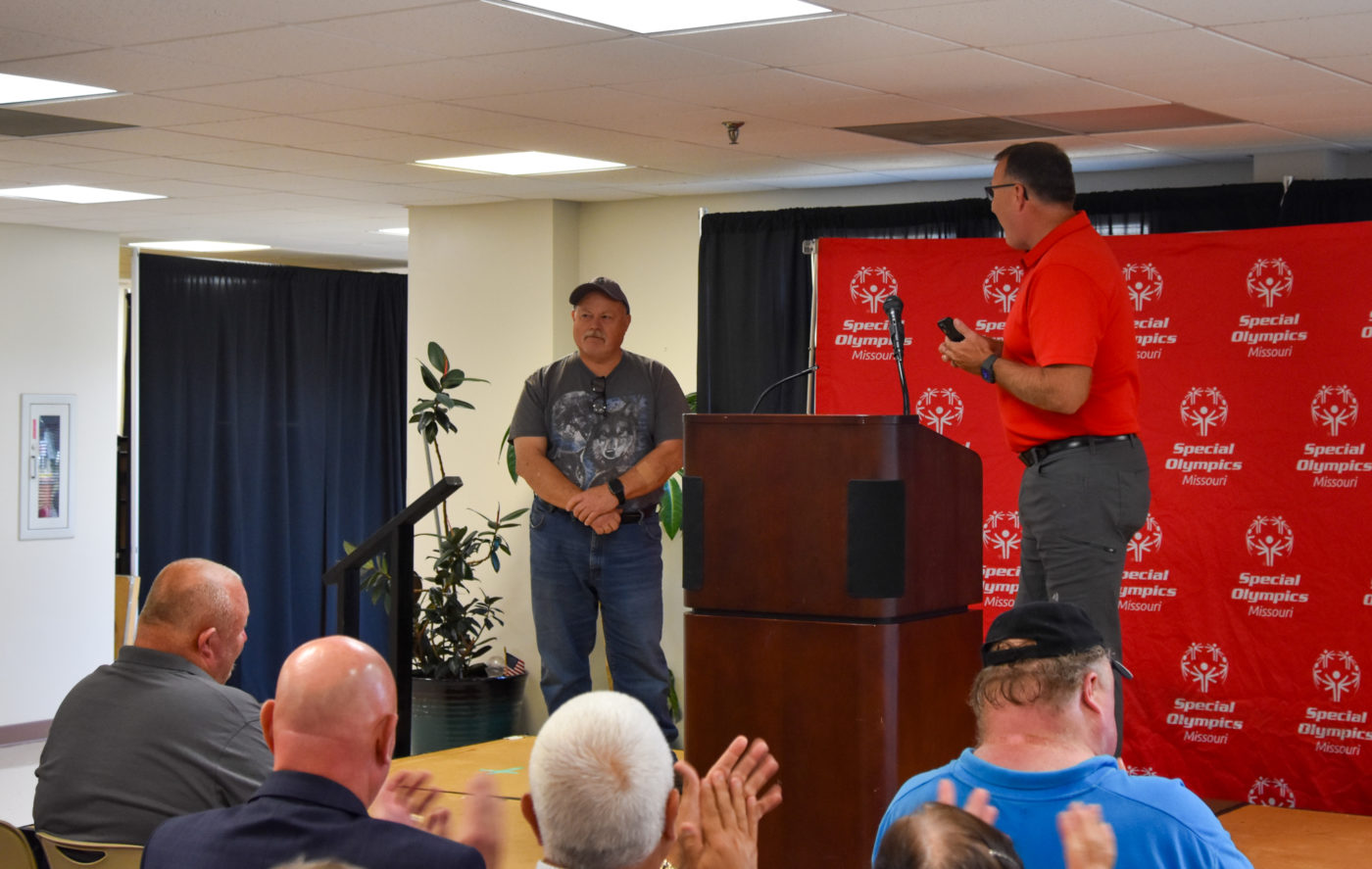 Stan Smith has been involved with SOMO for more than 30 years. He has served as a volunteer area director, chaperone, mentor and most importantly – a dedicated coach.
Stan has been selected as a coach for multiple national games, including the 2006 Special Olympics USA Games (Track), the 2010 Special Olympics USA Games (Softball), the 2014 Special Olympics USA Games (Basketball), the 2018 Special Olympics USA Games (Powerlifting) and the 2022 Special Olympics USA Games (Powerlifting). In 2019, Stan was the assistant coach for the Team Missouri softball team at the Special Olympics World Games in Los Angeles.
Daniel has been involved with SOMO for more than 25 years. He has participated in several different sports, including bowling, bocce, track, soccer, basketball, volleyball and softball. He has represented Team Missouri on four separate occasions at the Special Olympics USA Games.
When Daniel is not participating in sports, he is usually out raising money for the Southeast Area. In fact, Daniel was the first athlete in the Southeast Area to take the Polar Plunge. 
Our Hall of Fame Class of 2023 is now officially complete. Daniel and Stan will be joined by Chris Ringot and Genice Fisher. This year's Hall of Fame Class will be officially inducted at the SOMO Awards Banquet on Saturday, Nov. 18 at the Training for Life Campus in Jefferson City.
The SOMO Hall of Fame was created in 1997 by the Board of Directors as a way to recognize longevity and achievement of athletes and volunteers within the organization. A voting committee, appointed by the SOMO Chairperson of the Board, is responsible for reviewing all nominations and voting on no more than two inductees in each category (athlete and volunteer).
To be inducted, finalists must be named on 75% of the ballots. A permanent video display, housed in the Missouri Sports Hall of Fame in Springfield, features photos and bios of each year's SOMO Hall of Fame inductees.