RELEASE: 28th Annual Lake of the Ozarks Polar Plunge sets new fundraising record
March 1, 2023
|
Area News, Athletes, Central Area, Events, Families, Fundraiser, Polar Plunge, Press Releases, Sponsors, Uncategorized, Volunteers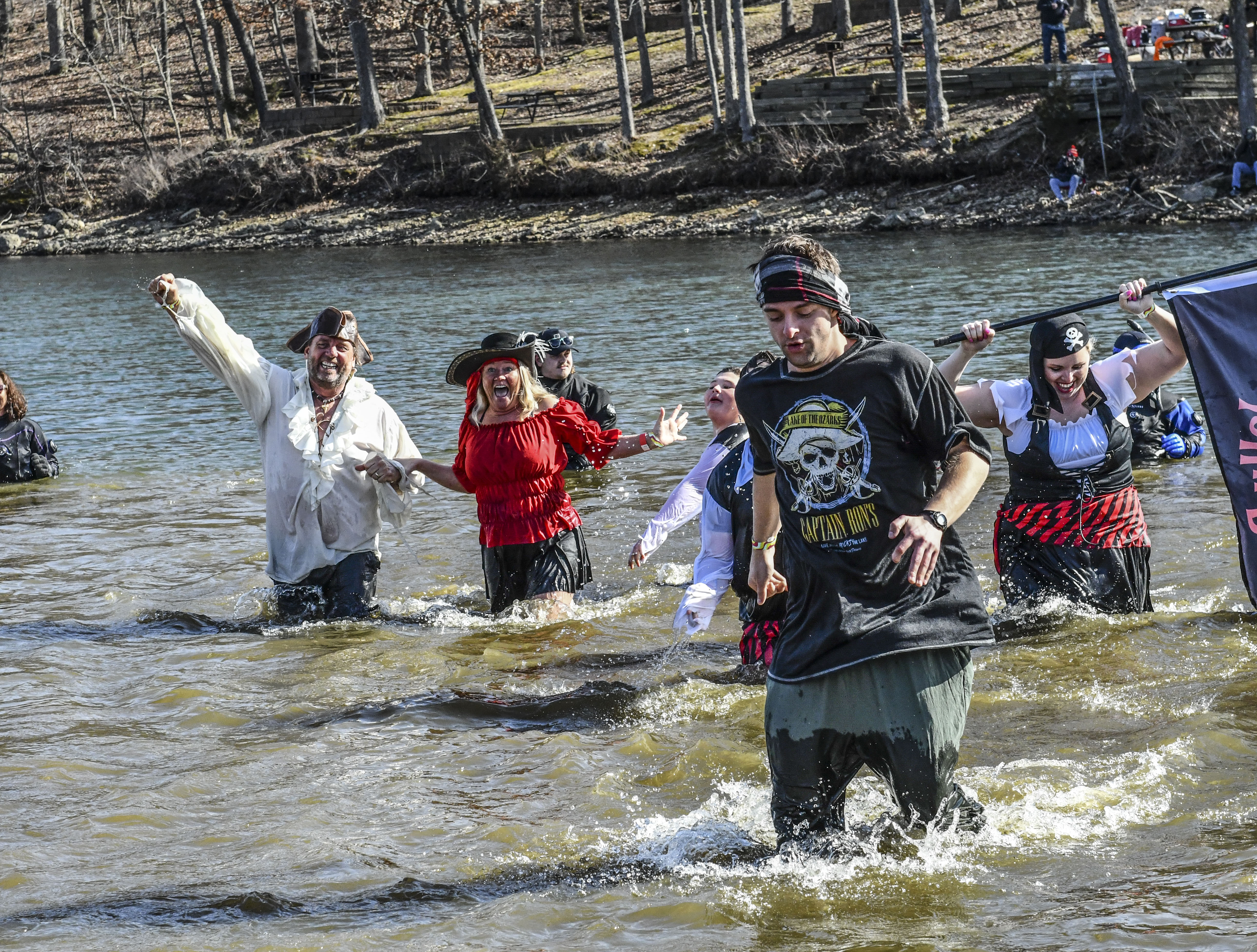 JEFFERSON CITY – The 28th Annual Lake of the Ozarks Polar Plunge on Feb. 25 was a splashing success, raising a record $270,500 to date. A total of 24 Super Plungers, 13 Pee Wee Plungers, 257 Plungers and 98 Strutters from around the area donned disco-themed costumes and swimwear to run a 5K and/or take a chilly dip into the Lake of the Ozarks. Their Reason for Freezin'… the athletes of Special Olympics Missouri (SOMO).
Online fundraising is still ongoing. Donations can be made here!
"I am completely blown away by the support of the community and all of the participants for this year's event," Plunge Coordinator Crystal Schuster said. "The amount of money raised for the SOMO athletes is nothing less than incredible, and my heart is overflowing with gratitude for everyone involved!"
Top Fundraisers
1st Place Individual: Amber Smith, $15,672
1st Place Group: Davis' Dawgs, $30,174 
Individual Golden Plungers
1st Place: Chris – Super Chiefs Fan
Group Golden Plungers
1st Place: Jolly Rogers 
2nd Place: All Washed Up
3rd Place: Put a Little Boogie In It
LETR Golden Plungers
School Golden Plungers
1st Place: Salem
2nd Place: School of the Osage
3rd Place: California High School StuCo
Strut Results
Strutters:  98
Money Raised: $7,435
Top Male: Tucker Seise – 16:51
Top Female: Ellie Webb – 19:43
Super Plunge Results
Super Plungers:  24 – New Record!
Money Raised: $173,520 – New Record
Top Fundraiser: JT Gerlt, $36,276
Pee Wee Plunge Results
Pee Wee Plungers:  13
Top Fundraiser: Jackson Barthelmass, $1,941
SOMO was lucky to have SOMO Athlete and Plunge Ambassador Bobby Bates helping with this event.
"I love helping with the Polar Plunge and seeing all of the excitement the day of the event," Bates said.
This year's event was held in conjunction with the Osage Beach Police Department. Presenting sponsors included the Missouri Department of Natural Resources, Mix 92.7, Cool 102.7, KS95, KRCG-TV, Lamar, Margaritaville at the Lake, and LO Profile.
For more information about the Polar Plunge, visit www.somo.org/plunge.
Media is welcome to download and use any pictures from our Flickr Page.
Special Olympics Missouri
Special Olympics Missouri (SOMO) is a year-round program of sports training and athletic competition for children and adults with intellectual disabilities. Thousands of athletes participate in 16 Olympic-type sports throughout the state. SOMO provides people with intellectual disabilities continuing opportunities to develop physical fitness, demonstrate courage, and experience joy as they participate in the sharing of gifts and friendship with their fellow athletes, their family and friends, and communities across Missouri.
SOMO is proud of our financial health, returning 78% of every dollar back to program services. We are privileged to be recognized with these honors: Better Business Bureau A+ Charity Accreditation, Guidestar Gold Level and Charity Navigator 4-star rating. Special Olympics was also recently named Morning Consult's No. 4 most trusted nonprofit.
Thank you for trusting us with your donations, volunteer time and your goodwill.
Visit Special Olympics Missouri at www.somo.org. Engage with us on Twitter, Instagram, Facebook and YouTube.