RELEASE: 17th Annual Maryland Heights Polar Plunge raises $65,000 for SOMO
February 22, 2023
|
Area News, Athletes, Events, Families, Fundraiser, Polar Plunge, Press Releases, St. Louis Metro Area, Uncategorized, Volunteers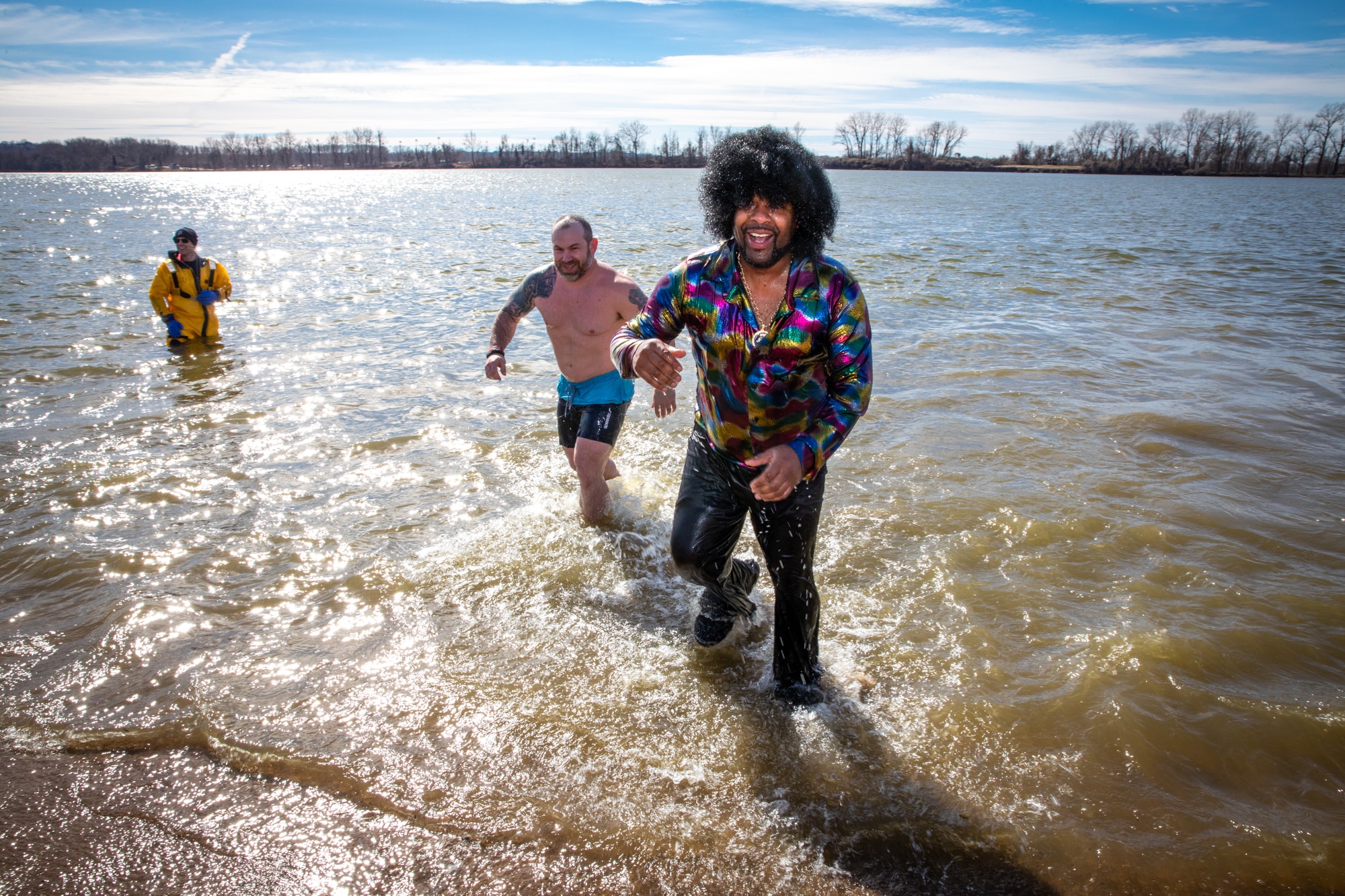 MARYLAND HEIGHTS – The 17th Annual Maryland Heights Polar Plunge on Feb. 18 at Creve Coeur Lake was a splashing success, raising $65,147 to date. A total of 270 brave men and women from around the area donned disco-themed costumes and swimwear to take a chilly dip into Creve Coeur Lake. Their Reason for Freezin'… the athletes of Special Olympics Missouri (SOMO).
Online fundraising is still ongoing. Organizers of the plunge still hope to raise an additional $15,000 to reach the goal of $80,000. Donations can be made here.
"We had beautiful weather for our Plunge," Plunge Coordinator Kellen Wolters said. "It was very exciting to watch our wonderful communities, schools and law enforcement agencies come together to raise money for our SOMO athletes."
Top individual fundraisers included the following:
1st Place Fundraiser – Meredith Absolon | Manchester Police Department
Top Community Fundraising Team – Siemens: $1,897
Top Law Enforcement Team – Town & Country Police Department: $5,036
Top Fundraising School – Windsor High School: $4,540
Competition for the Golden Plunger was steep this year. Participants were encouraged to come in costume and compete for the chance to take home the Golden Plunger.
Community Group 1st Place – Hollywood Casino
Community Group 2nd Place – 1904 Labs
Community Group 3rd Place – ESPN
Law Enforcement Group 1st Place – St. Louis County Police Academy
Law Enforcement Group 2nd Place – Creve Coeur Police Department
Law Enforcement Group 3rd Place – Hazelwood Police Department
School Group 1st Place – Festus Middle School
School Group 2nd Place – Webster Groves High School
School Group 3rd Place – Windsor High School
This year's event was held in conjunction with the Maryland Heights Police Department and the Hazelwood Police Department. Partners included: Special School District, Knights of Columbus, EStreetz, Southern Bus and Mobility, Am Vets Post 130, Hazelwood Fire Protection District, Pattonville Fire Protection District, and Premier Rentals
For more information about the Polar Plunge, visit www.somo.org/plunge.
Media is welcome to download and use any pictures from our Flickr Page.
Special Olympics Missouri
Special Olympics Missouri (SOMO) is a year-round program of sports training and athletic competition for children and adults with intellectual disabilities. Thousands of athletes participate in 16 Olympic-type sports throughout the state. SOMO provides people with intellectual disabilities continuing opportunities to develop physical fitness, demonstrate courage, and experience joy as they participate in the sharing of gifts and friendship with their fellow athletes, their family and friends, and communities across Missouri.
SOMO is proud of our financial health, returning 78% of every dollar back to program services. We are privileged to be recognized with these honors: Better Business Bureau A+ Charity Accreditation, Guidestar Gold Level and Charity Navigator 4-star rating. Special Olympics was also recently named Morning Consult's No. 4 most trusted nonprofit.
Thank you for trusting us with your donations, volunteer time and your goodwill.
Visit Special Olympics Missouri at www.somo.org. Engage with us on Twitter, Instagram, Facebook and YouTube.