Through the transformative power and joy of sports, Special Olympics Missouri activates youth, engages children and adults with intellectual disabilities, builds inclusive communities and improves the health of those we serve. When you purchase tickets for the Drive it Home Raffle, you join Special Olympics Missouri as we change the game for people young and old!
WHAT: The Drive it Home Raffle, Powered by Missouri Automobile Dealers Association and Law Enforcement Torch Run for Special Olympics Missouri is So. Much. More. With bonus drawings, promotional discounts, and a 50/50 Add-on drawing, purchasers have multiple chances to win more than 150 prizes, including cash, trips, vehicles, electronics and more!
WHEN: The promotion begins June 26, 2021 and ends with a Grand Prize Drawing, tentatively scheduled for December 4, 2021. The last day to purchase tickets is November 12, 2021.
WHY: To provide hope and opportunity for individuals with intellectual disabilities served by Special Olympics Missouri
HOW: Purchase your Drive it Home Raffle tickets by visiting: https://driveithomeraffle.com/ to have access to So. Much. More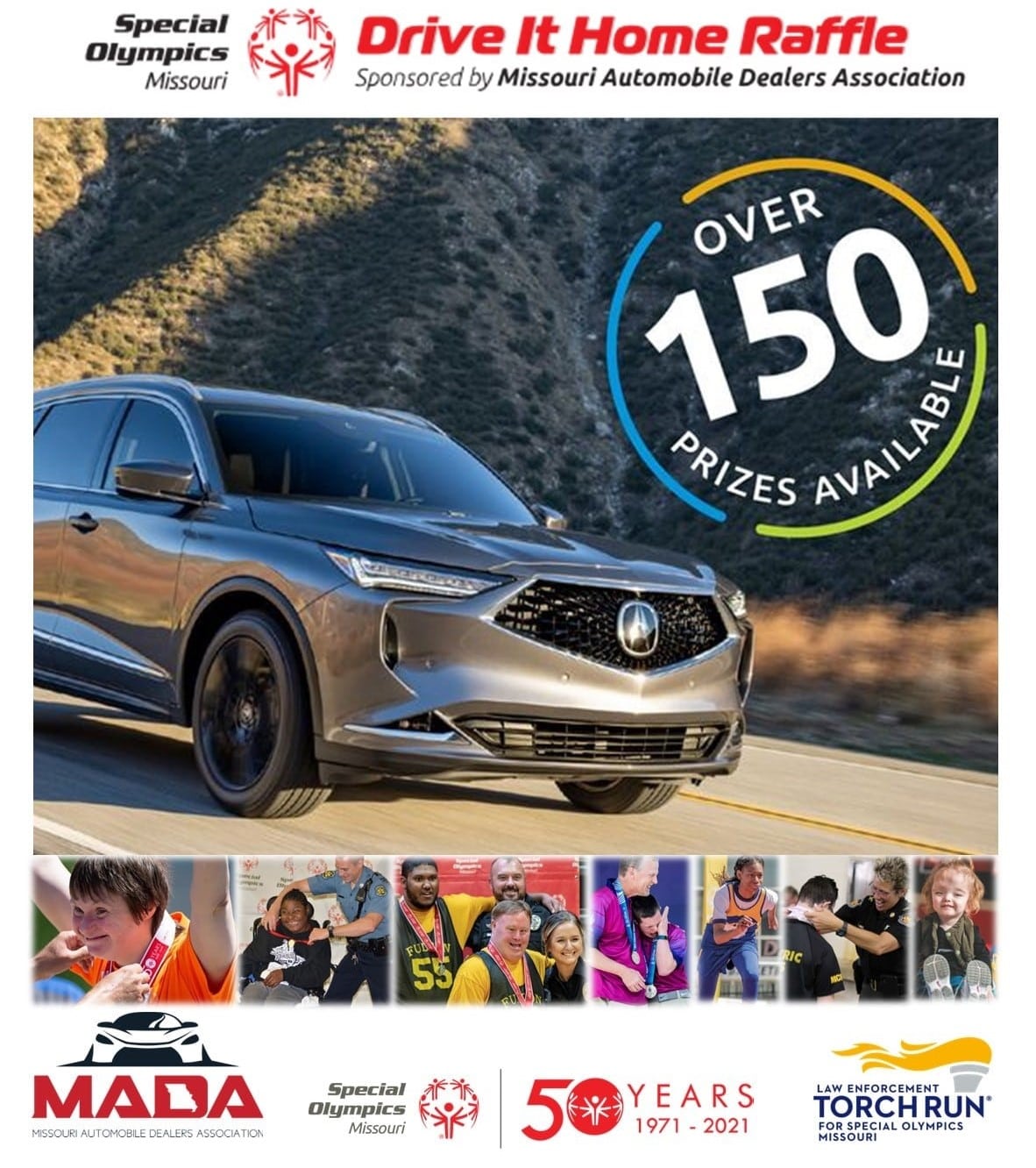 PRIZES
GRAND PRIZE: 2022 ACURA MDX—EST. MSRP: $55,000
Donated by Missouri Automobile Dealers Association
One area finalist will win the Grand Prize!
AREA FINALIST PRIZES: 6 AWARDS FOR $450 EACH
BONUS PRIZE:
Early Bird Prize: 2021 Ford Bronco or $25,000
SECONDARY PRIZES:
Vacation to Athens, Greece or $4,000 cash
Vacation to Alaska or $1,000 cash
Vacation to Amsterdam, Netherlands or $3,000 cash
Vacation to Barcelona, Spain or $2,500 cash
Vacation to Bali, Indonesia or $2,000 cash
Caribbean Cruise or $1,500 cash
Gas for a year or $1,200 cash
$1,000 cash award—two will be awarded
Tech savvy toys and other items

Blackfire Clamplight Lantern—30 will be awarded
High Sierra Endeavor Elite Backpack—25 will be awarded
JLAB Clip 3 Waterproof Portable Bluetooth Speaker– 20 will be awarded
Ihome Bluetooth Alarm Clock Radio-15 will be awarded
myCharge Rechargeable Power Bank-10 will be awarded
PremiumBag Luggage Set-15 will be awarded
Homedics MyChill Personal Space Cooler-15 will be awarded
Victrola Victrola 3 in-1 Bluetooth Record Player-4 will be awarded
50/50 ADD-ON DRAWING—WINNER WILL BE AWARDED HALF THE JACKPOT
Guidelines for purchasing 50/50 Add-on tickets:
Only one method of payment and only one mailing address are permitted
50/50 Add-on tickets must be ordered in conjunction with raffle ticket.
50/50 Add-on orders will not be accepted after the original raffle ticket order date
---
PRICES:
DRIVE IT HOME RAFFLE TICKETS                                              
$25 for one ticket
$50 for three tickets
$100 for eight tickets
** ADD-ON 50/50 TICKETS ** 
$10 for one ticket
$25 for five tickets
$50 for fifteen tickets
**Add-on 50/50 tickets**
Must be purchased with Drive it Home Raffle tickets
Only one form of payment and one mailing address are permitted.
Winner of 50/50 takes half the jackpot!
VALUE BUNDLE – $200 for 10 DRIVE IT HOME RAFFLE and 30 ADD-ON 50/50 TICKETS