Through the transformative power and joy of sports, Special Olympics Missouri activates youth, engages children and adults with intellectual disabilities, builds inclusive communities and improves the health of those we serve. When you purchase tickets for the Drive it Home Raffle, you join Special Olympics Missouri as we change the game for people young and old!
WHAT: The Drive it Home Raffle, Powered by Missouri Automobile Dealers Association and Law Enforcement Torch Run for Special Olympics Missouri is So. Much. More.
WHEN: The 2022 promotion began on July 1, 2022 and ended with a Grand Prize Drawing on Dec. 9, 2022. The last day to purchase tickets was Nov. 18, 2022. We'll have more info on our 2023 Drive it Home Raffle this summer!
WHY: To provide hope and opportunity for individuals with intellectual disabilities served by Special Olympics Missouri
HOW: Click one of the buttons below to get started!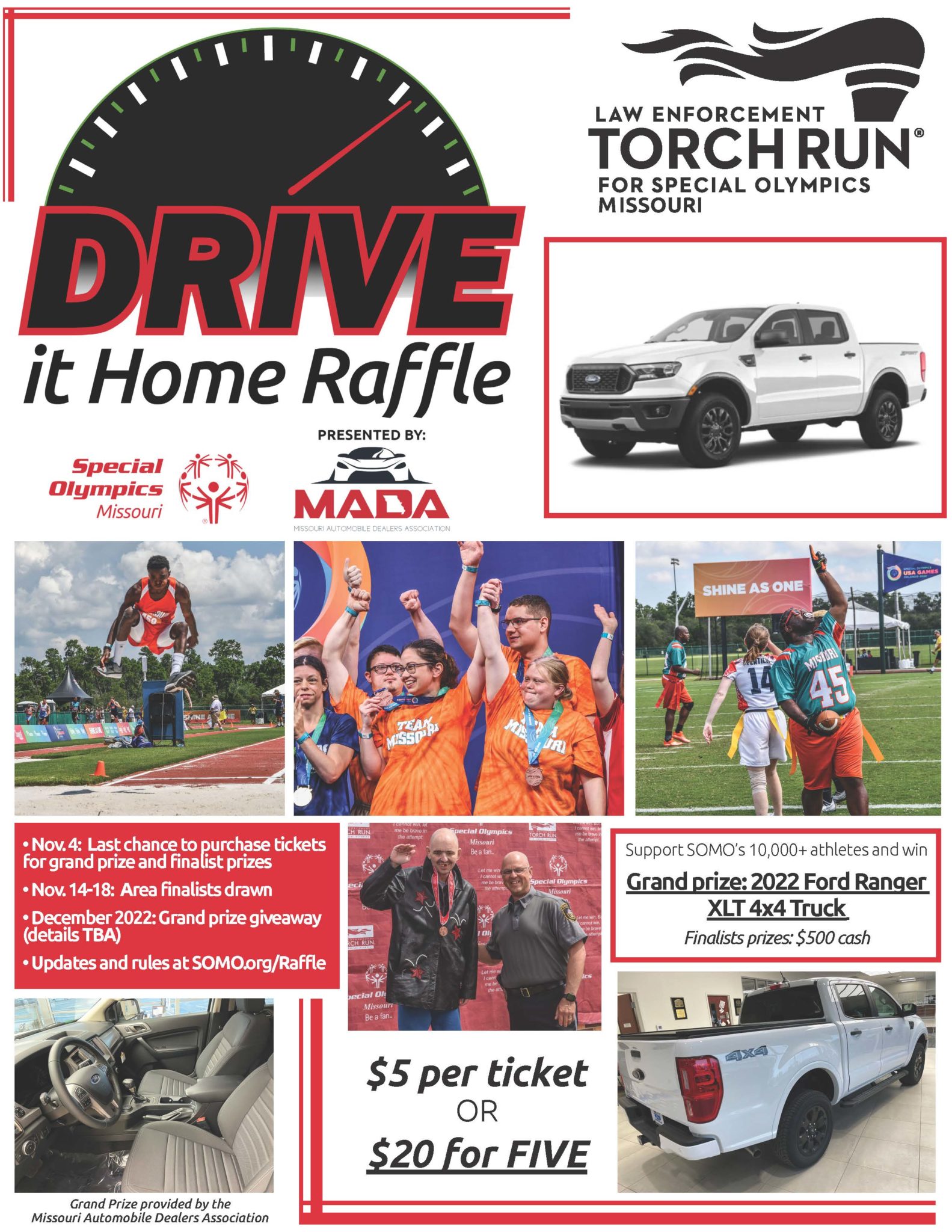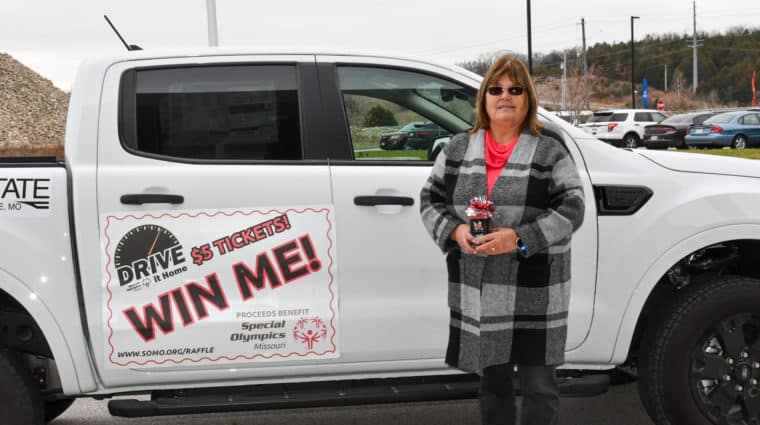 We are so excited to announce Georgia Powell, from the Southwest Area, was the winner of the 2022 Drive it Home Raffle! You can read more about the 2022 raffle here.
We will have more information on the 2023 Drive it Home Raffle later in 2023!
2022 PRIZES
GRAND PRIZE: 2022 FORD RANGER 4X4 —EST. MSRP: $41,715
Donated by Missouri Automobile Dealers Association
One area finalist will win the Grand Prize!
AREA FINALIST PRIZES: SIX DRAWINGS FOR $500 EACH
EARLY BIRD PRIZES: FOUR DRAWINGS FOR $2,500 EACH
50/50 DRAWING: Chance to win half of the total amount of 50/50 ticket purchases during the campaign. Deadline for 50/50 entry is Nov. 11.
---
PRICES:
DRIVE IT HOME RAFFLE TICKETS                                              
$5 for one ticket
$20 for five tickets
50/50 RAFFLE TICKETS
$10 for one ticket
$25 for three tickets
---
HOW TO ENTER (2022 Deadline has past)
ONLINE: CLICK HERE
IN-PERSON: From one of our Law Enforcement Torch Run partners, community partners, coaches, athletes, SOMO staff, Board members and other dedicated volunteers.
PHONE: Call the Special Olympics Missouri Training for Life Campus at 573-635-1660 between 8 a.m and 4:30 p.m. to place your order.
Official Rules here