Special Olympics was created to help people with intellectual disabilities through sports, but we also want to be a resource for their families as well. Here you will find a list of Frequently Asked Questions, resources compiled by your fellow SOMO families, a list of our Family Ambassadors across the state and much more. If you have questions about anything on this page, reach out to us!
"As we hope for the best in them, hope is reborn in us."
- Eunice Kennedy Shriver, founder of Special Olympics
A common misconception of Special Olympics programming is that we just offer sports for people with intellectual disabilities; we're here to show you that we're so much more than just sports and for people of all ages.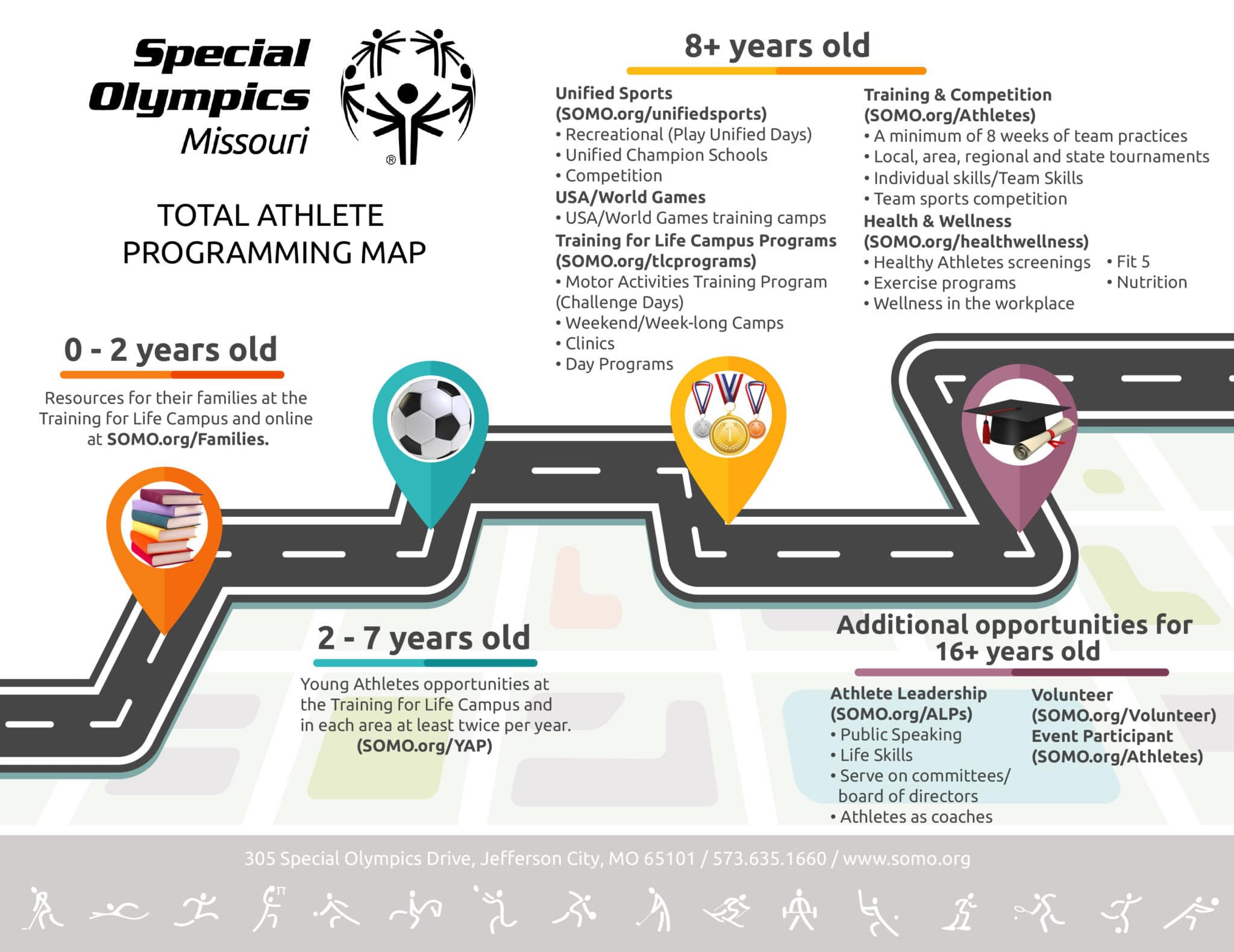 0-2 years old
Resources for families at the Training for Life Campus and here online.
2-7 years old
Young Athletes opportunities at the Training for Life Campus and in each area throughout the year.
8+ years old
Additional opportunities for 16+ years old
Athlete Leadership training in classes such as public speaking, technology, coaching, health, governance, life skills, independence and much more
Q: How do I sign up my child/adult for Special Olympics?
A: All athletes are required to complete a physical (signed by doctor), a release form and a COVID Risk Acknowledgement Form before they begin any Special Olympics activity. It is important that all paperwork be complete and legible before submitting. If paperwork is not complete or legible, it could delay your athlete's involvement. Physicals are valid for three years from the date of the physician's signature. Parents/adult athletes must sign the Application form and the release so be sure to look for those signature lines.
Q: What are the ages to participate in Special Olympics?
A: Special Olympics begins at the age of eight. You never age out of Special Olympics! Children ages 2-7 can participate in the Young Athletes program. Once they turn 8 years of age, they can compete.
Q: What are the qualifications/requirements to participate as an athlete in Special Olympics?
A: A person must be identified by an agency or professional as having one of the following:
• Intellectual disability
• Closely related development disability, which means having functional limitations in both general learning and in adaptive skills such as recreation, work, independent living, self-direction or self-care.
Q: Are there any opportunities for my child to be involved if they are under the age of eight?
A: Yes, children ages 2-7 can participate in the Young Athletes program. 
Q: What is the cost?
A: There is no cost to sign up for Special Olympics. Teams do fundraise to cover the cost of their uniforms, travel, sports equipment and to attend state games.
Q: As a family member/sibling of an athlete, how can I get involved?
A: Families are the heart of our organization. Family members can volunteer in many ways. You can become a coach, unified partner, fundraiser, team chaperone, help at practices or as a day of event volunteer at a competition. The opportunities are endless. We suggest you visit with your local coach and/or your area program staff to find the right fit for your talents and time. You may be required to complete additional forms/training for your volunteer role. Be sure to ask what forms you will need to complete.
Q: Am I required to attend practices?
A: You should visit with your team coach to understand the roles and responsibilities family members and athletes have within your local team. It is important to understand that athletes are required to attend practices/trainings or they may not be allowed to attend competitions.
Q: Does Special Olympics have other opportunities besides sports?
A: Special Olympics is more than just sports. We offer health and wellness programs and Athlete Leadership Programs.
(this may also be a good place to link the Total Athlete Programming Map?)
Q: What sports does SOMO offer?
A: Special Olympics Missouri offers 16 sports for individuals to practice and compete in, each of which are grouped in competition divisions according to ability level, age and gender. (link to sports page)
Q: How do I know what area I am located or local SOMO staff?
A: You can locate your area/local SOMO staff by looking at this page.
Q: What events do you have coming up and how can I stay informed?
A: Events are posted in on our calendar page. We recommend you join our statewide eNews mailing list.
Q: Do you offer free health screenings?
A: Free health screenings are offered through our Healthy Athletes Program. Screenings are offered at State Events and at some area events. Screenings are offered for Special Smiles, Opening Eyes, Fun Fitness, Healthy Hearing, Fit Feet, Health Promotion, and MedFest. 
Family Ambassadors are volunteer families who have agreed to represent families from their areas and serve on a committee to make Special Olympics Missouri better for all. You can meet the Family Ambassadors below! Interested in becoming a Family Ambassador? Let us know!