Poplar Bluff earns School of Character Award of Merit for second straight year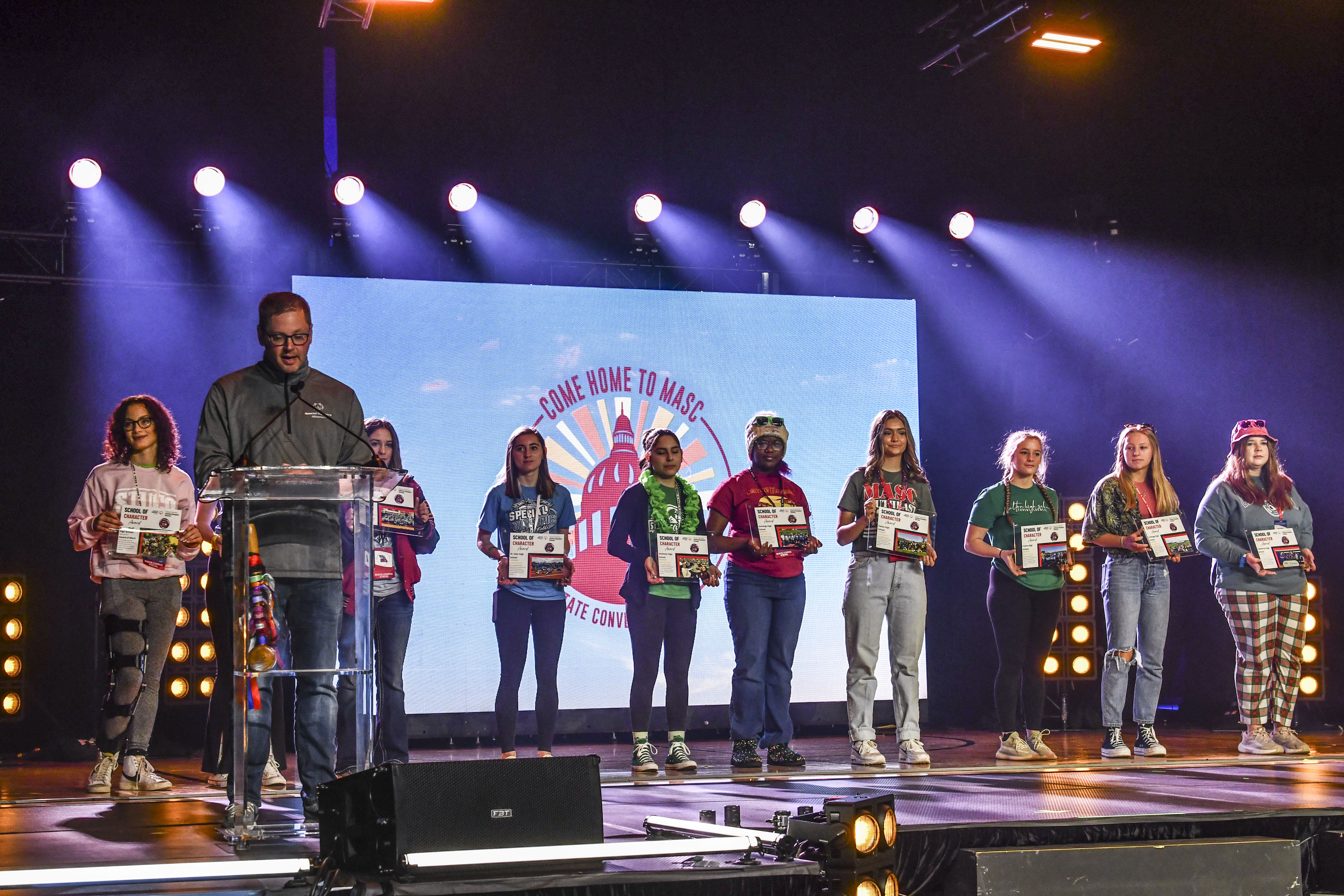 JEFFERSON CITY – Special Olympics Missouri presented its 2023 School of Character Awards at the 75th annual Missouri Association of Student Councils Convention at Jefferson City High School on March 17.
For the second straight year, Poplar Bluff earned the annual Award of Merit, which goes to one qualifying school each year that displays outstanding commitment to individuals with intellectual disabilities, a true understanding of unity and a passion for raising awareness and funds for local SOMO athletes.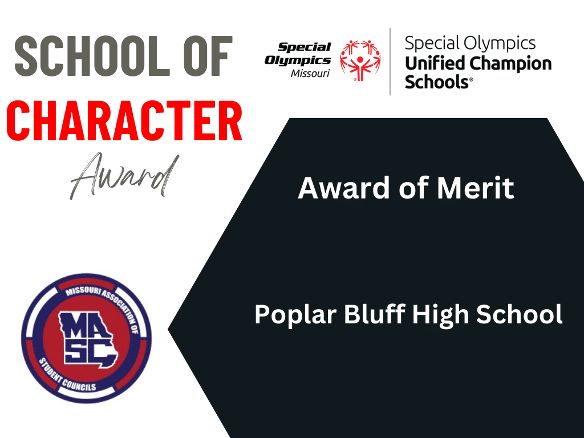 "The Missouri Association of Student Councils has made an astronomical impact on Special Olympics Missouri athletes all across the state, and this would not be possible without its leadership and commitment to inclusion," said Emma Thomas, SOMO Unified Champion Schools Manager.
SOMO also awarded gold, silver and bronze award winners as well.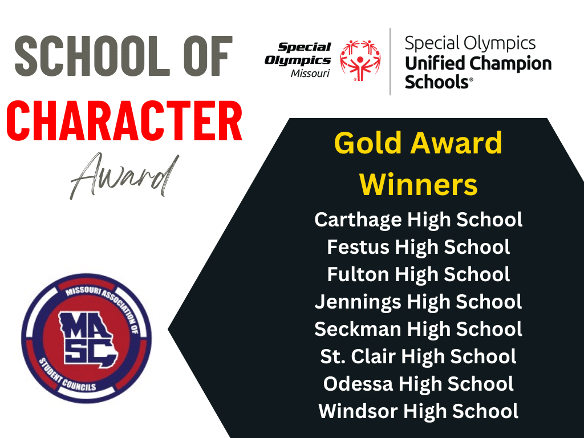 The Special Olympics Missouri School of Character program was established in 2014 for MASC member schools as a way to recognize their level of involvement in the Special Olympics movement through Unified Sports®, whole school engagement and inclusive youth leadership. Schools must go through an application process, providing documentation of the various activities they have done in the areas of Unified Sports®, whole school engagement and inclusive youth leadership. They earn points to achieve Gold, Silver and Bronze recognition.
Schools can earn points based on a variety of different things, including:
Hosting and/or volunteering at a local Special Olympics Missouri event
Organizing a Young Athletes program for athletes ages 3-7
Starting a Unified Sports team at your school where people without intellectual disabilities play on the same team as SOMO athletes who have an intellectual disability
Having a student council member become a SOMO coach
Raising funds through Polar Plunge or any other fundraising initiative
SOMO is very grateful for its statewide partnership with MASC. This year, MASC member schools have raised more than $100,000 for SOMO through the Polar Plunge fundraiser. MASC's running total is now over $1.4 million.
---
SOMO made the most of its time at the MASC State Convention. MASC and SOMO teamed up to host an Inclusion Revolution at Jefferson City High School.
"I've enjoyed meeting new people and having a good time," SOMO athlete Mary McManus said.
SOMO athletes from around the area and student council members came together to play sports, make posters and participate in team building activities.
"I am so proud of the effort that MASC has made to be inclusive on their own campus, and I'm really optimistic they're going to take back some ideas from what they see today and do some of these activities on their campus, so that more students across the state get inclusive sports opportunities," Thomas said.
Before the Inclusion Revolution, SOMO athlete and Jefferson City High School student council member Abby Bax spoke during the State Convention. Bax is one of many students with intellectual disabilities that is a part of an MASC member school student council.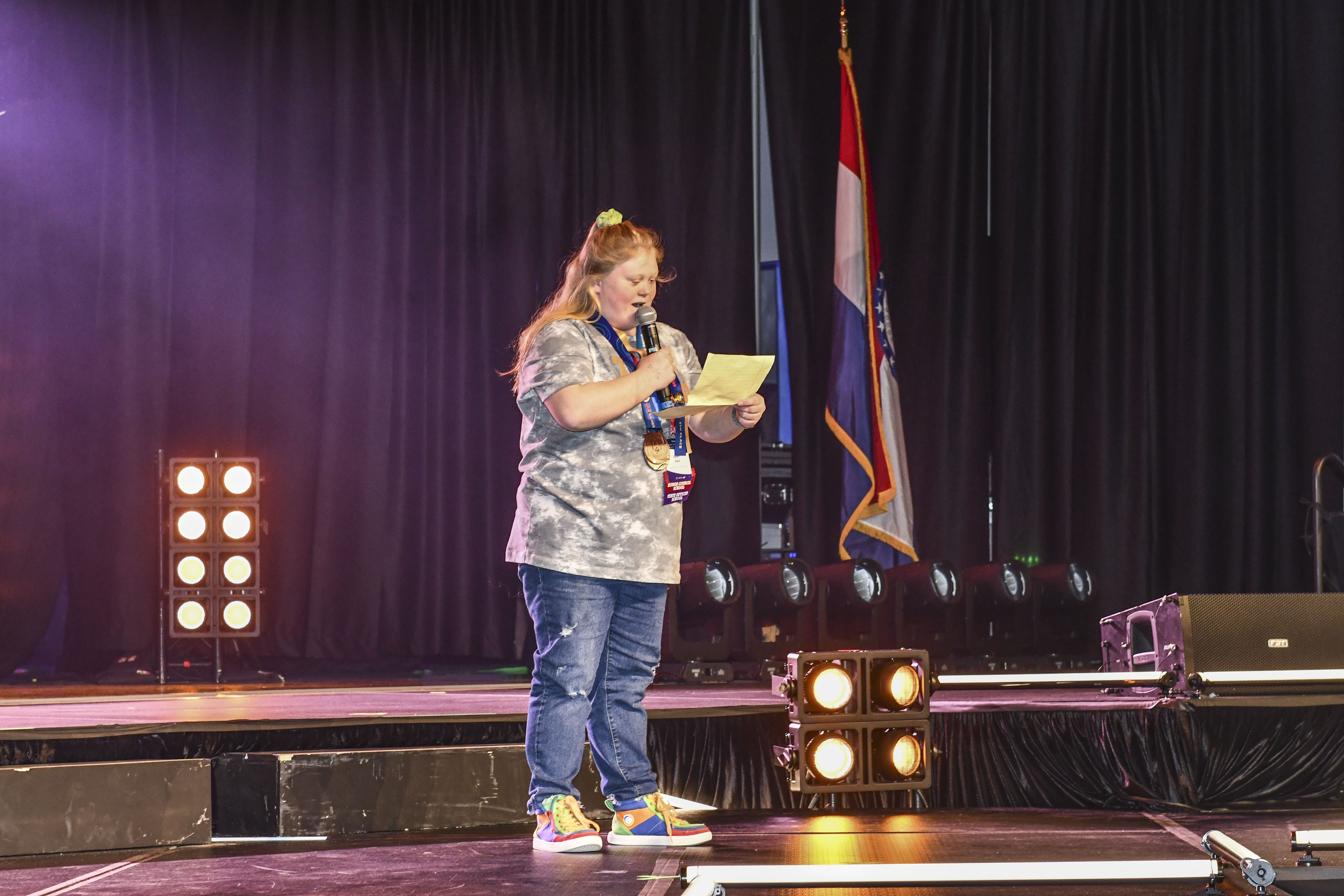 You can watch a full recap video of the Inclusion Revolution below!
For more information on how to get involved with Unified Champion Schools, visit somo.org/ucs.