Ottenad family launches torch run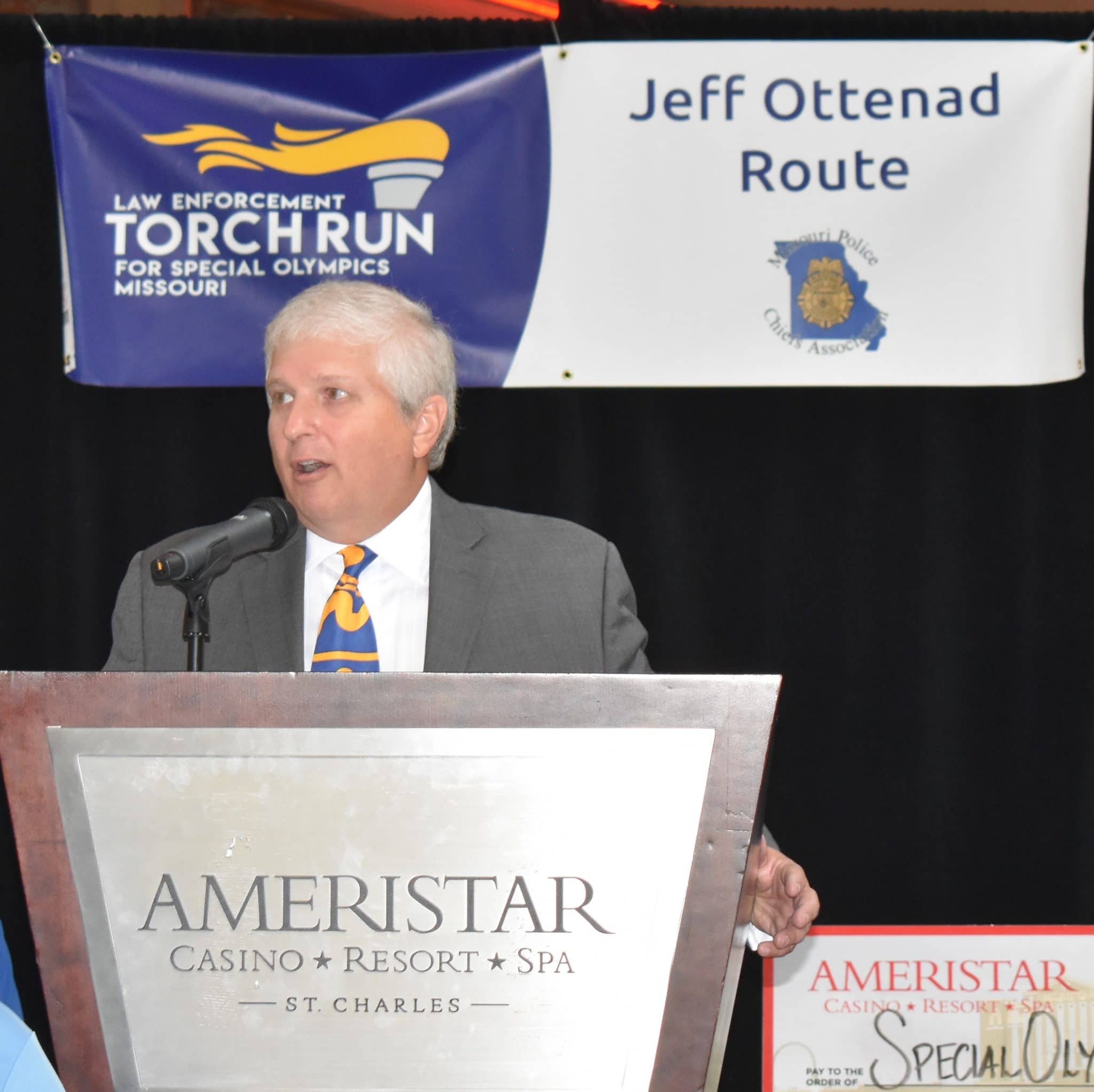 By JODIE JACKSON JR. | Special Olympics Missouri
ST. CHARLES – Before passing off the lighted torch to begin the 2021 Law Enforcement Torch Run for Special Olympics Missouri (SOMO), Marilyn Ottenad and her family tearfully listened to a chronology of the Torch Run's success and the impact her late son, Jeff, continues to have on the annual event.
"As important as it was for Jeff to be involved with this every year, since he's passed it's equally important for us to be here," Marilyn said on May 26 with her sons, John and Jason, at her side. Jason, accompanied by his wife, Ginny, has participated in the Torch Run since Jeff died in 2002 at the age of 31.
Fittingly, the annual event pays homage to Jeff and the Ottenad family as the Jeff Ottenad Memorial leg of the Law Enforcement Torch Run for Special Olympics Missouri, starting at Ameristar Casino, Resort and Spa, and ending in Wright City. This time, the event was even more bittersweet because it was the first Torch Run in more than 20 years that the family attended without Jeff's father, John C., who died in December.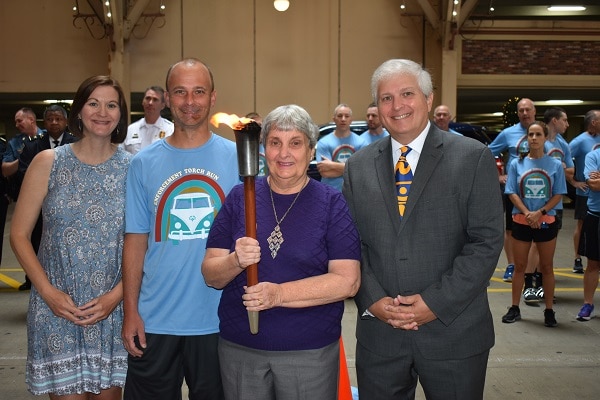 "My dad was incredibly proud of Jeff," John Ottenad said, adding that the Torch Run and Special Olympics Missouri competitions were always a family event. "We'd be there all day with him."
Marilyn added, "Jeff brought everyone else along. He would make sure things were scheduled around Special Olympics competition."
Area police officers pass the torch.
After the May 26 ceremony, St. Charles and area police officers, accompanied by SOMO athletes and Jason Ottenad, carried the torch from Ameristar along I-70, passing the torch to law enforcement officers from surrounding counties. All of the state's Torch Run routes officially ended June 5 by lighting the Flame of Hope at the Opening Ceremony for the 2021 State Summer Games in Columbia.
The goal of the Torch Run is to raise awareness for SOMO and the critical programs SOMO provides for individuals with intellectual disabilities through the joy and power of sports.
Jim Moran, Torch Run chair, told SOMO athletes in attendance, "You are the heart and soul of Special Olympics Missouri." He explained that what started 35 years ago as a 30-mile run now takes 11 days and covers 900 miles with thousands of runners. The Law Enforcement Torch Run for Special Olympics Missouri involves some 5,000 law enforcement officers from 136 Missouri communities.
"That is something that Jeff Ottenad would be proud of," Moran told the crowd. "His legacy in the Special Olympics Torch Run lives on." Moran recognized the police chiefs and officers present, adding, "The support we get from this region is amazing."
Susan Stegeman, CEO and president of Special Olympics Missouri, said, "We're very fortunate to have this special relationship with law enforcement."
Jeff Ottenad's story.
Jeff Ottenad began participating in Special Olympics at the age of 8 – track and field, soccer, and basketball were his areas, but his favorite and forte was long distance running. Jeff won the silver medal in the 5k at the World Games in Connecticut. His dad was his coach and continued to volunteer and coach after Jeff's death.
"Sports was important," Marilyn said, "but it's absolutely as much social, too."
John noted that the socialization aspect – especially at the State Summer Games – "was just as important as running in the competition for him."
Marilyn was sorry to hear that the 20201 State Summer Games had been condensed to one day, eliminating the popular dance and related social opportunities.
"At least we're getting back and having that interaction," she said. Marilyn expressed her gratitude for Special Olympics Missouri and the outlet and interactions SOMO provides "in a world that doesn't provide much opportunity for success" for individuals with intellectual disabilities. She said Special Olympics athletes "challenge and redefine what 'normal' means."
Jeff Ottenad transitioned from the special education program at Parkway South High School to the mainstream academic program and he was the first special needs student there to graduate with a "regular" diploma, Marilyn explained. Jeff also earned a spot on Parkway South's cross country Hall of Fame. After high school, he worked for 10 years at Olive Garden.
Standing and riding a horse – blindfolded?
The family fondly recalled when the State Summer Games were at Fort Leonard Wood in Pulaski County, and Jeff's highlight was "making the soldiers do push-ups."
Marilyn said the training and competition of Special Olympics was especially vital for helping Jeff's balance and coordination. She winced and then smiled remembering Jeff's participation in therapeutic horsemanship. Jeff was a better rider blindfolded – and he even rode standing in the saddle while blindfolded.
What was his mom's reaction?
"Mom just walked away," Marilyn said, smiling but shielding her eyes to illustrate the memory.
As the runners lined up to begin the Jeff Ottenad Memorial leg of the route, Special Olympics athlete Brent Kampert of Chesterfield was just behind the torch-bearer, Jason Ottenad. Kampert sported a headband emblazoned with the word, INCLUDE. He got the idea of a headband message from seeing the positive messages on NBA players' jerseys in the 2020 NBA play-in tournament.
Kampert echoed Marilyn Ottenad's sentiment about SOMO providing opportunities for athletes. Kampert has been involved in Special Olympics in three states, competing in track and field, basketball, and softball.
"Whether you have a disability or not, anyone has the ability to achieve their goals and succeed," he said. "We are all a lot more alike than we are different."