Lou Holtmann named SOMO Volunteer of Year, others honored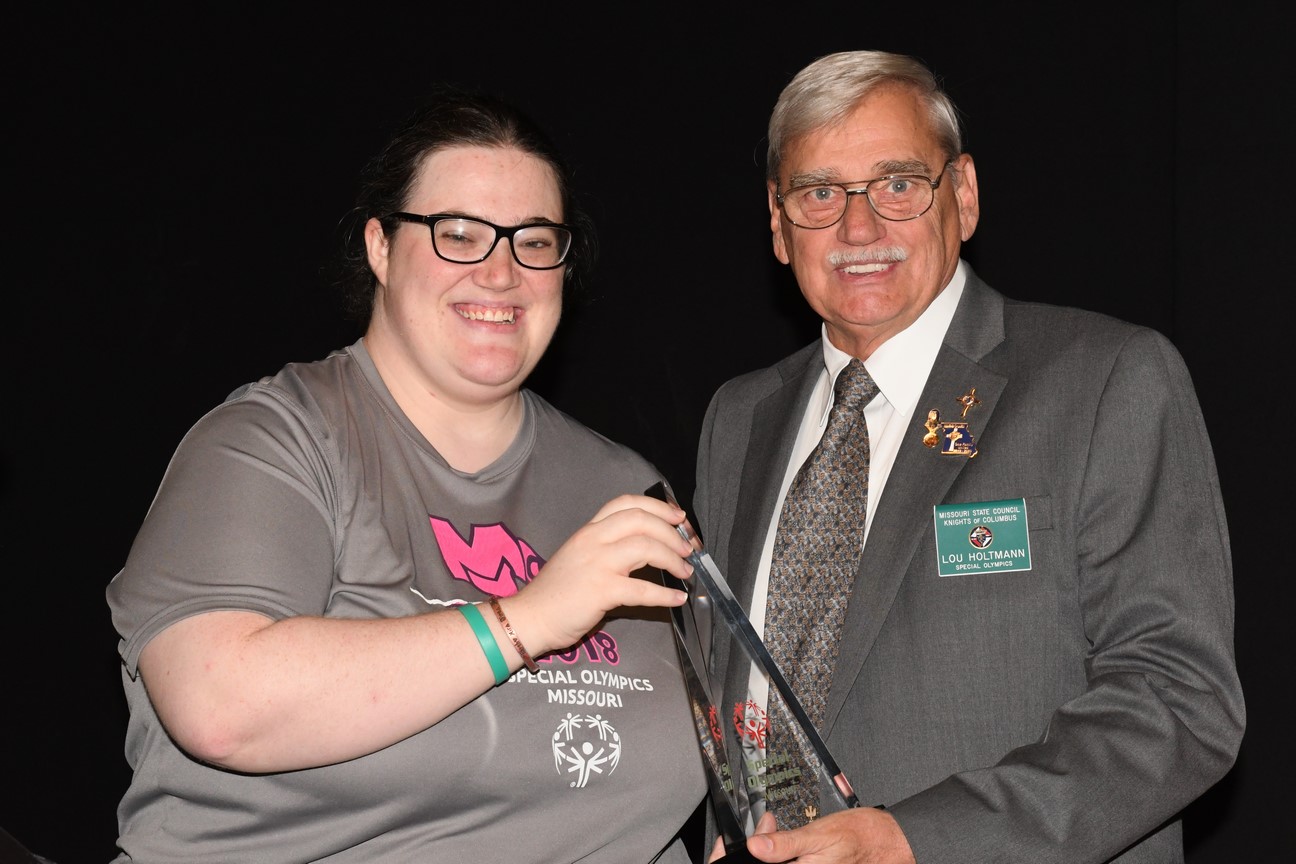 All of the volunteers below were recognized for their outstanding contributions to Special Olympics Missouri from their respective areas at the SOMO Annual Awards Luncheon Oct. 19 in Columbia. Each year, Special Olympics Missouri salutes those who have made significant contributions to the Special Olympics movement. Each area nominee is submitted for statewide recognition, and the overall winners were also announced at the SOMO Awards Luncheon.
Lou Holtmann — Headquarters nominee

Lou Holtmann has been volunteering at various Special Olympics Missouri (SOMO) events for over 25 years. He has dedicated his life to serving people with intellectual disabilities and fighting for the respect and enhancement of their quality of life.  Most recently, he took on the position of Special Olympics Chairman for the Missouri Knights of Columbus. Over the last 3 years, Lou has put over 100,000 miles on his car traveling to Knights of Columbus Councils spreading the message of our programs and volunteering at SOMO competitions and fundraisers throughout the state. He treats his role of service as if it is a full-time job and beyond, never asking for anything in return. Lou has made friends with athletes across the state that recognize him, because of how much time he spends serving at SOMO. In many photos of our athletes, you will find Lou in the background beaming with pride. He never asks for recognition and loves helping behind the scenes. Lou spends many weeknights traveling to different Knights of Columbus Councils sharing the message of our SOMO programs.  He spends the majority of his weekends volunteering at events or hosting booths representing SOMO at various conventions throughout the state. Following the May 22nd tornado, Lou was one of the first to assist with clean-up efforts and rallied support across Missouri when we needed it most. He has planned and hosted numerous fundraisers, served meals, served as an Honor Guard of our Opening Ceremonies, awarded medals, and the list goes on. Without hesitation, Lou is one of the most extraordinary advocates we have ever had for SOMO and is the epitome of what it means to live your life for others. Lou is lovingly known as the "anchor" of the Knights of Columbus, a "workhorse," and an "angel on earth." One thing that everyone agrees upon is that Lou pours his heart and soul into everything he does and SOMO is at the top of that list. Our partnership with the Knights of Columbus would not be what it is today without Lou Holtmann. He never asks for recognition, but wholeheartedly deserves it. Missouri Knights of Columbus State Deputy Bob Hawkins said, "Lou is a selfless volunteer that has always gone above and beyond in his duties. This has been the case for the roughly 25 years that I have known him. His endless driving around Missouri promoting the SOMO Training for Life Campus has helped us immensely as we near our $1.2 million goal. He has spent thousands of hours doing this and never asks for anything in return. I could not think of a better person to receive this honor." SOMO athlete and friend of Lou, Brock Guseman said, "Lou is always there for us when need him. He's helped with SOMO for many years. He's always talking to us athletes and kidding around with us. He would do anything for us, I'll tell you that."
Derina Shelton — Central Area
Derina Shelton is a volunteer who does not know how to say no.  Can she help with our local event?  Yes.  Can she help with a state event?  Yes.  Can she help with the Polar Plunge?  Yes. Derina has been helping Central Area with events for several years.  She does it for the love of the athletes.  Now Derina is passing her passion on to her son, Nathanyl.  She originally was in the banking business, but has since moved to a job where she can serve individuals with special needs in the Columbia Public Schools.  It is noticed by individuals how well she interacts with the students she serves.  When asked about her background, she gives credit to her volunteer duties with SOMO.  Now Nathanyl shares in the compassion by being the student who notices those with special needs and no one sitting with them at lunch. Central Area has some key volunteers who are the "go to" for help.  Derina is one of those volunteers.  She has served on the registration team at the Central Area Plunge since the first year.  The expert for the "day of" line, Derina greets the plungers with a smile. Central Area is grateful to Derina (and Nathanyl) for always coming out to share their smile and enthusiasm with the athletes.
Jeremie Ballinger – Kansas City Metro Area
Jeremie Ballinger has been with SOMO for 14 years.  He began with SOMO as a staff member.  After he changed jobs in 2011, Jeremie stayed highly involved as an event manager and has helped with several of the Kansas City events as well as state level events.  In 2019, Jeremie has been at basketball, aquatics, track, bocce, golf and State Indoor Games.  He plans to be at State Outdoor Games as well as KC area bowling.  He also participates in the Polar Plunge most years. Although his wife is on staff, Jeremie helps at events even when she is not scheduled to work. He is always a smiling face, willing to do anything he is asked, and upholds the integrity of the competition for the athletes.  His general knowledge and experience of SOMO competition is always so useful! In his most recent career, Jeremie maintained the area partnership with Kansas City Corporate Challenge, making sure the relationship grew to its potential.  He helped provide volunteers from KCCC for SOMO events as well as loaning other KCCC resources to make SOMO events run smoothly. On top of being an event manager, Jeremie has also participated as a Unified Partner in several sports. Most recently, he has been a unified partner in tennis and softball.  He has also worked to recruit his two oldest children to be involved in SOMO.  His oldest son, Dalton was an event manager at the State Indoor Games and Unified Partner for softball.  His daughter, Payton, attended sports camp as a junior counselor, sang the national anthem at the Kansas City Area track meet and served as Shiver Bear at the Polar Plunge.  Jeremie was also part of the "moving crew" when the KC office had to move from Lee Company to their new office space.  His connection to the landlord is what led us to the space for the new office. As you can tell, Jeremie has played just about every role in SOMO and continues to be a huge supporter of the program.  His attitude and willingness to help are unmatched and we are so lucky to have him in the Kansas City Area!
Lindsay Bernard — North Area
Lindsay Bernard has been a volunteer in some capacity with Special Olympics for 10 years now.   She has helped with local events by helping recruit volunteers to run the events.  She has participated in several fundraisers over the years including our Celebrity game, Ladies Night Out, Sponsorship campaigns, Making A Change event.  Lindsay was instrumental in working with the City of St. Joseph to place a bid to host the State Indoor Games for 3 years.  Securing facilities, funding, volunteers, meals etc.  She served as the Chair of the State Indoor Games GMT (Games Management Team) the last two years.  We are all aware of how many hours it takes to put on State games, Lindsay put in place a strong volunteer GMT and delegated jobs to everyone involved.  Lindsay has truly stepped up and has been a leader that other volunteers and business leaders look could depend on.  She is always there to ensure the games are running as they need to, helping to secure entertainment for Opening to making sure meals were delivered on time.  She took great strives to ensure that the games were the best for everyone and especially the athletes involved.  She stepped up to make sure the 2nd year of State Games in St. Joseph were better than the year before, securing better, bigger facilities, acquired more contributed services to offset costs and recruited more volunteers.
Sarah Wichern — Southeast Area
Sarah approached our office about a year and a half ago to get more information about volunteering with Southeast Area Special Olympics and since then has become a great asset for our area.  She does not have an athlete in the program or any experience with this organization; she just has a desire to make things better for others.   She is the President of Kappa Beta Gamma and encourages their involvement also.  Sarah was "all-in" from the first event and continues to take on new tasks.  She was our Polar Plunge Intern and helped us make a connection with many schools we had not connected with before.  She and her sorority created a new fundraiser for the Southeast Area. They volunteered at a booth for a week at the SEMO District Fair raising over $500 just by setting up a selfie station and requesting donations.  She donates many hours in the area office. She quickly taught herself GMS and has spent countless hours entering athletes into events and recording results as well.  In addition to being present at events in Cape Girardeau, she has travelled to competitions in other areas in our region to assist at those events. Sarah volunteer work does not end with hours of data entry!  She has helped file physicals, worked Special Olympics tables at area events, cleaned our office, sold Drive it Home raffle tickets and has signed on to serve on the 2018 Cape Girardeau Polar Plunge committee.  Sarah quickly came to be friends with many of our athletes. Sarah truly recognizes that her behind the scenes dedication is very important in providing great programs for our athletes and we are very thankful to have her support.
John and Julie Clarke — Southwest Area
John and Julie have been volunteers for the Southwest Area for many years and have helped with several events in the area as well as State events. If you want an event to be successful, you call the two of them. They were instrumental   in making the Bartender's Charity Ball a success in the past and have recently come on the Polar Plunge Committee in 2019 and helping to make it one of the best ever plunges. John and Julie are willing to help in any way possible to help with events and raise money.   They have great ideas and contacts.  They think outside the box and make things happen.   It is a privilege to have them on our team.   Words cannot describe how blessed we are to have this package.