Law enforcement raises more than $13,000 for SOMO during 5th annual Cop on a Rooftop event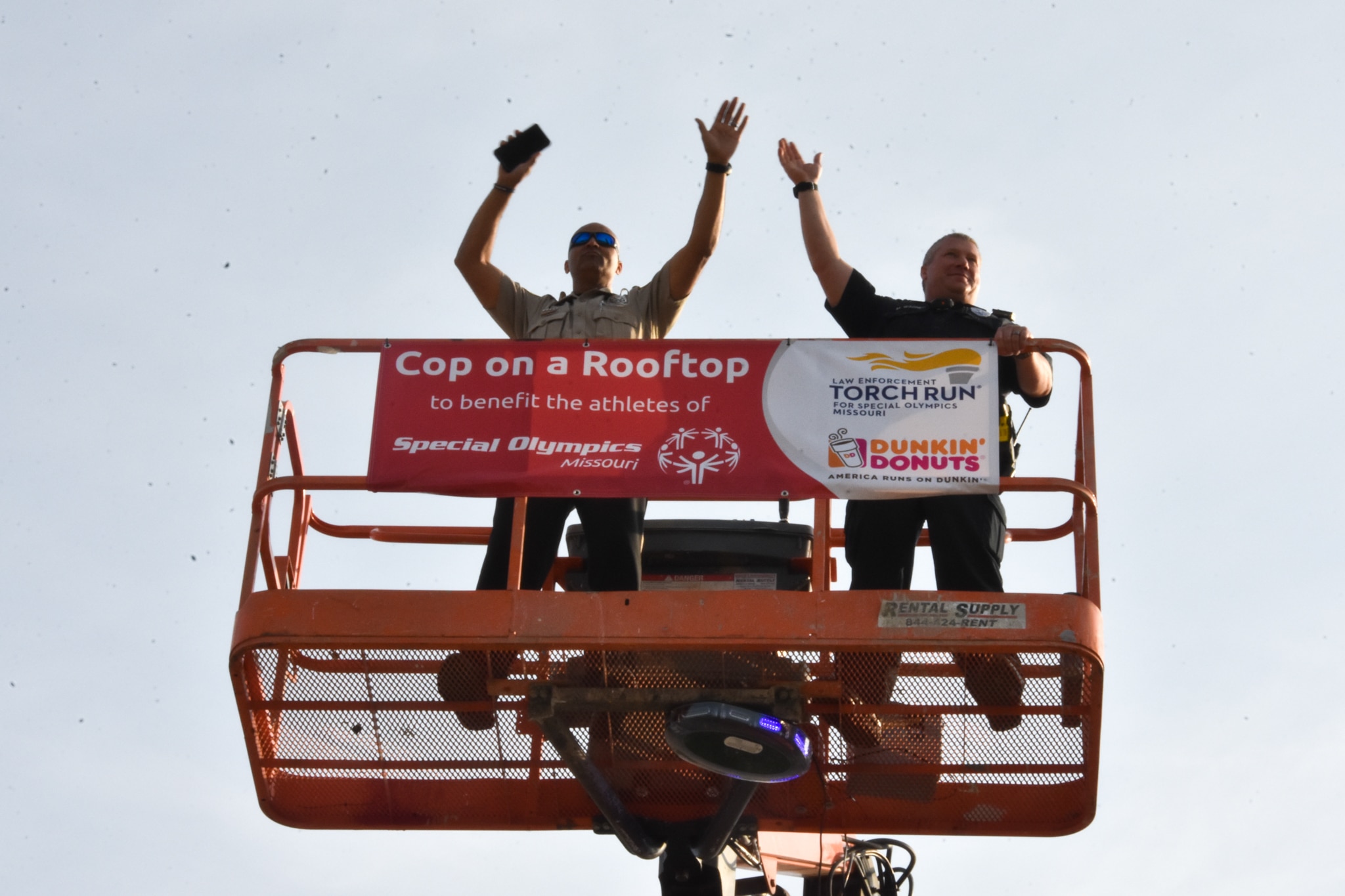 The 5th annual Cop on a Rooftop event was a huge success at nine participating Dunkin's across Missouri on Friday, May 19. This year's event raised more than $13,000 for Special Olympics Missouri (SOMO) athletes. These are preliminary numbers, and the total could still go up!
The event has now raised more than $81,000 for SOMO during the first five years of the program. This fundraiser is exactly what it sounds like. Cops stand on top of rooftops to help raise money for SOMO!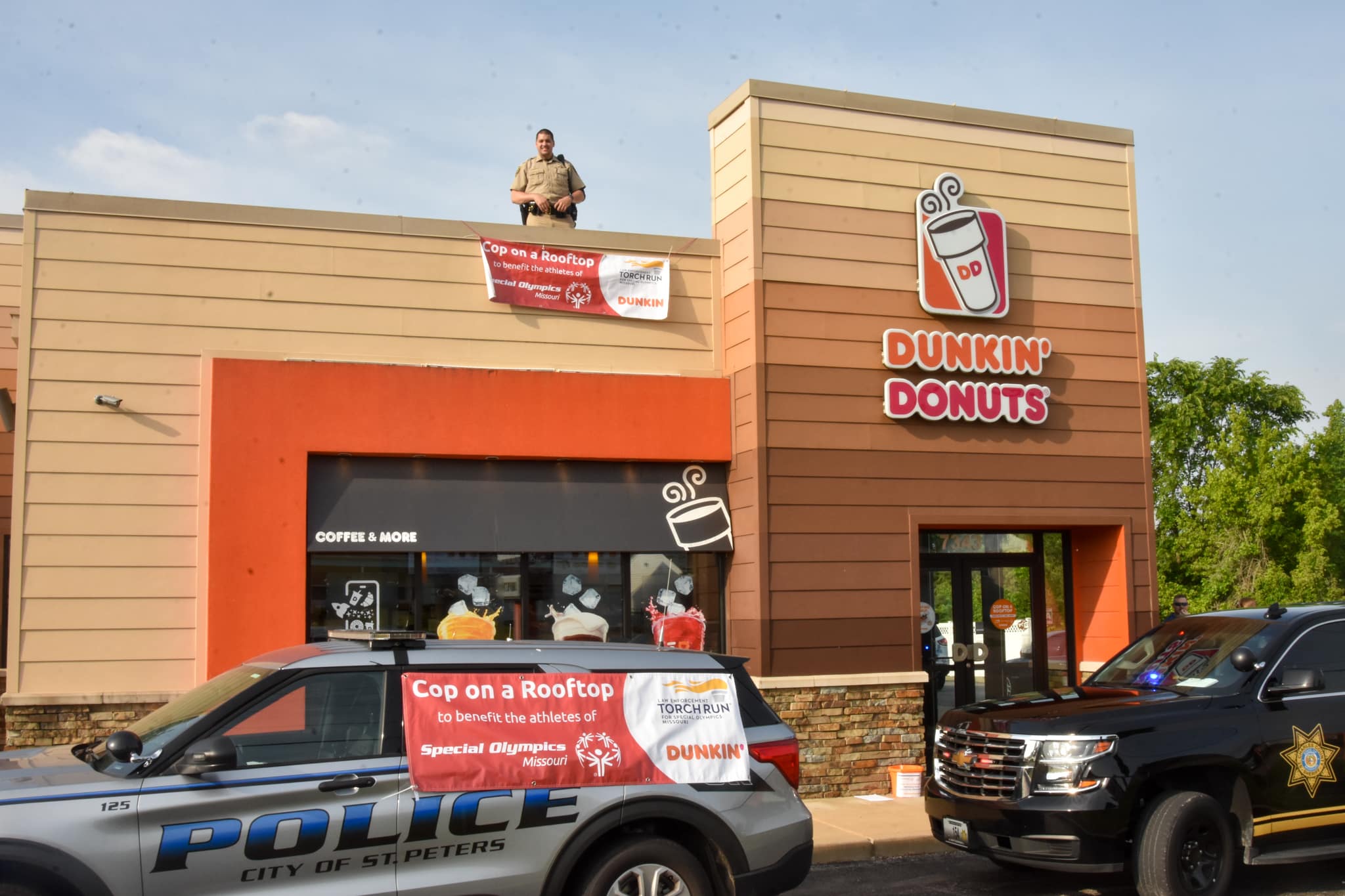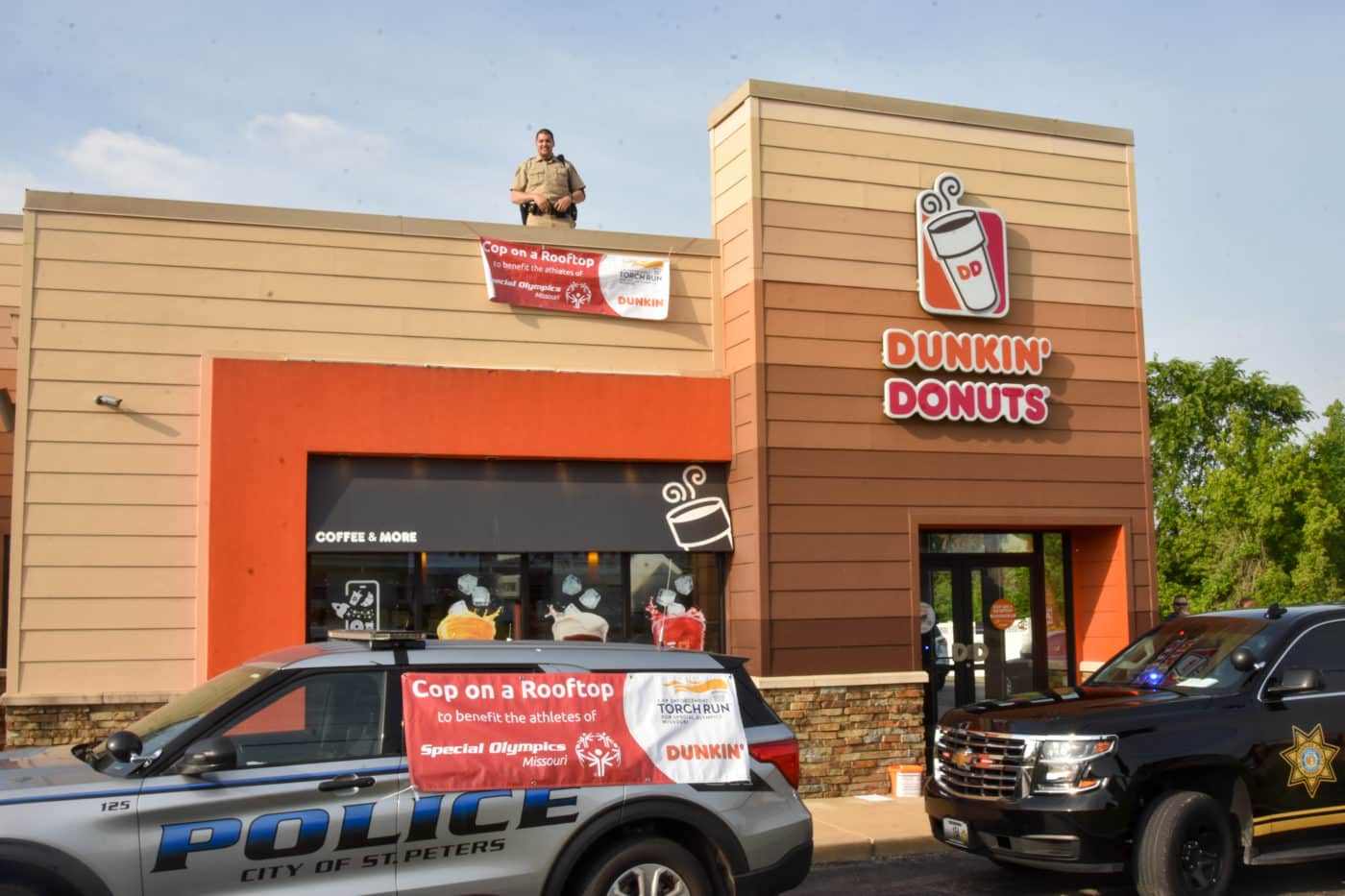 From 5 a.m. until noon, representatives from the Law Enforcement Torch Run for SOMO collected money at participating stores. Dunkin' guests who donated to Cop on a Rooftop received a coupon for a free donut. Guests who donated $10 or more received a coupon for a free medium hot or iced coffee.
St. Charles County Police Department's Public Information Officer Barry Bayles was pumping up the crowd at the O'Fallon location. He even sang a rendition of a Backstreet Boys classic!
"This is a bonus to being a police officer," Bayles said. "This is one of the fun things that we don't have to do, but we get to do."
The O'Fallon Dunkin' location did not have roof access, but that didn't stop the officers from "going on top." A local rental facility donated a crane for this year's event.
"I'm not afraid of heights, but going up is unsettling, but once you're up there you have a great view," Bayles said. "It gets people's attention."
The law enforcement officers had some help during the event. Several members of the SOMO Spirit Squad came to help raise money for SOMO as well.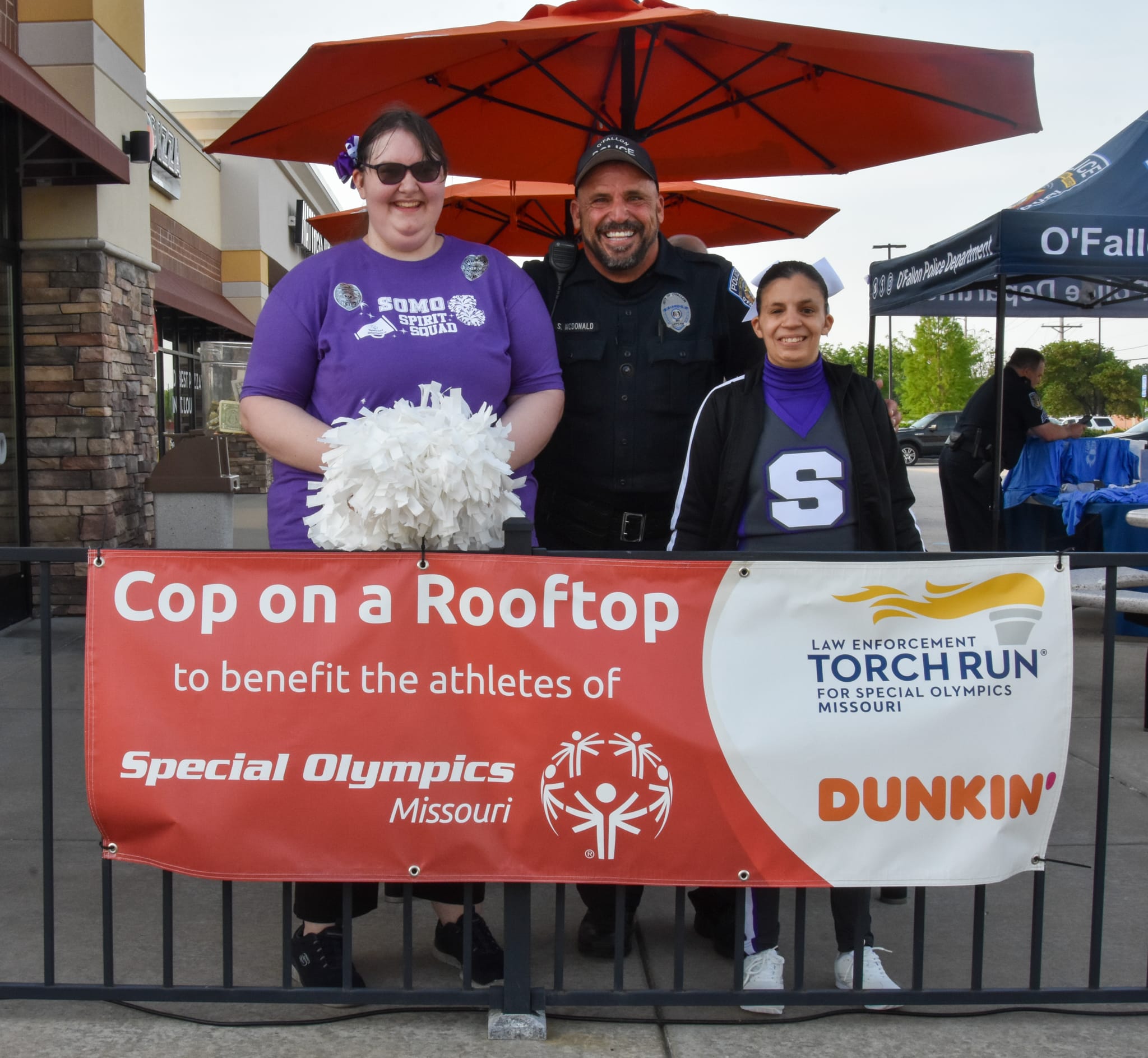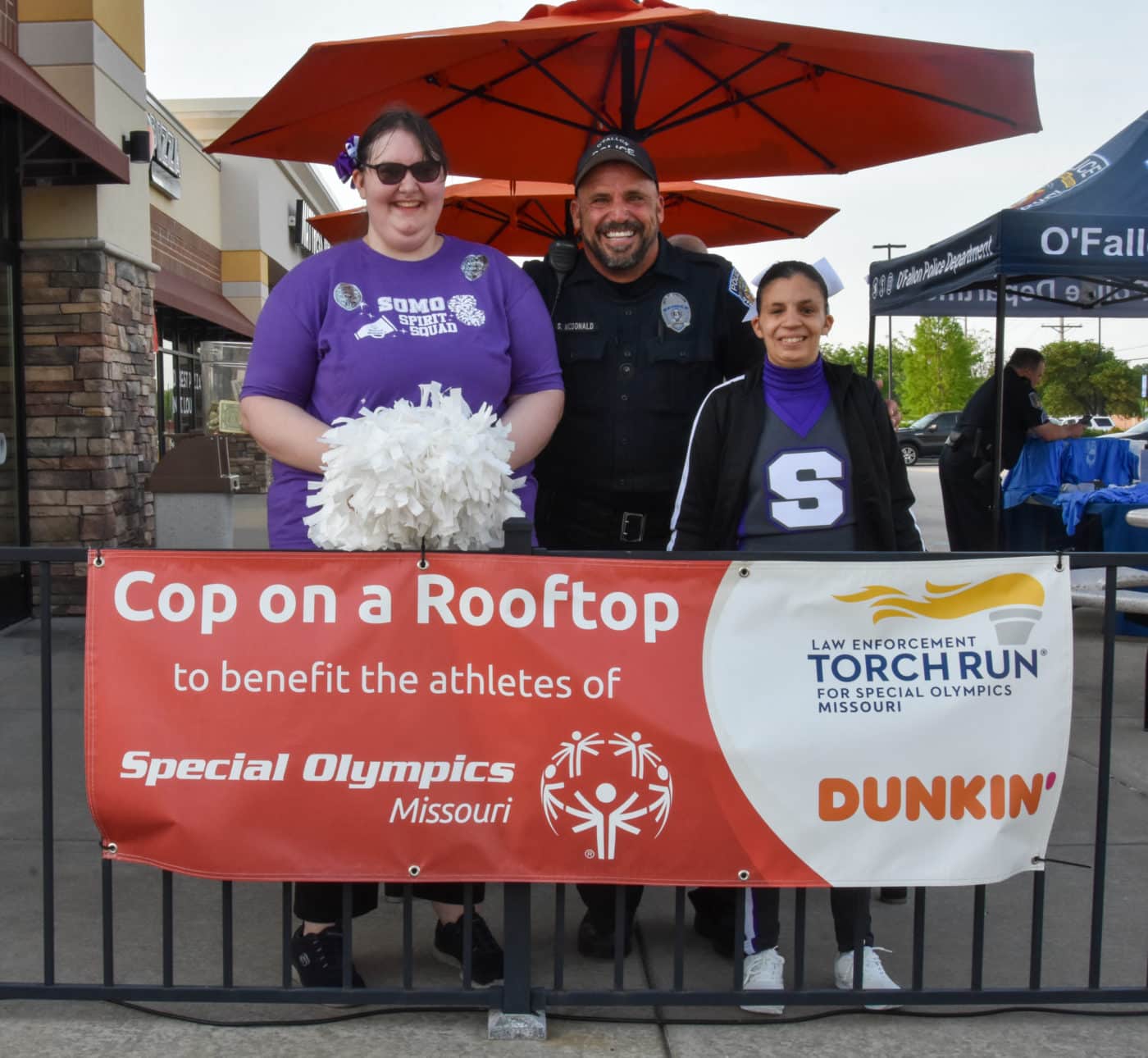 Here's a full list of the participating stores:
Arnold– 900 Jeffco Blvd
Cape Girardeau– 001 N Kings Highway St
Festus– 1304 Veterans Boulevard
O'Fallon– 1220 Highway K
Overland– 10250 Page Ave
Richmond Heights– 1754 S Hanley Rd
Saint Charles– 1211 S 5th St
Saint Peters– 7343 Mexico Rd
Twin Oaks– 1410 Big Bend Road
Thank you so much to all of our amazing law enforcement in Missouri!
Also – thank you to KMOV for covering this event!