Laura Speed Elliott Middle School students raise money for Special Olympics through coin wars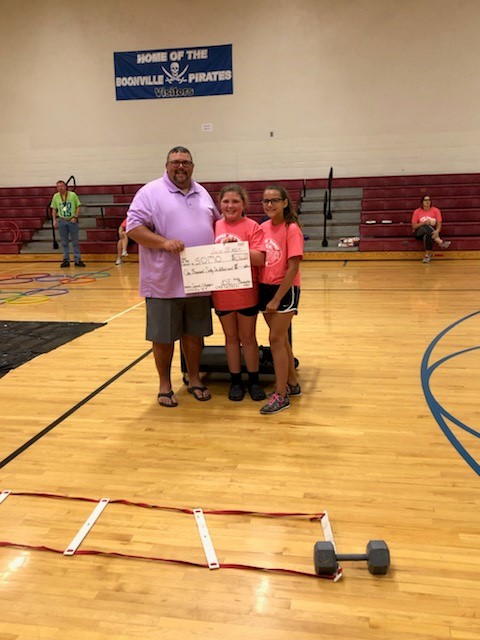 On May 22, an EF3 tornado tore through Jefferson City, destroying our athletic field and damaging the roof and most interior spaces at the Training for Life Campus.
Due to the extensive damage, the students and staff at Laura Speed Elliott Middle School in Boonville participated in a Coin War to raise money for Special Olympics Missouri.
 During the Coin War, six SOMO athletes were invited to come and share their talents. Laura Speed Elliott Middle School enjoyed watching the athletes and learning more about this great organization. The students and staff donated several coins and $1,068.52 (including two larger donations from W-K Boonville and Equipment Share) was raised to be donated to help SOMO rebuild. Students celebrated with an assembly including a bid check presentation with SOMO staff members and a speech from SOMO athlete and Hall of Famer, Robb Eichelberger.
Below is a Q&A with the school's principal, Leslie Reardon, a teacher at the school, Laurie Painter, and student, Maggie Schuster.
Why did you all chose to do this fundraiser?
Principal Reardon (PR): I was listening to Clear99 when they did their radioathon for Jeff city and its victims. I was able to listen to a lady share about the new building and the damage done to it. We had wanted our students to give back with a project during summer school and this looked like a great fit.
What did the fundraiser consist of/how did it work?
Maggie (MS): It was a coin war. The coins are positive and bills are negative. We brought in coins and had bins with teacher's names on them.  You put your coins in the teacher's bin who you wanted to get a pie in the face.
Ms. Painter (MP): The way I won: The teacher with the most money at the end of the 3 days would get a pie in the face.  Obviously, the students loved me (or wanted to see me get a pie in the face) and put almost $200 in my bucket.  I then got, not one but two pies in the face.  It was so much fun!!!
Why did you/the students pick SOMO? 
PR: We have several staff who volunteer with Special Olympics, as well as staff and students who work with individuals with intellectual disabilities. I knew this would be a cause everyone would rally for.
What does it mean to the students? 
PR: The students loved it. We had 6 adults who participate in Special Olympics come share and show their talents. The students cheered them on and that gave us goosebumps hearing our students cheer the 6 adults with disabilities on. The students got so fired up, the money kept coming in on Thursday even though the Coin War was over Wednesday.
MS: It made us happy and thankful that we were able to help out.  We like to be helpful when we can help out with things like this.
What did the students learn about SOMO through this process? 
PR: Besides having the six athletes visit, we had coaches share about their experience. We also had Robb Eichelberger talk about being a Hall of Famer and the students watched several video clips shared with us by SOMO staff member Crystal Schuster.
MS: Yes, we learned that there are more than 16,000 athletes in Special Olympics Missouri and we learned that Robb Eichelberger played a lot of different sports and he told us the things he does to prepare himself for events.
About how many students/teachers participated in this fundraiser?  
PR: We had 100 students and 15 staff members participate. Plus, we had two local business also contribute (W-K Boonville $200 and Equipment Share $350).
Why is Special Olympics Special to you? 
MS: Because I enjoy seeing all the athletes working so hard to win and achieve all their goals that they have set.  It really puts a smile on my face when they are smiling and having fun while competing in the sports they love.  My friend, Jillian, competes and I have met many other friends in Special Olympics – like Sarah Byland, Robb Eichelberger, and Morgan.
MP: I chose to be part of the fundraiser because Special Olympics has always been important to me.  I was raised with an aunt that had down syndrome and I loved to spend time with her.  She was always so happy and loving.  She participated in Special Olympics when I was a kid and she absolutely loved it. Being part of the fundraiser meant a lot to me.  I really did it as an honor to my Aunt Carolyn that passed away a few years ago.  It brought back great memories of her.