Kevin Chapman of Southwest Area named best SOMO coach, others honored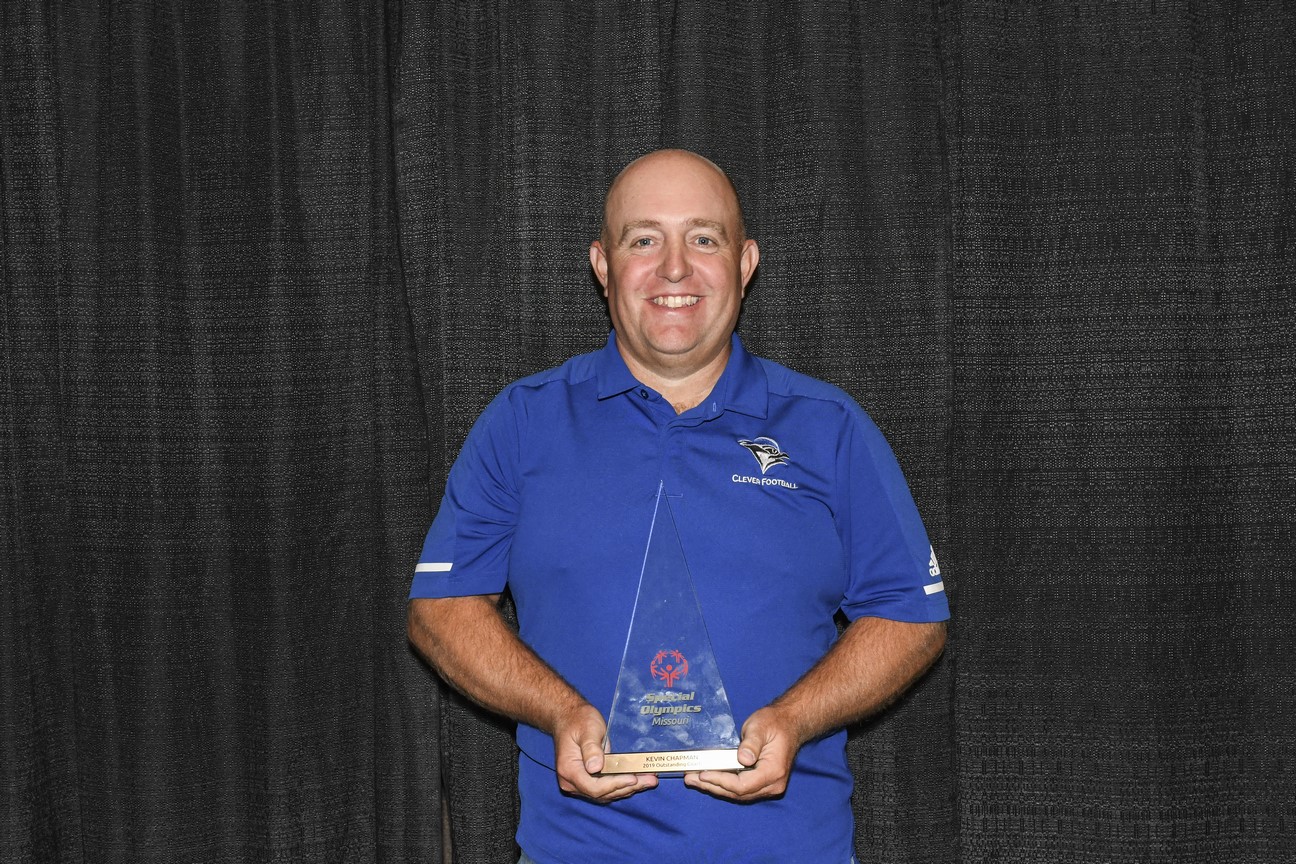 All of the coaches below were recognized for their outstanding contributions to Special Olympics Missouri from their respective areas at the SOMO Annual Awards Luncheon Oct. 19 in Columbia. Each year, Special Olympics Missouri salutes those who have made significant contributions to the Special Olympics movement. Each area nominee is submitted for statewide recognition, and the overall winners were also announced at the SOMO Awards Luncheon.
Kevin Chapman — Southwest Area

Kevin started the Special Olympics program at Clever Schools in 2017. Over the past few years, he has not only grown the program with athlete involvement, but has also implemented Unified Partners to the program. Kevin has recruited new coaches and volunteers to help coach and assist as they have added more sports to their program. The Clever Special Olympics program is active at Area, Regional and State events in Bowling, Basketball, Volleyball and Track & Field.  Kevin strives to provide his team with competition opportunities that allow them to grow and compete at their highest level.  He has also worked with other area Special Olympics coaches to host Special Olympics Basketball Games in conjunction with their high school games.  This has provided a great opportunity to show case the athletes of Special Olympics in their local community. In 2018, Kevin approached Clever High School about hosting the 2019 SW Area Spring Games (west side). Through his effort along with a team of administration and school faculty, Clever High School hosted a very successful Spring Games.  The entire school supported the event along with many members of the community including area Law Enforcement. Kevin also served as the Softball Umpire for the SW Area Softball Tournament and represented the SW Area at the 2019 South Central Conference in October.
Kathy Butler — Central Area
Kathy is not new to Special Olympics but each year she seems to start something new for the athletes in her area.  When a local track meet was offered by the local school district, Kathy was right there with her support and willingness to do whatever was needed. It is amazing to watch Kathy with her athletes and the love you see from them.  Both of Kathy's older children, Victoria and Evan, caught the Special Olympics bug because of what they witnessed from their mom.  Moreover, we all know that without a supportive husband, it makes it very difficult to be involved. Not only is Kathy coaching, she is organizing other coaches, and even serves as a mentor for an Athlete Leader within ALPs.  However, Kathy exhibits the kindness for the community and state at large.  This past spring, Kathy suggested that teams could bring some can food or non-perishable items to the State Indoor Games held in St. Joseph, MO.  At that time, St. Joseph and surround communities was experiencing a flood.  Kathy thought that Special Olympics could step up with this food drive to say thanks to the community in a way that would be meaningful to them. This act is not an isolated incident that Kathy has suggested or organized.  She holds an annual Prom for the athletes in the community.  She plans, sets up and enjoys the prom each year with a special theme!  She is unbelievable.  During all this, she and her husband, Elliott, adopted 3 young boys.  It is clear that Kathy has a huge heart, loves her family, community and her athletes.
Pam Rohlfing — KC Metro Area
For Pam, Special Olympics has never been something you do a few hours a week. She was fully invested the day she took this on. She found a place for the Northstars, and have made them part of the NKCSD school district athletic family. She has successfully lobbied the district to consider the Northstars as a true school district team. Through her work, the Special Olympic high school athletes have received varsity letters and pins for years and have six sports to choose from. She puts all of her time and energy into these kids and asks or expects nothing in return. She is at all the games, practices and fundraisers. She attends all the executive meetings to discuss how we can continue to grow our team and give them more opportunities to play sports and be kids. She fights hard and advocates for the athletes to make sure they are included in school activities as any other school team would be. As a special education educator, she has insight into the lives of our athletes and their families that goes far beyond Special Olympics. We have over 100 athletes and she knows each by name. She understands how important it is to the athletes and their families. Pam's passion and enthusiasm in working with the athletes is unparalleled and is frankly contagious.  She teaches/coaches more than a sport.  She encourages the other coaches to push our athletes to maximize the tools they have and be better than they think they can be. While competitiveness is front and center, she demands this occur in a fun environment and sportsmanship is an essential ingredient. Pam manages all of the Northstars sports and is great at delegating coaching positions to the other coaches on their staff.  She is a great role model for all of those coaches.  She takes on all of the scheduling, paperwork, physicals and skills tracking for basketball, softball, and track and is working to add new sports like soccer and bocce. As her athletes graduate from high school, she is working to make sure they have a smooth transition and are able to continue their Special Olympics careers after high school. Overall, Pam loves her athletes and is always looking to create an energetic, inclusive athletic environment full of fun and celebration. This love for "her kids" and their families is truly, why she is involved. She is one of the most passionate and hardest workers around.
Amanda Starks — North Area
Amanda Starks is a newer coach that took on all three of the sports that the Kirksville Titans do. Coach Starks also organized a ton (I mean a ton) of her Truman State University students to assist in every way! These college students respect Coach Starks and want to help at the Special Olympics events and with the Kirksville Titans because of the relationship, they have built with her. She has recruited, fundraised (over $500 for uniforms alone), promoted awareness, coached, provided rides, and assisted in starting the Kirksville Titans – an Adult SOMO program for our area. Coach Starks not only did all of this with a smile on her face, but was raising a toddler and working full time at Truman State University while she was at it. She is now doing all of this as she is expecting her second child and still shows up with smiles, positivity, and determination to make this team the best it can possibly be for these athletes.
Jeanetta Sansoucie — Southeast Area
She is one of the most patient, compassionate and caring coaches in the Southeast area.  She coaches Track and Field and Bowling.  She makes it a priority to give all her athletes individual attention.  You can tell from her interaction with her athletes how much they respect her.  Watching her cheer on her athletes and give them advice to improve their skills shows her passion for not only her athletes, but also sports in general. She puts in the extra time and effort required to successfully run a Special Olympics program, in addition to her daily full time employment as a teacher.  Other attributes that are characteristics of Jeanetta include her knowledge, organization, flexibility, compassion, and ability to recognize and meet the needs of their athletes. Many times these needs go beyond teaching a sports skill and more often it is teaching a life skill.  She gives so much time and effort to improving the lives of her athletes.
Kirk and Tammy Halveland — St. Louis Metro Area
Kirk & Tammy's kids, Lilah and Patrick have been unified athletes that our Special Olympics Falcon athletes look up to, respect, and consider best friends. The entire family is outstanding and each one is an outstanding coach.