Jared Niemeyer named SOMO Athlete of the Year, other athletes honored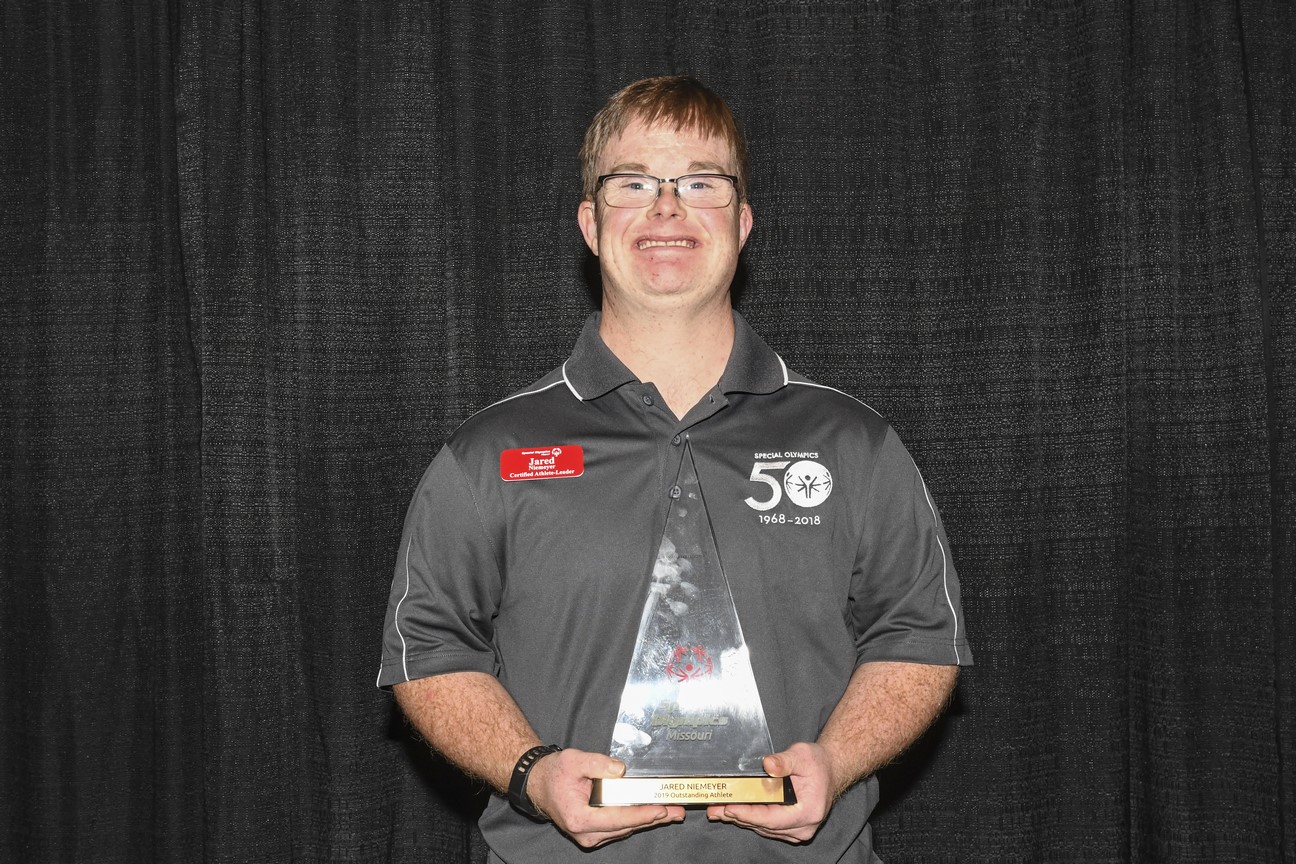 All of the athletes below were recognized for their outstanding contributions to Special Olympics Missouri from their respective areas at the SOMO Annual Awards Luncheon Oct. 19 in Columbia. Each year, Special Olympics Missouri salutes those who have made significant contributions to the Special Olympics movement. Each area nominee is submitted for statewide recognition, and the overall winners were also announced at the SOMO Awards Luncheon.
Jared Niemeyer – North Area

Jared has gone far and above of competing in Special Olympics Missouri sports. He sits on the Board of Directors for Special Olympics Missouri serving as the Athlete Representative.   He is a graduate of the Athlete Leadership Program, he is a Charter Class member in raising funds for the Training for Life Center, He has served as Plunge Ambassador for 2 years and he is one of the first Global Ambassadors for Missouri.  He speaks to groups in our community and throughout the State – organizations such as colleges, Knights of Columbus, high schools (Highland High School has asked him to come talk also), community and civic organizations such as Kiwanis, Rotary, etc. He visited 16 Casey's to simply thank them for the June fundraiser! He sent pictures to Crystal Schuster to post on FB as our thank you! He has traveled to his second venture at the United Nations in June and all he does at every turn to promote, share and encourage others in or for Special Olympics.  Everything that our local LETR does, Jared participates in: Cop on Top, Drive it Home Raffle sales tables for LETR (he's also a Business Partner as Jared's Jams to sell raffle tickets), Tip a Cop, local annual Torch Run in Kirksville, fundraisers in various ways, etc. He has done many newspaper, TV and Radio interviews for area SOMO activities. Most recent was an article in Kirksville Daily Express & Edina Sentinel for UN participation.   Jared enjoys participating in Bowling, Basketball and Track. Jared is an advocate for inclusion as he feels this is the world we must promote because everyone deserves the opportunity to be all they can be! On top of what all he does for Special Olympics he has worked 8 years at Kirksville Hy-Vee since graduating in 2011. Jared is a member of the St Joseph Catholic Church.  He's a Knights of Columbus member and started his own business called "Jared's Jams" which has partnered with "Josh's Java" and they sell jams, jellies and specialty coffee blends at Kirksville Farmer's Market and regional festivals. Jared will do his best at all he is asked to do, he always does it with a smile and enthusiasm and does it for his fellow athletes.
Clarence Bentley – Central Area
Joe DiMaggo has this quote:  "A person always doing his or her best becomes a natural leader, by example".  Clarence Buchanan demonstrates this quote through his participation in Special Olympics.  He is a quiet leader who always gives his very best to whatever sport he is competing. Clarence is working toward becoming an athlete coach through ALPs.  He wants to help other athletes do their very best, gain skills and get stronger.  Clarence has a welcoming personality and yet there is a sense of shyness about him.  His infectious smile comes out when he receives a compliment or does something well.  When you see Clarence working or talking with other athletes, you can see the confidence that they have in him. Clarence enjoys going around the state for competition and has met many new friends.  He offers his assistance with fundraisers and/or other opportunities where athletes are needed to be represented.  This summer he was faced with a different situation when one of his favorite coaches left.  He didn't think he wanted to continue, but after being asked, he came back.  Teammates and coaches alike are glad when Clarence is around.  He is a nice guy who cares about others.
Colin Garrison – Kansas City Metro Area
Colin has competed in Special Olympics Missouri for 13 years and has participated in bocce, basketball, softball, track, bowling, aquatics, flag football, soccer and tennis.  In 2018, Colin competed in Bocce at the USA games in Seattle earning a silver.  Previously, he participated in Athletics in the 2010 USA games in Nebraska. Just recently, in January 2019, Colin represented Missouri on Team USA in Abu Dhabi and came home with gold, silver, and bronze medals in bocce. Colin makes a huge impact on the community around him and around the country.  He recently represented SOMO as members of Team USA met President Trump following the 2019 World Games and visited with Senator Roy Blunt at the World games and in Washington DC.  In the Kansas City community, Colin works at the Goodwill doing computer recycling. Due to his accomplishments as a Special Olympic athlete and an excellent employee, he was chosen to throw out the first pitch at a KC Royal's game. When competing in Missouri or around the world, Colin is a impressive representative of Missouri showing confidence and encouraging others.  His sportsmanship is top notch and his excitement for all sports is undeniable. The fans always cheer for Colin because he demonstrates excitement with outstretched arms when making a basket, a point in bocce, or just running by them in track.   If an athlete needs help or someone to pump them up, it is Colin.  Even if Colin is competing, he will stop and help whoever needs support.  He makes everyone around him feel special and welcome.  If any of his fellow athletes do not recognize an athlete from anywhere across the state, they will ask Colin.  He will tell you their name and their background if he has not already started talking to them.
Lucas Blattel — Southeast Area
Lucas Blattel exemplifies an All-Around Special Olympics athlete.  He has competed in 291 events in 157 games just through SOMO.  In addition, Lucas has participated in USA and World Games. In just 2018 Lucas competed in the following sports and games –
Softball – Regulation – Area, Regional, State, National Invitational Tournament
Basketball – 5-on-5 Regulation – Area, Regional, State
Bowling – Unified Doubles – Area & State
Tennis – Singles, Doubles, Unified – Area, State, USA Games
Athletics – Mini Jav, 800MR, Shot Put – Area, State
Volleyball – Unified – State
Bocce – Singles, Doubles – Area
In addition to his well-rounded athletic performance on the field, he is an asset off the field to this program as well.  He participates in ALL area fundraisers.  He plunges each year, helps at area Tip A Cop events, helps sell Drive It Home Raffle tickets and assisted at the 1st ever Scott Wright Memorial Cornhole Tournament, both as a volunteer and a player.  Lucas also spends several LONG days each May at the Wagon and Trail Ride fundraiser.  He cooks meals, loads and unloads trucks, serves meals, does dishes and anything else that is needed for a successful 4-day event! Finally, we would like to highlight Lucas' strength as a teammate.  He helps with several teams his Mom coaches.  He is a mentor to new athletes joining Cape Independent.  Often the coaches rely on him to get athletes rounded up to a certain place or ready to go at a certain time.  He is well respected by his teammates and coaches, as a both a great athlete and reliable teammate.
Kit Gillihan — Southwest Area
Mr. Gillihan is one of the most extraordinary students/individuals I have encountered and have the pleasure of knowing. He has been a model, indeed an inspiration in his service to professional education and to Special Olympics. Mr. Gillihan has never had, or chosen the easy path. He meets challenges head on and welcomes the opportunity to conquer any challenge that he encounters. He holds himself to high standards of excellence, is an inspiration, and motivates others to do the same. Rather than giving up and quitting due to stress that would have emotionally incapacitated most, Mr. Gillihan never stopped or allowed himself to be hindered by societal injustices. He always comes back strong. This much heart seems difficult to find in society but he demonstrates it every day of his life.
Jacob Ritter — St. Louis Metro Area
In the last year, Jacob has really grown into a leader within the SOMO community. Jacob is an athlete for Warren County Handicapped Services where he competes in just about every sport available to him; bocce, bowling, basketball, flag football, golf, softball, tennis, track and field, and volleyball.  For the first time in his athletic career, Jacob attended sports camp this summer to add to his knowledge of this list of sports and he soaked in all the pointers and drills he could. In addition to all of those activities, Jacob attended the Missouri Association of Student Council's weeklong camp earlier this year, where he met new people from around the state and learned leadership qualities and inclusive activities he can bring back to his own school. He was also invited to serve on a committee to host a leadership summit to help promote unity in schools. Every event Jacob comes to, he comes with a positive attitude and makes sure he follows the Special Olympics oath.