The SOMO Hall of Fame was created in 1997 by the Board of Directors as a way to recognize longevity and achievement of athletes and volunteers within the organization. A voting committee, appointed by the SOMO Chairperson of the Board, is responsible for reviewing all nominations and voting on no more than two inductees in each category (athlete and volunteer).
To be inducted, finalists must be named on 75 percent of the ballots. A permanent video display, housed in the Missouri Sports Hall of Fame in Springfield, features photos and bios of each year's Special Olympics Missouri Hall of Fame inductees.
CATEGORIES:  Athlete and Non-Athlete
CRITERIA:
Athlete and Non-Athlete Prerequisites:
Participation for at least 15 years with Special Olympics, with at least 10 of those years being with Special Olympics Missouri.
Not a present employee of Special Olympics Missouri.
Not a current member of the Special Olympics Missouri Board of Directors.
Demonstrates behavior and conduct associated within the Special Olympics movement.
Demonstrated a significant positive impact within the Special Olympics movement.
Athlete Enhancements: 
Participation for more than 15 years;
Medal winner at a National Games/World Games;
State or Area Athlete of the Year;
Participation in more than one sport;
Public education involvement as a Global Messenger;
Development involvement;
Outreach involvement
NOMINATIONS:
Nominations will be sought at least six months prior to the award being presented.  They will be sought via the Special Olympics Missouri mailing list (board members, area staff, Tuesday Takeaways, and a newsletter insert) and social media promotion. Previous nominees will not automatically be forwarded to the next award year. Individuals may be nominated in no more than five separate award years.
Click here to nominate for 2023!
2023 Nominations are due by August 1, 2023
Questions? Contact Andrew Kauffman
The 2023 Awards Banquet will be held Saturday, Nov. 18, 2023 at the Training for Life Campus.
VOTING COMMITTEE: The Voting Committee will be composed of a maximum of nine members.  The Hall of Fame chair will select members of the Voting Committee after consulting with the Chair of the Board and the President.  This Committee will include: three past inductees of the Special Olympics Missouri Hall of Fame, three current Special Olympics Missouri staff members, current Special Olympics Missouri Board of Directors athlete representative, two members selected by the voting committee chair.
VOTING PROCESS: Each person on the Voting Committee will have the opportunity to hear testimony on each nominee by the person who made the nomination. Upon hearing all testimonies in each category, a secret ballot vote will be cast. Each Voting Committee member shall have zero to two votes per category. Each Voting Committee member may only cast one vote per nominee.
INDUCTEES: No more than two nominees from each category will be chosen in one year.  A nominee must receive six or more votes from Voting Committee to be selected as an inductee into the Hall of Fame.
AWARD: A gold medal will be designed for each inductee and for display.
Tanner Hrenchir
Athlete
Tanner Hrenchir is the epitome of what Special Olympics Missouri (SOMO) is all about.
Over the span of the last 31 years, Tanner has been a leader for the North Area athletes. He has had a tremendous impact on the growth of the program by serving as an advocate for the start of so many new sports, such as volleyball, golf and tennis.
Tanner gives 100% of himself in every sport he participates in. His dedication to sports continues to grow every time he steps on the field, in large part due to the confidence he has obtained through his participation in SOMO.
Tanner is one of the most decorated athletes in SOMO history. In 2010, Tanner was selected to be a part of Team Missouri for the Special Olympics USA Games in Lincoln, Neb. He dedicated an entire year to practicing and training to better himself for the week-long games. It all paid off as he came home with a silver and bronze medal, along with two fourth place finishes. A few years later, Tanner was selected to compete on Team Missouri's flag football team for the 2014 USA Games in New Jersey. Most recently, Tanner was Team Missouri's lone powerlifter at the 2022 USA Games in Orlando, Fla. He came home with a gold, two silvers and one bronze medal.
Tanner has become a wonderful spokesperson and representative for the organization over the years. He has been serving as a SOMO Global Messenger for the past 10 years. Tanner has shared his amazing story and his love for SOMO more than 125 times in the past 10 years to more than 5,000 people! He has spoken at events such as the Missouri Western State University ASA Formal, St. Joseph's annual celebrity softball game and so many more! He has met with law enforcement agencies, Riders on a Mission, the Knights of Columbus, Missouri Association of Student Councils and many others to promote inclusion and acceptance. In 2012, Tanner served as the master of ceremonies at the SOMO Leadership Conference. Tanner continues to grow as an individual after each speech he gives.
Tanner is also an avid volunteer for SOMO. He helps with the Young Athletes Program, and he's a frequent participant in local fundraisers and area events. Tanner has been a captain for his Polar Plunge team for the past 11 years. In 2022, Tanner helped lead his team raise over $8,500 for the Plunge, which was the highest team total in St. Joseph.
Tanner also volunteers to serve at our Ladies Night Out event every year. Tanner is always readily available, unless he is working at Hy-Vee, to help anyone in the North Area with fundraising.
Tanner's energy is infectious, and he has truly made a difference in the way people perceive SOMO athletes. Tanner has opened doors to new sponsors, volunteers and athletes. He is an excellent example of what a SOMO athlete should be. Tanner has great sportsmanship, and he's a team player. Best of all, he has an amazing attitude and dedication to SOMO.
Jeffery Fugett
Volunteer
Jeffery Fugett began volunteering for Special Olympics Missouri (SOMO) in 1999. He has served as the Missouri State Highway Patrol Troop D Agency Coordinator since 2005, working with fellow officers to raise funds and recruit volunteers for SOMO athletic events. He is the Region 3 Law Enforcement SOMO Coordinator for 23 counties in Southwest Missouri, where he coordinates and assists law enforcement agencies with torch runs, fundraising and other event planning. Jeffery has been on the State Summer Games' Games Management Team roughly a dozen times, helping coordinate the final leg of the torch run, setting up equipment, setting up for opening ceremonies and coordinating law enforcement officials to award athlete medals. Jeffery has also served on the Polar Plunge committee since 2004, first in Branson and now in Springfield. He has obtained sponsors, set up events, recruited participants and even participated himself. Jeffery has been a Super Plunger at seven different Polar Plunges. A Super Plunger jumps into the freezing cold water every hour for 24 straight hours. That's some serious dedication!
Jeffery is also a Unified partner for softball and flag football. He competes on multiple teams with SOMO athletes and non-SOMO athletes. He's also a SOMO coach. These roles have taken Jeffery all over the world. In 2007, he was chosen to run the final leg of the Law Enforcement Torch Run at the World Games in China. In 2010, he coached the Team Missouri basketball team at the USA Games in Nebraska, and he did so again in New Jersey in 2014. Most recently, Jeffery competed in flag football at the 2022 USA Games in Orlando, Fla. He helped his team earn a bronze medal!
Jeffery has been selected to attend the International Torch Run Conference each year since 2000 to collaborate with law enforcement agencies from around the world. He has also served as a Guardian of the Flame at this conference. He was even once honored to be a part of the "in remembrance" team for the torch presentation.
For the last 20 years, Jeffery has tirelessly volunteered for SOMO. He has coordinated many Tip-A-Cops, Cop-On-A-Rooftops, Torch Run shirt sales and Drive it Home Raffle ticket sales. Under his direction as coordinator, Missouri State Highway Patrol Troop D has raised $292,710. The Branson/Springfield Polar Plunge has raised $407,179 since Jeffery came on board as a committee member in 2006. Finally, Law Enforcement's SOMO Region 3 has raised $948,135 since 2015 when Jeffery was appointed as the coordinator.
These efforts are clearly remarkable and certainly appreciated! In 2013, Jeffery was named the SOMO Volunteer of the Year. The following year, he received the John Michael Letz Award, which is the top Law Enforcement Torch Run award given by SOMO.
Jeffery Fugett is a great example of what service to others is all about.
Simon Caldwell
Athlete
Simon Caldwell has been involved with Special Olympics Missouri (SOMO) for 21 years. It's safe to say he's made the most of his time with SOMO!
Simon graduated from Savannah High School in 2006. Since then, his SOMO career has flourished. Simon has competed in several sports, including basketball, flag football and tennis. Simon's tennis skills took him all the way to the 2010 Special Olympics USA Games in Lincoln, Neb. He earned a gold medal in men's singles! In 2014, Simon was back at the USA Games in New Jersey. He competed in modified flag football for Team Missouri. Four years later, Simon participated in his third USA Games in Seattle, Wash. He competed in singles and doubles tennis!
When Simon is not training or competing, he works at Special Industries. He's now worked there for 15 years!
Simon has always displayed excellent sportsmanship on and off the field, and he has brought awareness of SOMO to his community. Simon is a former president of the Savannah Lions Club. He has been with the club for 12 years.
Simon loves all sports, and he has always lived up to Athlete Oath.
"Let me win. But if I cannot win, let me brave in the attempt."
Over the course of more than two decades with SOMO, Simon has made friends all over the country. He has been a wonderful ambassador for Missouri. SOMO is so proud of all of his accomplishments!
David Pudlowski
Volunteer
In 1991, the Chief of Police of St. Louis County Police Department called on Lieutenant Dave Pudlowski to take charge of the Torch Run in his department. He went on to serve as the co-chair, alongside long-time LETR leader, Rich Banahan from 1994-1997. 
In that time they were successful in raising more than $1 million dollars in that 4-year period.  After his time as the co-chair, Dave remained on the Torch Run Committee building the base toward their first $1 million dollar year in 2004.
In 1997, he represented Missouri on the Final Leg of the Torch Run in Canada.  That same year, he was named SOMO Volunteer of the Year and was appointed to board of directors.
In 2000, Dave was inducted into the International Law Enforcement Torch Run Hall of Fame and received the John Michael Letz award as an "unsung hero," the highest award given in the Missouri Law Enforcement Torch Run.
Dave helped to establish the partnership with Shop 'n Save that grew to raise more than $400,000 in its height between 2004-18 helping SOMO grow its programming opportunities for the athletes.
Dave was elected to the SOMO board in 2000 and served multiple terms and in numerous leadership roles.  He was the chair from 2005-2006. During his time on the board he led the strategic planning process, represented SOMO at Capitol Hill Day in Washington, D.C., with Beth and Linda Brokamp and continued his commitment to the Law Enforcement Torch Run.
Dave also served on the SOMO endowment fund board for more than 10 years and was chair in 2018.
When decisions were being made at the board level, Dave always asked "Is this the right decision for the athletes and does it align with our mission?" 
Dave is truly the definition of accountability, dedication, and professionalism all rolled into one!
Jim Moran
Volunteer
In the late 1980s, Jim Moran's involvement with the Torch Run began as a runner.  He went on to serve as the agency coordinator for the St. Louis Metro Police Department – helping host events such as the St. Louis Trivia Night and the Plane Pull. 
After retiring from St. Louis Metro PD, Jim went on to be the Chief of Police at St. Louis University Department of Public Safety, and brought that agency into the Torch Run family.  Jim became a member of the LETR committee in 1995 and he became the chairman in 2014.
In 1999, Jim served on the planning committee for the International Torch Run Conference that was held in St. Louis – and thought it would be great to have an athlete speak in a general session.  It was at the conference where Jamie Graham, SOMO athlete, spoke to the attendees and left a very lasting impression on every single person in the room.  This was the first time for Special Olympics athletes to speak in a general session and since then, every conference has followed the lead. 
In the year 2000, Jim received the John Carion Unsung Hero Award.  This award was created by the International LETR Council as a way to recognize outstanding individuals who have contributed to the success of the LETR on a local, state or community level. 
In 2003, Jim received the John Michael Letz award as an "unsung hero," the highest award given in the Missouri Law Enforcement Torch Run.  Also that same year, Jim represented Missouri for the Final Leg in Ireland, for the World Games.
Jim has befriended numerous athletes since becoming a Torch Runner – and he will tell you how much they have impacted his life, just as much as they will tell you how much he has impacted theirs.
Becca Tincknell
Athlete
In 1998, Becca Tincknell attended a transition fair during her junior year of high school.  This event changed her life forever.  She found a way to continue her path as a Special Olympics athlete she began when she was 6.
While in school, Becca competed in track and field as that was the only sport offered through her school district.  Once she connected with developmental services – NextStep for Life – Becca's Special Olympics career took off! 
Now more than 20 years later, Becca is active year-round in 6 different sports: bowling, track, bocce, softball, basketball and flag football.  She was introduced to tennis at Sports Camp, where her skills took her to the world games in Ireland in 2003.  In 2014, she competed at the USA Games held in New Jersey in bocce singles and then upped her game in 2018 and she and her mom competed in Unified bocce doubles in Seattle, Wash.
When the Athlete Leadership program expanded in Missouri to include ALPs University, Becca was one of the very first athletes to sign up. She chose the major of technology and was one of the first graduates of ALPs University to graduate. 
Becca is now working on her second major in coaching and should graduate soon with a degree in coaching once her capstone project is complete.  Becca's next step will be to help with teaching classes at ALPs University, as she has already had to do that a few times!  Becca used her leadership and public speaking skills to attend Special Olympics Capitol Hill Day to advocate for athletes and share her SOMO story with Sen. Roy Blunt and all the Missouri legislators.
When Becca is not training, competing, earning multiple alps majors, she works at McDonalds and builds Lego models of things like the St. Louis Cardinals stadium and even the Training for Life Campus.

Mark Musso
Volunteer
Mark became the SOMO Executive Director in 1991.  At that time SOMO served roughly 5,000 athletes a year and offering five sports.  There were five full-time staff members and a budget of $700,000. 
When Mark retired in 2019, there were more than 16,000 athletes, with 16 sports and 311 camps, trainings and competitions with an annual budget of $7.52 million.  
In his 27.5 years in leadership at SOMO, Mark accomplished many goals.  Under his direction, the organization:
Built a six-month cash reserve
Restructured state programs and created full-time Area Directors to run local and area programs,
Grew a team of dedicated staff to increase athlete involvement
Established the Strategic Planning Process
Added new programs to the opportunities for the athletes such as:

Healthy Athletes
Young Athlete Program
Motor Activities Training Programs
Athlete Leadership Programs
Unified Champion Schools
Mark's leadership created a culture of inclusion for all athletes and that remains true today.
What you won't see on paper are the thousands of stories of lives touched, hearts changed and individuals who are accepted in their communities because of SOMO.
Beyond Missouri, Mark has shared his leadership with the entire Special Olympics movement in his role as a Director for Team USA Management team, as a former Chair of the U.S. Leadership Council, a former chair of the U.S. Finance and Development Committee and he has served as a U.S. representative on the North American Leadership Council.

Sarah Byland
Athlete
Sarah Byland has been a Special Olympics athlete for more than 30 years, participating in softball, bocce, bowling, golf, swimming, tennis and track. She has represented Missouri as an athlete at two USA Games (2006 for track and 2010 for bowling) and attended others to cheer on her friends.
Sarah loves to raise money for her program. She has participated in the Polar Plunge® more than 11 times over the years. She was also one of the first athletes to sign up to raise money for the Training for Life Campus.
Sarah was one of the first graduates from the Athlete Leadership Programs University with a degree in Communication. She's a true role model for her fellow athletes.

Brock Guseman
Athlete
Brock Guseman has been a Special Olympics athlete for 28 years, competing in softball, basketball and bocce. In 2011, Brock represented Missouri at the World Summer Games in Athens, Greece and brought home a bronze medal and a 4th place ribbon in bocce. Over the years, Brock has become the face of the capital campaign giving speeches about and raising funds for the Training for Life Campus in Jefferson City. He raised more than $12,000 for the campus on his own.
He serves on many committees at the local and state level in support of his fellow athletes. He's a true champion for people with disabilities. His enthusiasm and outlook on life is contagious.

Terri Dallas
Volunteer
Terri Dallas has dedicated more than 35 years of her life to the athletes and cause of Special Olympics. She pushes her athletes to be their best year in and year out, resulting in many of her athletes moving on to compete at the national and international level. She attended the 2018 USA Games as a bocce coach.
She's a great role model for other coaches in the St. Louis area, mentoring them and making sure they understand their role in the movement. She has one of the strongest family support networks in the state because she finds a way for every family member to feel included and engaged in the program. She puts her heart and soul into the program and it definitely shows.

Gary Brimer
Volunteer
In 1976, Gary joined Special Olympics Missouri as a volunteer coach before becoming the Director of Sports and Training in 1994 and holding that position until 2016. Gary was instrumental in the development of a coaches' training program which saw SOMO's coaches become some of the nation's most well-prepared coaches.
He played a key role in the creation and training of Team Missouri for every USA/National or World Games from 1984-2017. He created a fair selection process for Team Missouri that provided equal opportunity for all athletes (this process is still used today). Gary also introduced the Unified Sports program, which pairs SOMO athletes with Unified Partners on the same team. The program continues to thrive today.
Gary passed away in November 2020.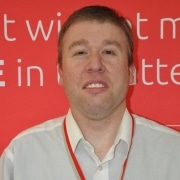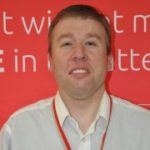 Robb Eichelberger
Athlete
Robb Eichelberger began his involvement as an athlete with SOMO in 1998 as a 3-on-3 basketball player. Robb recruited his little brother, Adam, to be a Unified Partner, strengthening their bond as brothers. Robb later won a gold medal in tennis at the 2006 USA Games, and would later be selected to compete in the World Games. Robb is also an athlete-leader who will graduate from ALPs University with a degree in Communications in 2019.
Robb served on the SOMO Board of Directors from 2007-2015 and became the first SOMO board member to have perfect attendance. Mark Musso, SOMO President/CEO, created the Robb Eichelberger Perfect Attendance Award, which will be given to future SOMO board members who maintain perfect meeting attendance upon completing their terms.

Zim Schwartze
Volunteer
Zim Schwartze ignited her passion for Special Olympics Missouri in 1995 through the Law Enforcement Torch Run (LETR). Since then, she has served SOMO through her roles as the Games Management Team Chair and as a member of the Springfield Polar Plunge committee.
In 2005, she was recognized as the 2005 Letz Award winner – the highest honor in Missouri's LETR program. Zim ran the Final Leg at the 2011 Special Olympics World Summer Games, as well as the St. Louis to Colorado leg of the Unified Relay Across America, running the torch to the 2015 World Games in Los Angeles.

Randy Boehm
Volunteer
Randy Boehm has been involved in Special Olympics Missouri since 1986. His involvement began as a runner in the Law Enforcement Torch Run (LETR), after which he became the Regional LETR Coordinator for Missouri, the Regional Coordinator for the International LETR Executive Council, the Missouri LETR Committee Chair, and the SOMO Board of Directors Chair.
As the LETR Committee Chair for 10 years, he raised $11.8 million for SOMO. Randy championed the support of LETR to a commitment of $1 million over five years to support the Training for Life Campus capital campaign, continuing his – and LETR's – support for SOMO for years to come.

Duke Simmons
Athlete
Duke Simmons has been a Special Olympics Missouri athlete since the 1980s. A multi-sport athlete, he has participated in basketball, volleyball, track, softball, golf, bocce, bowling and soccer, and in 1995, won the bronze medal for soccer with Team USA at the World Games. In his hometown of Columbia, Duke is known as the "Face of SOMO," as he is an example of sportsmanship and leadership.
When he is not training or competing in Special Olympics, Duke volunteers at the Veteran's Hospital or at SOMO fundraising events. Duke is a self-advocate, shown through his membership with the People First chapter of Boone County, whose mission is to ensure that people with disabilities are fully included in community life through advocacy work.

Larry Elrod
Volunteer
Since the early 1990s, Larry Elrod has served Special Olympics Missouri. Beginning his involvement as a SOMO basketball coach, Larry has also been a Unified Partner in golf for more than 10 years, has been an event manager and contributed to fundraising efforts at all levels.
Larry was a member of the SOMO Board of Directors from 1992-2001 and again from 2004-2012, with roles as Board Chair, Development Committee Chair, and Strategic Planning Council Chair. Larry then served on the United States Leadership Council, where he impacted the entire Special Olympics movement. Larry continues to be known as the "defender of the athletes" on the SOMO Board of Directors.

Linda May
Volunteer
Linda May began her volunteer work with Special Olympics Missouri as a coach in 1974. She went on to coach at three World Games in 1987, 1995 and 1999. Twenty years ago, she held the first SOMO Challenge Day for athletes with severe and profound disabilities, and through her leadership, began the programs for roller skating, cycling, bocce and floor hockey in Missouri.
Linda was one of the first coaches to introduce Unified Sports in the early 1990s. She developed a strong program where she included the parents and siblings of the athletes as coaches, chaperones and Unified Partners. Since retiring, Linda continues to coach her athletes, and their parents remain involved with the program.

Danny Duvall
Athlete
Danny Duvall competed in Special Olympics for nearly 40 years in a wide variety of sports.
In 2006, Danny participated in the first ever USA Games in bowling, setting a Special Olympics record with a score of 231. In 2008, he received the Special Olympics Missouri Outstanding Athlete of Year award and was recognized by the Kansas City Sports Commission with the Special Athlete Achievement Award. Danny also won the Bishop Sullivan Award from Catholic Charities, in part because of his work with the Knights of Columbus.  Danny passed away weeks after being inducted into SOMO's Hall of Fame in 2013.

Mark Bussen
Volunteer
Mark Bussen became involved with Special Olympics Missouri in 1997 as the coach of the West County Special Olympics team. In this role, his passion for sports met his passion for making a positive impact on the lives of people with disabilities.
Mark's leadership expanded the West County team into one of SOMO's premiere programs, with more than 40 athletes. In 2005, Mark was recognized as the Outstanding Coach of the Year. He tirelessly supports SOMO through his charitable efforts, and as a business leader, he has generated nearly $50,000 annually for the organization.

Ray Lauer
Volunteer
Ray Lauer has been involved with Special Olympics Missouri since the early 1990s, when he became Chair of the Law Enforcement Torch Run committee as a deputy chief with the St. Louis Metropolitan Police Department. Serving as LETR Committee Chair for seven years, Ray doubled its fundraising efforts.
Later, Ray served on the SOMO Board of Directors until 2011. He remains active with LETR and serves on the St. Louis Over the Edge committee as well as volunteering with the Polar Plunge. His grandson Andy, born in 2008 with Down syndrome, looks forward to being a SOMO athlete. 

Linda Wiederholt
Volunteer
Linda Wiederholt's involvement with Special Olympics Missouri began in the early 1990s and she has served as a chaperone, Unified Partner, coach and volunteer. She began coaching for SOMO in Kansas City. In 2001, Linda was part of the SOMO Outstanding Family, and she was later named the SOMO Outstanding Coach in 2007.
Linda is also a member of the KC Metro Games Management Team, and she was selected as a USA Games coach for Team Missouri twice including in 2010 as Team Missouri's tennis coach. Linda's coaching skills have made a deep impact on many SOMO athletes. She has also trained athletes as a part of the Global Messenger program.

Beth Brokamp
Athlete
In Beth Brokamp's career as an athlete for Special Olympics Missouri, she trained in basketball, bowling, golf and athletics (track & field). She competed in the USA and won a gold medal in athletics at the 1999 World Summer Games.
Beth represented SOMO at Lobby Day in Washington, D.C. in 2005, when she advocated for acceptance and inclusion of people with intellectual disabilities. In 2010, Beth was named the Big 12 Conference Special Olympics Athlete of the Year, and in 2011, she was selected to be Grand Marshal of the University of Missouri Homecoming Parade in 2011.

Daniel Schieber
Athlete
Since the early 1980s, Dan Schieber has supported Special Olympics Missouri through his love for sports. He plays basketball, softball, bowling, track & field, floor hockey, golf and aquatics. While involved in these sports, his teams have won awards for sportsmanship and have been recognized for their achievements in athletic excellence.
Dan's family brought Special Olympics into new areas of Missouri, creating more opportunities for athletes to participate and more ways for coaches to get involved. Their involvement in serving on planning committees for these new areas was vital to the current success of Special Olympics Missouri.

Frank O'Malley
Volunteer
Frank O'Malley's most notable achievement for Special Olympics Missouri was his creation of the 26-year relationship between SOMO and the military installation, which he initiated when he worked at Fort Leonard Wood in 1975. Beyond this, Frank has been instrumental in the development and growth of the sports programs in northwest Missouri.
Frank's passionate vision for a self-sustaining organization led to the creation of the SOMO Endowment Fund (SEF). The SEF was instrumental in fundraising for the Training for Life Campus, which will provide resources and training for current and future SOMO athletes and coaches.

Larry Stephens
Athlete
Larry Stephens began his career as an athlete in the late 1980s for Special Olympics Missouri, participating in aquatics, basketball, bocce, bowling and floor hockey. Larry also supports SOMO as a Global Messenger, where he increases awareness about SOMO and its goal to support people with intellectual disabilities. In 2018, he graduated from Athlete Leadership Programs University with a degree in Technology.
Larry has also supported SOMO through his fundraising efforts for the Polar Bear Plunge and is regarded by many as the embodiment of the Special Olympics mission.

Chet Hollingshead
Athlete
Chet Hollingshead is the only athlete in the history of Special Olympics Missouri to have won a national medal, compete on the world stage, and then later go on to become a key volunteer and Unified Partner.
Thanks to his deep and widespread involvement with SOMO, Chet is well-recognized for his efforts to support the organization in every capacity.

Ralph Biele
Volunteer
Ralph Biele singlehandedly began Special Olympics Missouri's Law Enforcement Torch Run (LETR) in 1984, when he personally raised more than $4,000. Since then, Missouri's LETR has grown to achieve national recognition, and since 2004, the Missouri LETR has annually raised more than $1,000,000.
Ralph also served on the SOMO Board of Directors, where aided the search for the Executive Director position at SOMO in 1991. Ralph was the driving force in implementing the Board decision to restructure the organization in 1992, making SOMO what it is today.

Bea Webb
Volunteer
Bea Webb has been a coach, a mentor, a fundraiser, and a leader for Special Olympics Missouri since 1980. "Coach Bea" is often seen on the sidelines, guiding hundreds of athletes to reach their potential through sport.
Bea has served on the SOMO Board of Directors, where she supported SOMO through continued fundraising efforts. Her leadership of the annual Dare to Dream Golf Scramble make the Sports Camp possible each year. She was a Team Missouri coach for USA Games in 2006, 2010, 2014 and 2018.
2007 - Shirlene Treadwell

Shirlene Treadwell
Athlete
Shirlene Treadwell's involvement as an athlete with Special Olympics Missouri began in 1980, and she would go on to participate in more than half of SOMO's sports. Shirlene won a silver medal in golf at the 2006 USA Games before she began her role as an assistant coach for basketball and softball at SOMO.
Shirlene is an employee at a sheltered workshop in Columbia. Shirlene's experiences with SOMO have allowed her to advocate and fundraise for the organization, providing resources to Special Olympics for years to come.

Don Holbert
Volunteer
Don Holbert began his work with Special Olympics Missouri as a member of the Area Management Team for 11 years. He later went on to become a member of the Board of Directors from 1989-1997, as well as the Central Area Administrative Assistant and then Central Area Director.
Don also trained and mentored new coaches and coordinated events for the organization.

Gordon Barnes
Athlete
Gordon Barnes's years as a Special Olympics Missouri athlete are remembered dearly. Gordon spent much of his time involved with SOMO as both an athlete and as an aid during events and fundraising campaigns.
In addition, Gordon was a spokesman for Special Olympics for many years. Gordon passed away in 2011. His legacy remains with the organization today.

Graham Williams
Volunteer
Graham Williams served on the Board of Directors as the Finance Chair and Treasurer from 1980-1995, then again from 1996-2004. Graham was responsible for securing annual funding for SOMO through Missouri's Department of Elementary and Secondary Education.
During his time on the board, he was able to provide $100,000 annually for many years. Graham's other services to SOMO include his role as Summer Games Venue Coordinator and position as a member of SOMO's Finance Committee.

Shirley Shattuck
Athlete
Shirley Shattuck spent more than 40 years as an athlete for Special Olympics Missouri, demonstrating commitment and passion the whole way through.

Jane Howell
Athlete
Jane Howell's athleticism is well-respected at Special Olympics Missouri; she spent more than 20 years as a SOMO athlete.
Having competed in team handball at the 2003 World Games in Ireland and then returned to Missouri to lead her team, the Jefferson County Jets.
Jane was awarded Ms. SOMO Basketball for her positive sportsmanship.

Arthur Murphy
Athlete
Arthur Murphy has been involved with Special Olympics since the mid-1970s. Arthur was recognized as the 2001 SOMO Athlete of the Year and was inducted into the Kansas City Walk of Stars, where he shares a star with famous runner Jim Ryun.
He has competed on many USA Games and World Games teams.
2003 - Peggy Llewellyn-Neff

Peggy Llewellyn-Neff
Volunteer
Peggy Llewellyn-Neff's career with Special Olympics began when she became a volunteer in California.
Since coming to Special Olympics Missouri, in the late 1990s, she has served the organization proudly. Peggy was recognized as the SOMO Coach of the Year in 1996. Peggy regularly shares her expertise with her athletes, helping specifically with tennis and swimming.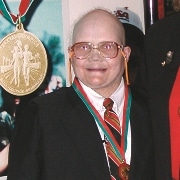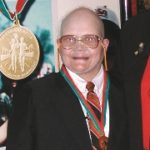 Greg Swinney
Athlete
Active in Special Olympics Missouri for more than 23 years, Greg Swinney was an outspoken advocate for the organization. Greg was awarded the 1998 Athlete of the Year award and the Special Olympics Heroes Award.
He won more than 200 gold, silver and bronze medals during his 33 years of competition. In 2002, he was inducted into the Missouri Sports Hall of Fame as an athlete, along with his coach of over 30 years, Vickie Dannenmueller; the pair being the only individual athlete and coach to ever be inducted into the Missouri Sports Hall of Fame simultaneously. Greg passed away in June 2012.
2002 - Vicky Dannenmueller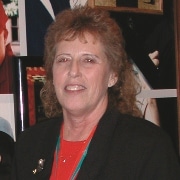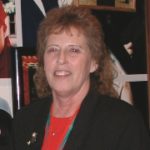 Vicky Dannenmueller
Volunteer
Since 1980, Vicky Dannenmueller has been involved with Special Olympics Missouri, serving as an Area Director, coach, bus driver and chaperone. She developed a new sports program in her community and encouraged schools to participate in the programming with SOMO.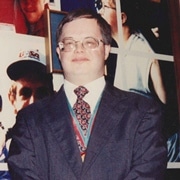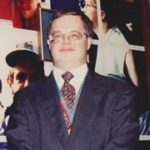 John Giboney
Athlete
John Giboney became an athlete with Special Olympics Missouri when he was just 10 years old. John was SOMO's Outstanding Athlete of the Year in 1993, and a year later, he was inducted into the Missouri Sports Hall of Fame.
In 1999, John brought home the bronze medal in golf from the World Summer Games. In addition, John was one of SOMO's first Global Messengers; he spoke about the organization at the Missouri Governor's Mansion.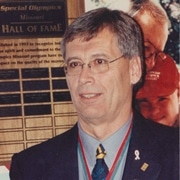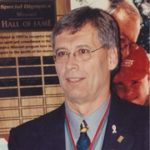 Joe Fuller
Volunteer
For more than 30 years, Joe Fuller supported the growth of Special Olympics Missouri. He served as an Area Management Team member, a coach, a chaperone, and a fundraising supporter.
In 1987, Joe attended the World Games, and in 1999, he coached SOMO's women's basketball team at the World Games where they won the silver medal.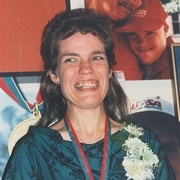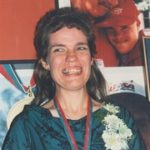 Karen Mitchell
Athlete
Karen Mitchell began participating in Special Olympics as a teenager in Texas, but soon moved to Missouri and continued her athletic endeavors.
By 1989, Karen was selected as Female Athlete of the Year for SOMO's Area 16. Karen later competed in the pentathlon at the 1995 World Games, where she won the bronze medal.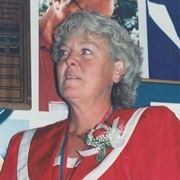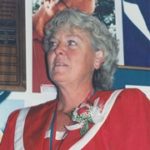 Vana Galloway
Volunteer
Vana has been a coach, a volunteer Area Director, a member of the Sports Management Advisory Council, a Sports Director, a Venue Coordinator, and a photographer for Special Olympics Missouri.
In 1987, Vana received the award for the Area Director of the Year. She later became one the first Area Directors to serve as the Area Director Representative to the Board of Directors.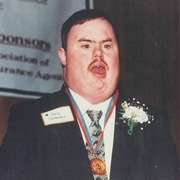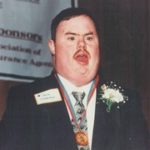 Craig Closterman
Athlete
For more than 25 years, Craig Closterman participated in Special Olympics Missouri. Though he competed in athletics, bowling and basketball, he found the most success in running.
At the 1987 World Games, he brought home the gold medal in the 400-meter and the silver medal in the 1500-meter. In 1995, Craig ran the New York Marathon.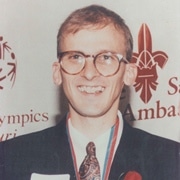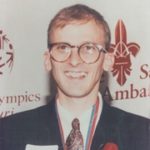 Jeffrey Ottenad
Athlete
Jeffrey Ottenad participated in running, soccer, basketball, ice skating and floor hockey for Special Olympics Missouri.
Jeffrey won the East Area Athlete of the Year award in 1993, and he repeatedly won gold medals at the State Summer Games in the 1500M and 3000M races. In 1995, he was a medal winner in the 5000M race at the World Games.
Jeffrey died at the age of 31 in 2002.  Law Enforcement in St Louis celebrate his life each year during the Torch Run with one of the routes named in his memory.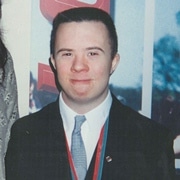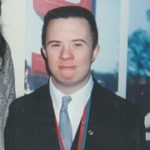 Joe McGuire
Athlete
Since 1982, Joe McGuire has been involved with Special Olympics Missouri. He participated in gymnastics, softball, golf, basketball, track, and bowling. In 1995, he won the gold medal at the World Games for gymnastics, and he was the first SOMO athlete to receive a varsity letter at North Kansas City High School.
In 1996, Joe was selected as SOMO Athlete of the Year and was inducted into the Kansas City Sports Walk of Stars.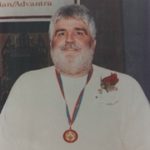 Chuck Smith
Volunteer
Chuck Smith served Special Olympics Missouri in leadership roles for more than two decades. Chuck served as the first Executive Director of SOMO, in addition to his service on the SOMO Board of Directors.
Chuck established the organization, creating athletics programs and initiating fundraising campaigns to build SOMO into what it is today.
Chuck passed away in 2004.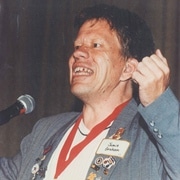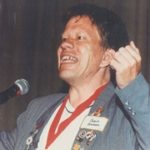 Jamie Graham
Athlete
Jamie Graham began competing in Special Olympics Missouri in 1975, participating in bowling, basketball, track and gymnastics. He won a bronze medal in gymnastics at the 1983 World Games, and was SOMO's first Athlete of the Year in 1989. He has also served as a Global Messenger for SOMO.
Jamie is most known for his talents as an artist/cartoonist who wrote and illustrated a children's book.  He is regularly called on to illustrate recognition pieces for volunteers who have made significant contributions to SOMO.
Some of his art adorns the walls of the SOMO Training for Life Campus.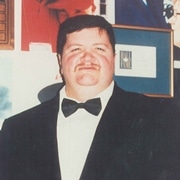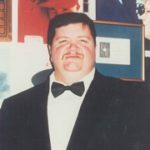 Dick Spence
Athlete
Since 1976, Dick Spence has been active with Special Olympics Missouri, either as an athlete, coach or volunteer.
For eight years (2000-2008), he served as the athlete representative to the SOMO Board of Directors.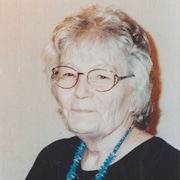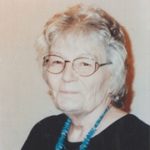 Jo Wood
Volunteer
Jo Wood served Special Olympics through many capacities for many years in the North Area. She was often found helping out in the North Area office.  She joined the SOMO Board of Directors in 2003 to continue her work for the organization and served on the board until 2006.
Jo passed away at the age of 91 in 2018.