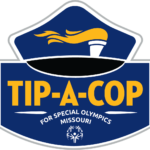 Our 2023 statewide Tip-A-Cop event was a huge success, July 12-21! Officers across the state are ready to wait on you at any of the locations below. Your tips will go to support Special Olympics Missouri's sports training and athletic competition for more than 12,000 individuals with intellectual disabilities in Missouri.
Did you join us? Tweet us your pictures by tagging @SOMissouri on Twitter or Instagram or Special Olympics Missouri on Facebook, all while using #SOMOTipACop!
2023 dates & locations
Our 2023 Statewide Tip-A-Cops have been a huge success. Our Statewide Tip-A-Cop Week, July 12-21, raised more than $15,000! Our Law Enforcement Torch Run also raised $3,239 during our Applebee's Tip-A-Cops in November! Check out some photos from all our events below!
Hosting a Tip-A-Cop
Attention law enforcement agencies, this event would be beneficial for smaller agencies who have not participated in a Tip-A-Cop before to get involved with larger agencies in their areas and for those more experienced to help with the learning process.
Any restaurant will work. If you know a local owner, ask them first. Restaurants known to support Tip-A-Cop Events: Applebee's, Red Lobster, Colton's, Red Robin, Bandana's and Texas Roadhouse. Feel free to expand beyond these sites and start your Tip-A-Cop at a new location. Please contact us with questions.