Drive it Home Raffle: Meet the Finalists!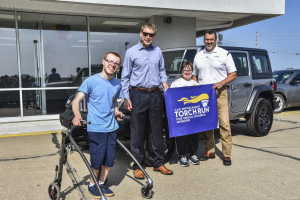 The Drive It Home Raffle is a statewide promotion that directly benefits more than 16,000 Special Olympics Missouri athletes across the state. We are honored to work with our statewide partners to make this event a success: Missouri Automobile Dealers Association and Law Enforcement Torch Run.
IT'S A JEEP THING!  We are excited to share that Missouri Automobile Dealers Association has generously donated a 2019 Jeep Wrangler Unlimited Sport 4×4 for our Drive it Home Raffle this year.
Update: The Grand Prize Drawing took place on Oct. 19. Kevin McClellan was the winner of the 2019 Jeep Wrangler! 
Here are the finalists:
CENTRAL AREA
Don Bernskoetter purchased four tickets from Raffle partner CMR Masonry. Don enjoys being and working on their family farm. His wife, Georgene often volunteers in the community and they look forward to attending the giveaway event. If they win the Jeep, they plan to enjoy driving it for a while and may sell it and donate the proceeds back to Special Olympics Missouri. Truly generous! Ticket #: 026856
NORTH AREA
John Mutz purchased 50 tickets from SOMO staff member Melody Prawitz at the East Hills Mall. In college he knew someone who was connected to Special Olympics, so he would join them for local events. If he wins the Jeep, he plans to take a road trip to visit people in other states that he has not seen for a while; after all that is what a Jeep owner does! Ticket #: 067650
SOUTHEAST AREA
Jimmy Andrews purchased 10 tickets from Candi Quaite, who also happens to be his wife's mom. Jimmy is connected to Special Olympics through Candi and likes to volunteer to support her work. One of their vehicles recently broke down so he is excited about this awesome opportunity to replace that vehicle. If he wins the Jeep, he will give it to his wife to drive. Ticket #: 086084
SOUTHWEST AREA
Kevin McClellan and his wife, Debbie, have been connected to Special Olympics Missouri for several years. They participate in the Joplin Truck Convoy and are close friends with Robin Anderson, SOMO staff member. They enjoy traveling and supporting SOMO as well as other charitable causes. They purchased 120 tickets from Robin the week before the deadline! If they win the Jeep, they will tow it behind their motor home! Ticket #: 082551
KANSAS CITY AREA
Candace Cervantes purchased two tickets from Laura Thomas of Riverside Police Department at Riverside's Loud and Local event. She is a nurse practitioner and tries to give back to the community as often as she can. She is excited about being an area finalist and looks forward to learning more about Special Olympics. If she wins the Jeep, she MAY give it to her 16-year-old! Ticket #: 023541
ST. LOUIS AREA
Cynthia Bradshaw purchased two tickets at Chimi's Restaurant Tip-A-Cop in Overland. Her and her husband frequent the restaurant. She volunteers in the community and hopes to do more with Special Olympics Missouri in the future. When asked what she would do if she won the Jeep, her response was: "Drive it." Ticket #: 044648
Sue Schwoeppe purchased eight tickets from one of our Raffle Partners, Treloar Bar and Grill. Her sister owns the business. Being selected as a finalist surprised her, since she does not win things very often. She volunteers in the community and is looking forward to learning more about Special Olympics Missouri. As Jeep fans, they currently own one, so a new Jeep Wrangler will be a nice addition to the family. Ticket #: 037767