It's incredibly rewarding to be a Special Olympics coach.
Special Olympics coaches get to experience sports the way they should be. Our athletes are excited to play, respectful of players and officials, and devoted to their coaches. With a little encouragement from a coach like you, these exceptional athletes can do anything.
Regardless of whether you've coached before, you can be the inspiration for Special Olympics athletes. We provide training in the sport, tips to help you coach your team, and a simple certification process that makes it easy for you to get started. Opportunities are also available for volunteers who are experienced in a particular sport, but haven't coached before. You can assist other coaches and provide instructional training at practices, camps and special events. With two different coaching levels, there's a way to get involved for everybody.
There are 16 sports to choose from and thousands of athletes who need a coach. More than 16,900 athletes from around the state benefit from participation in the program.
To learn more about coaching opportunities throughout Missouri, contact an area program staff.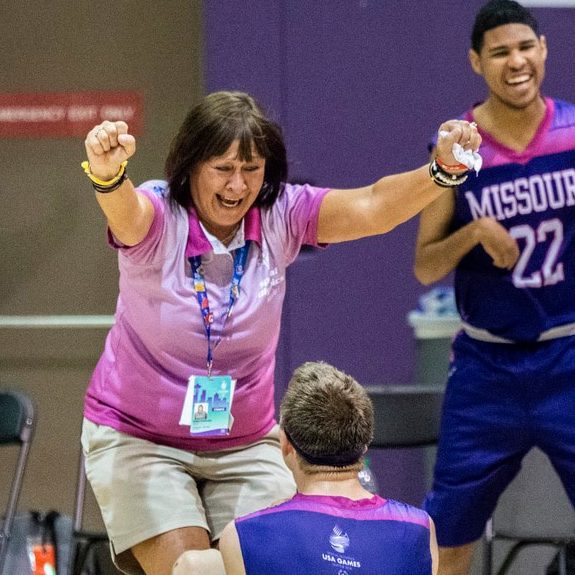 Information for Current Coaches:
Meetings
Coaches' meetings are held periodically by your Area Program Staff. Make sure you attend these to stay current on rules, changes to events, and other topics. These are often communicated via area newsletters or on our calendar. Contact your Area Director if you cannot find the next date for a coaches' meeting.
Documents
Rosters, scoresheets, and other documents are required to send athletes to competition. Go to our Sports Offered page and find documents by clicking the specific sport. Alternatively, you can find all our sports documents in the sports document library.
Physicals
One of your responsibilities is to make sure every athlete has a completed physical and consent form BEFORE they even step onto the practice field or court. This is a safety and liability issue and is SOMO policy. Athletes should NEVER train nor compete without a current physical. By letting them practice and compete without one, you're putting yourself and the organization at great risk. You should always keep your athletes' physical forms on hand during practices, competitions, and when traveling.
Tracking hours
As a coach, you are required to closely track the number of hours you practice. We do this because during our yearly audit, we can use those hours and treat them like donations, helping improve our program percentage. Track your hours here.
A few suggestions to help you manage this task:
Ask a parent to keep track of your physicals and when they are due to your area office.
Get a student to create a spreadsheet for you to track your athletes' physicals and their expiration dates.
Carry a file with you or make copies and keep a file in your trunk, just in case.
If your athletes play for another agency during a different sport season, share your documents with the other coach(es) and request they do the same.
Double check the physical form is filled out in entirety, so that it is not returned to you because of missing information.
Deadlines
All NEW physicals will be due to SOMO HQ eight weeks prior to the state event in which the athlete will compete. NO athlete shall practice without a valid physical.
Athlete physicals are valid for three years from the date they are signed by the examiner. Please note: Area offices may adjust deadlines to be able to assure physicals are turned into SOMO Headquarters by the above dates.
If you would like to have input on our policy regarding athlete physicals, please email them to us.
Photo IDs
Over the past few years we have also moved over to photo identification for all athletes. We have made great progress in this area, and we appreciate your patience with us as we make this transition. The majority of athletes have a photo ID, but any current athletes who do not have an ID need to submit a digital photograph as soon as possible. Contact your Area Director for details on how to do this. Any new athlete MUST submit a digital photograph at the same time they send in their physical and consent form.
Photo IDs must be worn at all SOMO events whenever the athlete is not competing. The purpose of photo IDs is to track meals to your team and to improve safety for everyone at events.
Coach Certification Process
For more information on the coach certification process, which includes the possibility of online courses, open the "Become a Coach" tab at the top of the page.
Training Videos
In order to make your job easier as a coach, SOMO has started the process of putting together training videos for specific sports and rules that are easier to understand by watching them in action. Click here to view the collection of those videos. If you have an idea for a training video, please let us know.