Berryhill/Dinkins family of Southeast Area wins SOMO family of the year, others honored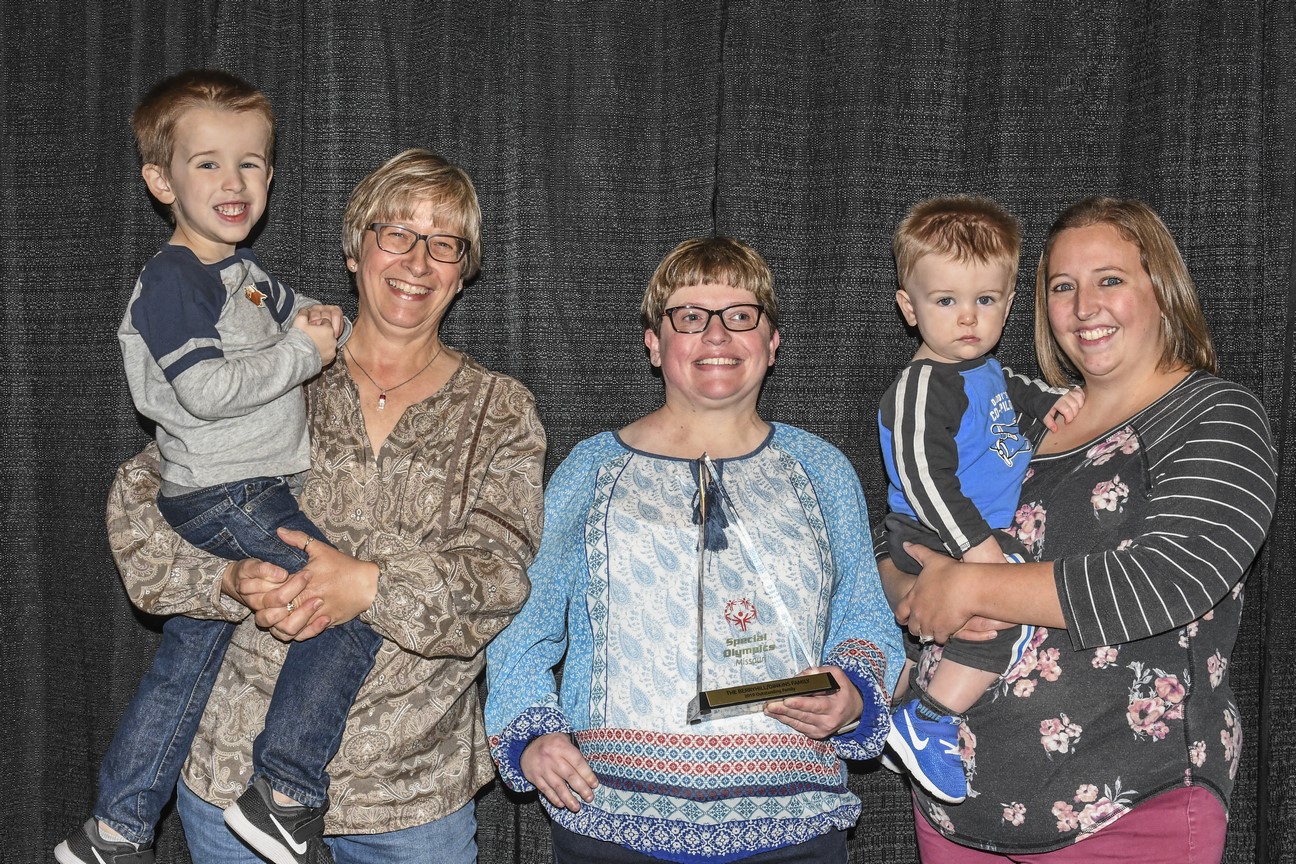 All of the families below were recognized for their outstanding contributions to Special Olympics Missouri from their respective areas at the SOMO Annual Awards Luncheon Oct. 19 in Columbia. Each year, Special Olympics Missouri salutes those who have made significant contributions to the Special Olympics movement. Each area nominee is submitted for statewide recognition, and the overall winners were also announced at the SOMO Awards Luncheon.
The Berryhill/Dinkins family — Southeast Area

Lisa Berryhill, has been participating in Special Olympics for the past sixteen years.  Her entire family quickly realized the magnitude of the program and what it has meant to their daughter / sister/ niece.  The Berryhill Family jumped right in and has been involved in nearly every activity that has taken place in the Southeast Area as well as in Missouri.  Special Olympics has become a major part of Berryhill's family. The Berryhill's family literally will help in any way they can to ensure the quality of the program.  They serve as a chaperones, Unified Partners, and coaches.  Peggy volunteers as the bowling and bocce coach and she is involved with Family Outreach and in the Fan Club.  She has been very influential in getting the family involvement in Southeast Missouri.  The Berryhills love what the program and what it has done for Lisa and their entire family.  It has created a closeness in their family that is indescribable.  They have a passion for what participation in Special Olympics does, not only for Lisa, but for all the athletes.   Their entire family is athlete advocates. Both Peggy (mother) and her other daughter (Lisa's sister, Amy) and Amy's husband Billy truly exemplify an outstanding Special Olympics family. Most recently, Peggy's sisters (Lisa's Aunts) now are Unified Bocce Partners and are team chauffer's.  The entire 40+ Cape Independent Team know and love the Berryhill Family. The Berryhill family truly shows commitment in that they work to secure sponsorships. Their family members all are involved as unified partners, filling in when they are called upon to do so.  In addition, Peggy has taken the time to get certified to coach two sports to further broaden her capabilities of providing assistance. Another commonality that this family shares is the fact that they are dire St. Louis Cardinals fans.  But as much as they love attending those Cardinals games…they love attending Special Olympics competitions even more!
The King Family — Central Area
Annette (mom) has served as a volunteer coach for a number of years within two different groups in Columbia.  She gives tireless hours to helping make sure that the athletes are at training and competition.  She does not come to an event without offering help in between what her responsibilities are for the team at that competition.  Annette is an individual that rarely says no when asked and this gives the area office much peace.  She is coming to competitions with such a positive attitude and when she sees something offers solution rather than just a complaint. Howard and Lena are both athletes.  However, just like their mom, they rarely come to an event without asking if we need any help.  Howard likes to use his muscles to help set up and/or carry in boxes.  Lena is very helpful with awards and likes presenting awards to other athletes. The King family are also present in assisting with fundraisers as needed.  They support each other, the athletes and SOMO as a whole.
The Hodgson family – Kansas City Metro Area
The Hodgson family is the epitome of a Special Olympics family. The entire family is involved; not just in sports, but in health and leadership programs as well. When there is a need for a family, the Hodgsons are there. Whether selling Raffle tickets, supporting Polar Plunge participants or giving a speech to spread awareness, we can count on the Hodgson family to show up.  Rand and Darla will transport Lynna and Jesse wherever they need to be so that they can help. Lynna is everything you want a Special Olympics athlete to be.  She is a role model, ambassador, competitor, and most importantly a friend in the SOMO family.  She participates in athletics, basketball, bowling and softball.  She also attends annual baseball, flag football, and soccer clinics.  Lynna is a great advocate for Special Olympics; she is a certified Global Messenger and recently became a certified Health Messenger through Special Olympics, Inc.  She is particularly fond of speaking to the Knights of Columbus chapters to inspire them to get involved with the Training for Life Campus fundraising efforts. Lynna has raised more than $5,000 for the Training for Life Campus herself, earning a letter jacket. Lynna will graduate from our Athlete Leadership Program this fall with a major in Health, and she will complete a second degree in Technology next year. Rand is her mentor, attending classes and helping ensure she stays on track with her practicum. Rand and Lynna traveled to Washington, D.C. to participate in Hill Day this winter, speaking to legislators about the importance of Special Olympics in their community. Lynna is also extremely active on social media, encouraging other Special Olympics athletes, sharing health tips and celebrating earned medals. Jesse is also a model athlete. He is always ready to give helpful advice to any of his coaches, help his teammates and is always the biggest cheerleader on the sideline.  Even though he finds challenges because of his limited vision, he has never failed to try to find a way that he can compete.  He will do what it takes to play for his team and when he isn't playing he is asking whoever is near him for the play by play so he can cheer for his team.  When he decided to try track and field this season and we talked about different events, his answer was always "I want to be challenged, Coach." Before one sport season ends, he will be asking "When does the next one start?" Jesse and Lynna were both selected for Team Missouri at the 2018 USA Games. The whole family traveled to Seattle, and extended family met them there to cheer on Mo Magic. With Rand and Darla's help, both Jesse and Lynna exceeded their fundraising goals and shared some of their funds with other team members who needed help. Lynna and Jesse both worked hard to get into shape ahead of the USA Games. Each of them lost at least 40 pounds, and Jesse worked so hard on the treadmill that they had to purchase a new one. Darla works hard to ensure that both Jesse and Lynna thrive within their own environments. Rand is knowledgeable about any disability benefits and is willing to help any parent understand and fight for the benefits they deserve. The Hodgson family is truly an asset to the KC Metro Area and SOMO as a whole.
The Ferdig family — North Area
The Ferdig family has two athletes that participate in Special Olympics Missouri events, Josh and Justin. They participate on Coach Esther Pfieff's team, Tri-Cahp! Their parents, Lynisa and Carl, help Esther in a lot of ways to ensure that Tri-Cahp is good to go. They are at practices helping no matter what sport it may be. Carl and Lynisa also travel to regional and state events to volunteer as chaperones for the Tri-Cahp team(s). They are always willing to help Esther in any way they possibly can. This includes taking on extra responsibilities that ensure they can coach if they need to. Carl and Lynisa are really part of the Tri-Cahp family and they strive to make it the best team they possibly can for their sons as well as the rest of the athletes that participate on that team.
The Maupin Family — Southwest Area
New to Missouri but not to Special Olympics, the Maupin family joined Team SOMO in 2018. Sandy, and her daughter, Dusty visited our office to bring her SOMO paperwork and mentioned their willingness to help with events or whatever we needed.  They probably do not realize how grateful we are for that visit! Sandy and Dusty help with the Truck Convoy – making goody bags, loading/unloading and helping at the event.  Dusty is an absolute delight and can socialize with anyone! Dusty participates with the Community Support Services Team and Sandy is a dedicated supporter of their team.  At Area events, Sandy always jump into help where needed.  Sandy sees what we need help with and gets it done and any family who have come to watch Dusty, jump in with her.  Whether it is helping at registration, helping on a lane at bowling or driving a cart at golf, the Maupin Family does it with a smile.  They respect and engage with all the athletes at our events.  It is always a pleasure having the Maupin family at our events.
The Lance, Wells, Gregg family — St. Louis Metro Area
Robbie was an Edger in 2018, will be returning with his mom, Jaimie, to rappel in 2019 from the roof of Bank of America Plaza (31 stories). When SOMO needed to find a new venue for OTE, Jaimie was instrumental in connecting SOMO with Jones Lang LaSalle, the management company for BOA Plaza. Both Robbie and Jaimie sit on the OTE committee. Robbie has become the athlete voice for OTE, giving on-air TV interviews and encouraging everyone he meets to register and go Over the Edge. Robbie is a SOMO athlete, Zach is a Unified Partner. Robbie, Jaimie and Zach attended the Tip A Cop and Spare Change event at Cardinals vs Cubs game at Cardinals Nation on August 1. They were enthusiastic about making the event a family outing and a bonding experience. Robbie did a great job at engaging the customers and fans at the game and encouraging them to donate to Special Olympics Missouri to help athletes like himself. It was wonderful to see Robbie's family support him that evening.  It shows their commitment to Special Olympics Missouri and our mission. Robbie and Zach were on team Missouri's Unified basketball team that went to Seattle for the USA Special Olympics games. Not only did they help out in anyway, but Jaimie and Pat were both very involved in the year long process leading up to the games and during the week in Seattle.