Athlete-Leader guest post: My experience at the United Nations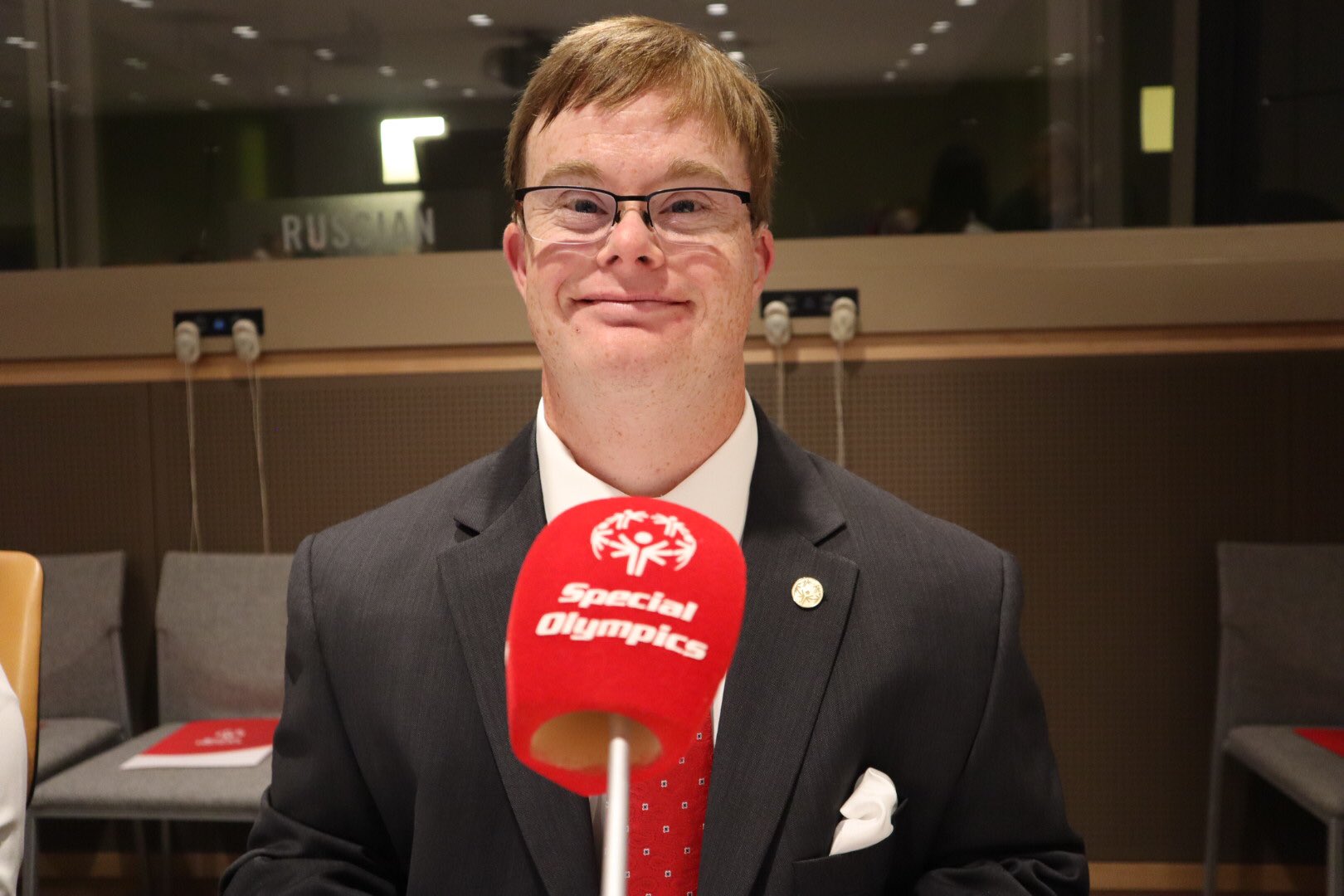 This blog post was written by athlete-leader and SOMO board of directors member Jared Niemeyer. In June, Niemeyer attended the United Nations 12th Conference of State Parties to the Convention for the Rights of People with Disabilities (CRPD). Below he recounts his experience at the UN and why he thinks the Special Olympics movement can make a huge difference around the world.
What if, because of your intellectual or physical disability, you weren't allowed to attend school, to get a job, or even participate in your community?  Many developing countries do not have policies like we do in the United States, thanks to the American Disabilities Act.
Many people do not have the same opportunities that we do. In the United States we have the opportunity for an inclusive education, competitive employment and unified living in our communities. I'm so grateful for the opportunities we have as citizens in the United States. It's important that we work together to keep and promote those rights for every person in every country. I can't imagine never having the opportunities I've had – in school, at work, in my community, as a voter, and as a Special Olympics athlete, because those things have all made me a better version of myself. I want every person to have those opportunities, so that everyone can reach their full potential.
Special Olympics promotes awareness and inclusion in 172 countries. Special Olympics works with more than 5 million athletes,  and 1 million coaches and volunteers around the world.  Special Olympics promotes inclusion and a sense community through sports; it promotes that every individual should be accepted, regardless of their ability. Together we can make our world a better place by working and playing unified. This is what is done around the world and in every community where there are Special Olympics athletes and programs!
On June 10, 2019, I had the opportunity to be one of five Special Olympics athletes allowed to speak in New York City at the United Nations 12th Conference of State Parties to the Convention for the Rights of People with Disabilities (CRPD).  The panel topic was "The Revolution is Inclusion: Sport as a Catalyst for Social Inclusion."
The moderator was Dustin Plunkett, a Special Olympics athlete from California, who is alive today because of the Special Olympics Healthy Athletes program.  Plunkett served as a commentator with ESPN during World Games and at other Special Olympics events!  The other panelists were Nyasa Derera of Zimbabwe, Emanuelle de Souze of Brazil, Tajha Ilerant of Florida and Chaica Al Qassimi of the United Arab Emirates.
It was an honor to get acquainted with each of these athletes and work together to share our perspective on inclusion.  Without the experience of inclusive opportunities, we would not be able to share with those at the U.N. our perspective on why disability policy is critical for every country to offer its citizens.  The disabled population is a valuable resource in every community; every one of us has something to offer!  Each individual can impact their world in a positive way if just given the opportunity to shine.
I'm so grateful that Special Olympics strives to impact our world through focusing on every individual's ABILITIES and fights for inclusion every day.  Thank you Special Olympics for the opportunities you promote for athletes around the world – so that we can learn and grow through new experiences, gain new skills, be empowered to advocate for ourselves and for others, and to work together to make our world a better place!
You can watch my United Nations panel discussion here.
You can also read more about my experiences at the UN in this story my local newspaper wrote about me.