What is Athlete Leadership?
New to Athlete Leadership?
Please contact Pete Paciorek or Lynna Hodgson to set up a virtual "Introduction to Athlete Leadership" and "Understanding Leadership" course. These courses are required for ALL athlete leaders to take prior to taking any other athlete leadership coursework.
Taking a virtual "Introduction" class is a great way for new athlete leaders to "test the waters" and make sure that Athlete Leadership is a good fit for them.
Note: If you take this course virtually, you WILL NOT need to take it again at the ALPs University in the fall.
Upcoming trainings:
We are planning to hold an in-person ALPs University in the spring. Dates TBD.
Athlete Leadership programs (ALPs) provides training for athletes who wish to expand their role in Special Olympics Missouri to much more than just on the field of competition. Our athletes learn how to achieve success, joy and acceptance on the field of competition, while Athlete Leadership Programs teach them how to achieve those same goals and feel just as empowered while off the field of competition as respected leaders and spokespeople in their communities and where they can make a difference for the organization they love.
Non-SOMO athletes: You do not have to be a current SOMO athlete to get involved with this program. We are open to ALL people with intellectual or developmental disabilities. We will still need a physical for you even if you choose not to participate in one of our sports. For more details on eligibility for non-SOMO athletes, please click here.
You belong (yes, YOU!): Athlete Leadership truly is a program for every single person with an intellectual or developmental disability; SOMO is committed to making sure every one of you feels welcome in this setting. It's important for potential athlete-leaders to recognize that this program will push you. It will be hard work and the expectation is that you will attend classes, be attentive and engaged, and complete homework for every class. You will get out of this class what you're willing to put in, so long as you're willing to work hard, you will excel.
What athlete-leaders like about Athlete Leadership:
Opportunity to build relationships outside sports
"Helped me overcome my fear of public speaking"
Learned practical skills like balancing a checkbook
Gained self-confidence
"It's helped me uncover things I never knew about myself. I wouldn't be who am I today without (it)"
"Going out there and proving yourself to people who are saying just because you have a disability you can't go to college, or drive, or get a job. To be independent means to prove them wrong."
-- Athlete-Leader
Everything you need to know about Athlete Leadership
There are many ways for people with intellectual disabilities to become leaders in their communities. You can become a Polar Plunge Ambassador, Health Messenger, a Sargent Shriver International Global Messenger, and much more.
There are so many roles waiting for you to take on once you've taken the required trainings.
Trainings could range from one-on-one mentorships, to individual sessions in the areas, to our flagship Athlete Leadership program -- Athlete Leadership University.
This is a weekend-long educational program for people with intellectual or developmental disabilities that offers classes in a variety of leadership topics. 
How often: We hold two ALPs Universities per year and will announce the dates and locations here as they become available. Athlete-leaders will need to attend at least THREE universities before they can graduate. They are allowed to skip up to four in a row if the dates don't fit their schedules.
Next ALPs U: The NEXT ALPs University has yet to be scheduled for 2021 due to COVID-19. Once we know more, we will update this page. To receive email updates, send us your contact information!
Have an idea of what interests you as an athlete-leader: While athlete-leaders won't officially declare a major until they're in their Introduction to ALPs course, it's a good idea to look at the majors and courses available below, so you have an idea of what each one has to offer.
Questions: Please email us.
If you are interested in making an indelible difference in the lives of individuals with intellectual disabilities, becoming a Special Olympics Missouri mentor is a unique way to do so.
Being a mentor is a great way to take your involvement with Special Olympics Missouri to the next level by being a one-on-one leadership coach for an athlete in your area. You don't need any expertise to get involved, only a passion for helping our athletes become athlete-leaders in the Special Olympics movement and in their communities.
Time commitment: Be aware that this is a commitment of at least 18 months (only ~5 hours per month on average though). At MOST, you will attend two weekend training sessions per year. Those training sessions are flexible to where if you can't make that weekend or if you can only attend on one day that weekend, it's okay. You and your athlete-leader will progress through the program at your own pace.
What we look for in a mentor:
The desire to help an athlete obtain skills and become a leader within the organization and their community
Read through and agree with duties outlined in the mentor agreement
Willingness to attend ALPs Universities and work with your athlete-leader to complete their practicum for each class
Good organizational skills
Good oral and written skills
Good listening skills
Ability to problem solve and explain something to people with intellectual disabilities in a way they can understand
Someone who embraces the philosophy of Special Olympics
Completion of a Class A Volunteer Form (before ALPs U) and ability to clear requisite background check
Completion of Protective Behaviors training (before ALPs U) and Mentor Class (during ALPs U)
Interested, but don't know a SOMO athlete to mentor? Send us your information and we'll follow up with you!
For more information:  Email us.
Athlete Leadership University offers a wide variety of classes available for potential athlete-leaders to take depending on what most interests them. From public speaking to technology to governance to job skills, there's a class and a major for everyone.
Regardless of what major an athlete-leader takes, they will complete at least 32 hours of coursework before they can graduate. This will be spread over multiple universities as the most any one athlete-leader can take in one weekend of an ALPs University is 16 hours.
Most athlete-leaders will need to attend between three and four universities in order to graduate. We offer two universities per year (spring/fall). You do NOT need to attend every university every year.
Courses everyone must take:
Intro to Athlete Leadership (8 hours)
The first class everyone will take to begin their journey in Athlete Leadership. Covers what Athlete Leadership is and what it means to be a leader, the roles available to athlete-leaders within SOMO, potential roadblocks and barriers, personal mission statements, different leadership styles, personality quizzes, etc.
Capstone I (4 hours) & Capstone II (4 hours)
The final class everyone will take at an ALPs University. Focuses on the difference between effective and enduring leaders through project-based teachings and discussions. Most of the class will be spent identifying the athlete-leader's final project, discussing it with the class, and spending time talking with your mentor and instructors coming up with a plan to accomplish your goals.
Global Messenger I (8 hours)
The first class in Special Olympics' public-speaking major. Right now, this is only offered for SOMO athletes who participate or who have participated in at least one sport. It talks about the SOMO mission, parts of a speech, how to prepare for a speech and how to give a speech. 
Communication majors MUST take this class before they take any other Communication courses. It can also be taken as an elective for athlete-leaders majoring in something different. 
Global Messenger II (8 hours)
The second class in the public-speaking major. Delves deeper into the many different kinds of speeches and how each one is different.
Engaged Storytelling for Active Performers (4 hours)
SOMO knows that giving a speech in front of a crowd isn't for everybody, nor is it the only way to share your story, so this class gives you another way to do so through acting and improv.
How to serve on a board (4 hours)
Teaches athlete-leaders Robert's Rules of Order for meetings and how to be an effective board of directors member.
How to serve on a committee (4 hours)
Teaches athlete-leaders all of the different committees SOMO has for fundraising events and competitions and how to effectively make a difference by serving on a committee.
Athlete Input Councils (4 hours)
How to share your opinion, how to actively listen to other opinions and work through disagreements, how to gather opinions and share them with others in order to enact change, etc.
Intro to Coaching (4 hours)
Always wanted to be a SOMO coach? Well, this is your chance! Learn what it means to be a coach, find your own coaching style and learn first aid certification and concussion protocols. 
Before signing up for the coaching major, you MUST get the commitment and approval of your current coach that they'll help you. This doesn't mean they have to be your mentor; they just need to sign off on you becoming a coach because you'll need their help to do so after you complete all of the required training. You also need to know ahead of time that whatever sport you want to coach means that you cannot compete in that sport. 
Coaching majors MUST take this class before they take any other Coaching courses.
It can also be taken as an elective for athlete-leaders majoring in something different. 
Behind the Scenes (4 hours)
Focuses on the best way to teach and train SOMO athletes as a coach. Puts you in position to set up and run a mock practice after reading through a rulebook. You will also learn how to put a roster together and other paperwork.
Sport Psychology (4 hours)
Teaches different mental skills that athletes can use to help overcome competition stress/anxiety, build confidence, improve focus and even recover from injury more effectively. 
Coaching Etiquette (4 hours)
What kind of coach will you be? This class will help you figure out how to motivate your players to be the best they can be.
The first class in the technology major. How to use email, search engines, and the internet. 
Technology majors MUST Take this class before they take any other Technology courses.
It can also be taken as an elective for athlete-leaders majoring in something different. 
The equivalent of Microsoft PowerPoint, but this program is free to use.
How to use a DSLR camera to compose, take, and edit photos.
Phone Photography (4 hours)
How to use a phone (iPhone or Android) to take and edit photos.
Videography: Behind the Camera (4 hours)
How to use a videocamera when on a location and in a studio.
Videography: Journalism (4 hours)
How to conduct interviews, ask the right questions, and conduct yourself while on camera.
Videography: Studio (4 hours)
How to set up a studio for a three-camera shoot and run the lights and soundboard.
Videography: Editing (4 hours)
How to edit video clips together using a computer program.
Social Media/Blogging (4 hours)
How to use Facebook, Twitter, Instagram, YouTube and other social media sites to tell your story.
Personal Finances (4 hours)
How to set and maintain a budget, read financial statements and more.
Teamwork/Problem Solving (4 hours)
Problems happen each and every day. It's how you choose to deal with those problems that determine whether you're a successful leader or not. This class teaches you techniques of how to work in a team and solve problems together.
Social Etiquette/Professionalism (4 hours)
Puts athlete-leaders in different social situations through role-playing and gets them to understand that everyone thinks differently while training them to pick up on certain social cues that would help them read a situation better.
Job Application Skills (4 hours)
Goes through basic skills people need to know when applying for jobs, such as how to write a resume, how to interview, societal norms in the workplace and more.
Lifetime Health and Fitness (4 hours)
Basics of how to live a healthy life. Outlines what is covered when our athletes go through Healthy Athletes and how you can educate your teammates. 
Health majors MUST Take this class before they take any other Health courses. It can also be taken as an elective for athlete-leaders majoring in something different. 
Nutrition & You (4 hours)
You can't be healthy if you don't know how to take care of your body through exercise and nutrition. Learn basic nutrition lessons in this class.
Health Messengers (4 hours)
Teaches athlete-leaders how to talk about being healthy to other athletes or potential sponsors. Gives you basic information on how to write and give a speech that's focused on health and wellness as your topic.
Exercise Science 101 (4 hours)
Focuses on what exercises help you depending on what sports you play. Quick overview on all different kinds of exercising. Teaches difference between training vs. exercise, exercise intensity, nutrition, weight-room basics and more.
Course Map and Sample Path to Graduation
Sample path to graduation (Technology major):
Intro to ALPs (eight hours)
Internet/Email (four hours) -- first class in Technology major
Social Media/Blogging (four hours)
Photography (four hours)
Google Slides (four hours)
Personal Finances (four hours) -- elective/class not in their major
Capstone (two 4-hour classes)
For an athlete-leader to receive credit for taking a class, they will need to complete a practicum/homework. Each class has its own practicum and how much time you spend on it depends on how long the class is. If you took Global Messenger 1, which is an eight-hour course, your practicum will involve more work than if you took Internet/Email, which is a four-hour class.
All of the projects are pass/fail. As long as the instructors can tell you made an effort to complete every outlined task, you will receive credit. If you ever have questions about your practicum while you are working on it, please don't hesitate to reach out to your instructors who taught that specific class.
Q: Why is Athlete Leadership Programs (ALPs) important?
A: There are numerous reasons why Athlete Leadership is important:
     - Special Olympics Missouri is FOR the athletes, it should be BY the athletes as well. Before you can become a good leader, you need training -- this program offers that.
     - It provides an opportunity for people with intellectual disabilities to learn new skills and shows them how to use them to become leaders within the program and in their communities
Q: What makes a good athlete-leader?
A: Someone who is willing to learn, which also means they are willing to step outside their comfort zone and challenge themselves.
Q: What makes a good mentor?
A: Someone who is committed to the overall goals of ALPSs and is willing to give constructive criticism to help the athlete grow as a leader and hold them accountable to requirements of the program.
Q: Do I need to have a mentor to go through ALPs University?
A: Not necessarily. We think that a mentor is an invaluable part of the learning process to keep our athlete-leaders on track and engaged. However, we recognize that some of our athletes may feel they don't need a mentor to be successful. For that reason, we are open to the idea of you doing this on your own. You need to fill out an application first.
Q: As a mentor, what's my time commitment?
A: It truly depends on what major your athlete-leader takes, but you should expect anywhere between 5-10 hours per month AFTER attending classes to help complete the homework. You will also need to attend all in-person trainings, which we hold at least twice per year (on the weekends).
Q: What if I do not have a mentor and want one?
A: SOMO staff will work with you to help find you a mentor, but you must let us know ASAP.
Q: How do people become mentors?
A: Mentors must fill out a Class A application and send us an email stating that you filled it out.
Q: How often are ALPs trainings held?
A: Currently we hold two ALPs Universities per year and they are on the weekends. We may offer smaller local trainings in the areas throughout the year. If you're interested in your area hosting a training, tell us!
Q: Can I skip an ALPs University if it doesn't fit in my schedule?
A: Absolutely. You are NOT required to attend your 3-4 sessions all in a row. Depending on how many years you take between classes, we may ask you to re-take classes.
Q: When/how do I declare a major?
A: Each athlete must first take "Intro to Athlete Leadership." At the completion of this course, each athlete is asked to write a personal mission statement that will help them declare a major. They will end up choosing two majors and ranking them by interest level.
Q: How do I graduate?
A: Athletes will pick a total of 16 credit hours' worth of classes from their major and then must pick one elective outside their major. In total, athlete-leaders need a total of 20 credit hours (not including their Intro to ALPs or Capstone courses) to graduate. There are plenty of different courses you can take at each Athlete Leadership University, but not all are offered at the same time.
Q: When must the homework be completed for each course?
A: Homework for each course must be completed 3 weeks PRIOR to the next scheduled ALPs University. If it's not completed by the due date, instructors may ask you to complete an extra assignment for missing the deadline.
Q: Can mentors whose athlete is going through the coaching major become a certified coach as well?
A: Mentors may count the general session, principles of coaching, concussion and CPR trainings toward their coach certification process, however, they must attend a separate sport specific training outside of ALPs University. Be mindful that the focus in the first coaching class will be on the athlete-leaders first and the mentors second.
Q: What is the Leadership Capstone?
A: The Leadership Capstone is the final course that must be taken prior to graduation. This will include a final project that must come back to benefit SOMO in some way. If you choose to come back to ALPs U and declare another major after graduation, you will need to re-take the Capstone class again as the focus will always be on your major at that time. 
Q: What majors are currently offered through ALPs University?
A: We currently offer Communication, Technology, Governance, Health and Coaching as majors athlete-leaders can take.  We have courses in the Leadership for Life track that can be taken as electives but we do not currently offer it as a major.
Q: Can I only graduate from one major?
A: Absolutely not!  You may graduate from multiple majors, but you can only be enrolled in one major at one time. We would ask you to consider only taking on what you think you can do to succeed as there is homework and practicum hours associated with all courses.
Q: Is there a fee to participate in ALPs University?
A: Yes, there is a fee of $75 for athlete-leaders to attend ALPs University. This includes all of your meals and housing while you are in attendance. Mentors do not have to pay. Scholarships are available. We ask that if you use a scholarship to attend a training that you then pay for the next training on your own, opening up the scholarship for other athlete-leaders.
Q: How do I register for ALPs University?
A: When registration for the next session is open, it will be online at the top of this page. The online registration requires payment by credit/debit card so if you do not have either, then you may sign up online using the "scholarship" option and mail in a check to 305 Special Olympics Dr., Jefferson City, MO 65101 with "ALPs University" in the memo line. 
Q: Should the athlete and mentor register together?
A: Yes, we ask the athlete and mentor to register together. Athletes MUST ask their mentors if they can attend the training BEFORE they register.
When are the next trainings?
We plan to host one in-person training this year Sept. 10-12 at the Training for Life Campus! Registration and more details will become available soon, so stay tuned.
Want to be in-the-know? Join our Athlete Leadership email list and you'll receive updates on what athlete-leaders are doing around the state as well as training opportunities throughout the year.
Eligibility for non-SOMO athletes
Athlete Leadership eligibility for current non-athletes
To be eligible to attend ALPs University as a SOMO athlete-leader, you must first be a SOMO athlete. This doesn't mean you have to compete in a sport to take part in ALPs, it simply means we will classify you as an official athlete first for you to be involved in Athlete Leadership.
To be a SOMO athlete, you must be at least eight years old and be identified by an agency or professional as having one of the following:
An intellectual disability
Closely-related developmental disability, which means having functional limitations in both general learning and in adaptive skills such as recreation, work, independent living, self-direction, or self-care.
If you aren't currently registered as a SOMO athlete, there are just a few simple steps before you can take part in any of the programs Special Olympics Missouri offers:
1. Find your area staff member.
2. Download and complete physical and release forms, or request them from your Area Director. Every athlete is required to have a current physical and release form to practice & compete. Physicals are good for approximately 3 years - read more on our physical policy here.
3. Contact us and tell us that you're interested in becoming a leader in your community!
Graduates
2017
Sarah Byland - Communications
Becca Tincknell - Technology
Scott Wright - Technology

Awarded posthumously (RIP Scott)
2018
Shaquana Hobbs - Communications
Tim Kunz - Governance
Daxton Miller - Communications
Derek Sandbothe - Communications
Jared Niemeyer - Communications
Larry Stephens - Technology
2019
Allison D'Agostino - Communications
Lynna Hodgson - Communications
Stephanie Littrell - Communications
Michael Mohrmann - Governance
Charlie Phillips - Communications
Shirlene Treadwell - Communications
2020 (to be recognized in 2021 due to COVID)
Lynna Hodgson - Technology

First athlete-leader to receive a second degree

Allison Hill - Health
Amanda Koch - Technology
Allen Tobin - Technology
Ethan Pike - Communications
Bill Sampson - Communications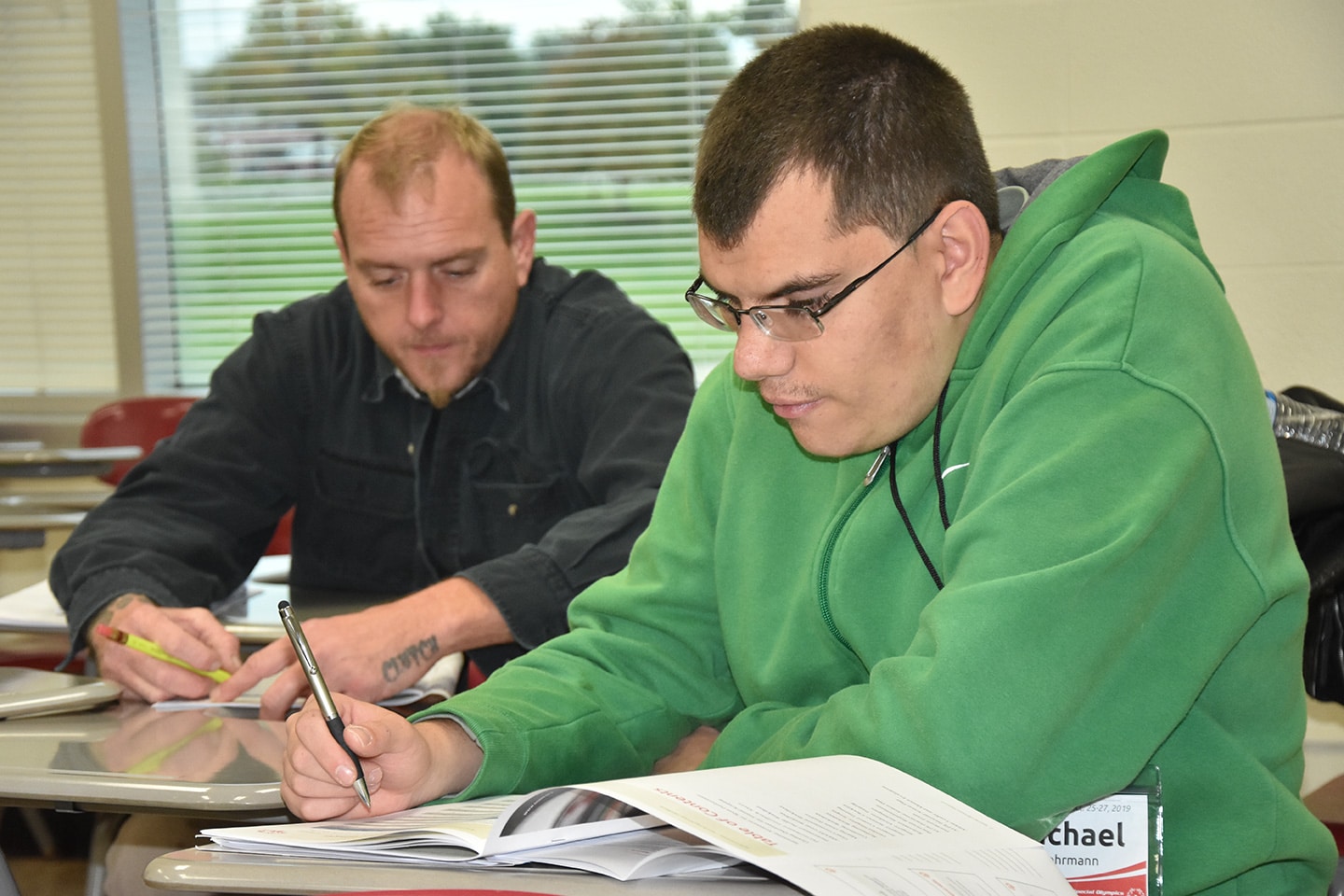 "Athlete Leadership is a stepping stone. When your child gets out of school, this is a college geared toward them. It shows them their strengths and urges them to use them. My daughter refers to this as her college and that's exactly what it is."
- Parent of a SOMO Athlete-Leader