Our mission is..
...to provide year-round sports training and athletic competition in a variety of Olympic-type sports for children and adults with intellectual disabilities, giving them continuing opportunities to develop physical fitness, demonstrate courage, experience joy, and participate in a sharing of gifts, skills and friendship with their families, other Special Olympics athletes, and the community.
What we do
Special Olympics transforms lives through the joy of sport, every day, everywhere. We are the world's largest sports organization with nearly 5 million athletes in more than 170 countries. We are also a global social movement. With initiatives to activate youth, engage kids and adults with intellectual disabilities, build communities and improve the health of our athletes - we're changing the game for people young and old and asking you to be a part of it all.
Through the power of sports, people with intellectual disabilities discover new strengths, abilities, skills, and much more. Our athletes find joy, confidence and fulfillment -- on the playing field and in life. They also inspire people in their communities and elsewhere to open their hearts to a wider world of human talents and potential.
For more than 50 years, Special Olympics has been spreading the message: people with intellectual disabilities can – and will – succeed when given the chance.
With training and competitions in 16 Olympic-style sports, our athletes push hard and play harder. They strive to beat their personal bests, defying the odds again and again. From the local ballfields to the shining stage of the World Games, from swimming to skiing, our athletes showcase the talents and triumphs of people with intellectual disabilities.
Accreditations
Special Olympics Missouri is proud to return 78% of every dollar back to program services. We are privileged to be recognized with these honors: BBB A+ Charity Accreditation, Charity Navigator 4-star rating and Guidestar Gold Level.
Copies of our most recent annual report, audit, and 990, as well as other accreditation documents are also available under the Annual Report tab below.
Thank you for trusting us with your donations, volunteer time and your goodwill. We understand that there are thousands of other very deserving charities to which you could donate.
Statewide partners
We have multiple statewide partners that make our year-round work possible around the state.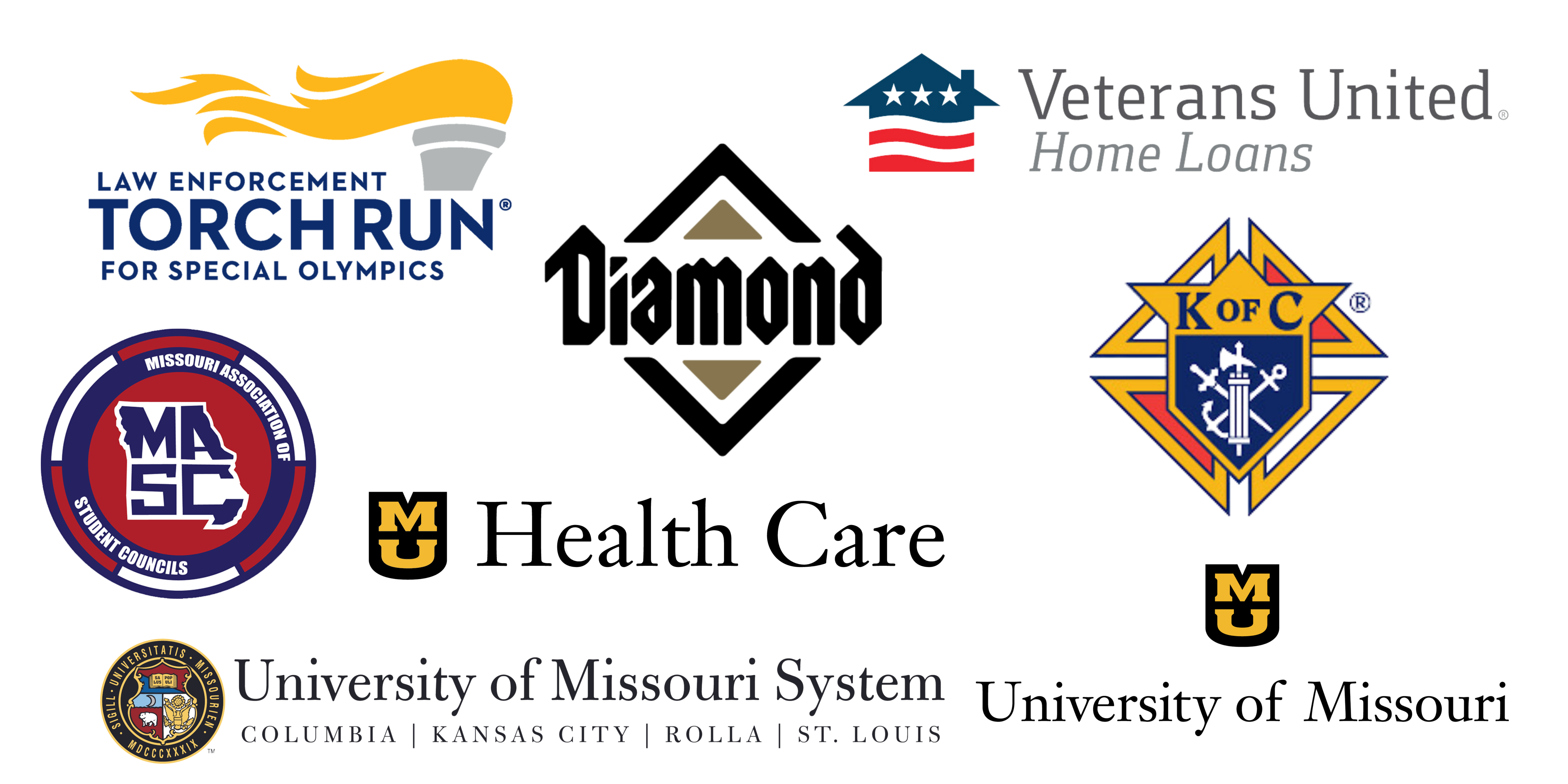 Read more about these superstar partners and see how you can support our work statewide or even at your local level.
1968: Special Olympics is founded by Mrs. Eunice Kennedy Shriver as a way for people with intellectual disabilities to gain from the benefits of sports.
1971: Missouri Special Olympics (MSO) is incorporated as a 501(c)3.
1972: Marshall hosts its first-ever track meet.
1975: First State Summer Games held at Fort Leonard Wood; it continued there for 25 years. Missouri sends its first athletes to International Summer Games at Central Michigan University in Mt. Pleasant, Mich.
1976: State Basketball is added to the calendar as a way to train between fall and winter sports seasons.
1977: First Basketball Tournament held in Blue Springs; continues there for 30 years. First Bowling Tournament held in Springfield.
1982: Missouri Special Olympics gets its first computer. First Coaches' Training School is held; founder Eunice Kennedy Shriver is in attendance.
1983: Soccer is added to the sports calendar. Missouri sends a delegation of 99 to Baton Rouge, La., for the International Summer Games.
1986: Law Enforcement Torch Run(R) begins in Missouri and raises $15,000. Aerobathons raise $75,000.
1987: MSO begins awarding medals at competitions. Missouri sends approximately 120 delegates to South Bend, Ind., for the International Summer Games.
1988: Jamie Graham is named the first "Athlete of the Year."
1989: State office moves from Joplin to Jefferson City. Missouri sends 34 delegates to Reno, Nev., for the International Winter Games.
1990: St. Louis Special School District begins offering Special Olympics programs.
1991: Missouri sends 113 athletes and coaches to Minneapolis, Minn., for the International Games.
1993: SOMO celebrates 25 years with the theme "Together We Win." Missouri sends one athlete to Salzburg, Austria for the International Winter Games.
1994: Jefferson City hosts the first Softball Tournament.
1995: Missouri sends 76 delegates to the World Games in New Haven, Conn.
1996: The Polar Plunge is introduced as a fundraiser at the Lake of the Ozarks.
1997: SOMO Board of Directors establishes a Hall of Fame for athletes and non-athletes as a way to recognize longevity and achievement. TIME Magazine publishes a story about Unified Sports partner Ryan Brimer in Boonville. Missouri sends two athletes and one coach to Toronto for the World Winter Games.
1998: Name is changed to "Special Olympics Missouri." First SOMO website is launched.
1999: Missouri sends 67 delegates to World Games in Raleigh, N.C.
2001: Missouri sends five athletes and one coach to the World Winter Games in Anchorage, Alaska.
2002: SOMO instituted a Code of Conduct for athletes and coaches. State Summer Games moves to Columbia after a health concern at Fort Leonard Wood.
2003: Fall Sports Classic is added to the calendar and features soccer and volleyball. SOMO exceeded its three-year-goal of increasing athletes; 4,045 new athletes joined the playing fields. Healthy Athletes was introduced at SOMO state games. Missouri sends 20 delegates to Dublin, Ireland, for the World Summer Games. This is the first time an international summer competition is held outside the United States.
2004: SOMO Endowment Fund is created to ensure long-term sustainability for future generations.
2005: Missouri sends one athlete to Nagano, Japan for the World Winter Games.
2006: Missouri sends 82 athletes and 20 coaches to Ames, Iowa, for the first ever USA National Games.
2007: Missouri sends one athlete, one Unified Partner, one coach and three management team members to Shanghai, China for the World Summer Games.
2008: Flag football is introduced at Sports Camp and the first ever state demonstration is held at the State Indoor Championships in Joplin. First $10,000 donation toward the future Training for Life Campus from James and Sally Estes.
2009: Missouri sends two athletes to Idaho for the World Winter Games. Over the Edge rappelling event is added as SOMO's second signature fundraising event other than Polar Plunge. Missouri athlete Kristina O'Neal is selected to be a Sargent Shriver International Global Messenger.
2010: Team Missouri is comprised of 155 athletes, Unified Partners, coaches and staff at the National Games in Lincoln, Neb. MO Magic took home the "Super Fan" award.
2011: Missouri sends seven athletes, two coaches and four management team members to Athens, Greece, for the World Summer Games. Centene Charitable Foundation makes the first $1 million pledge toward the Training for Life Campus.
2013: Special Olympics Missouri is inducted into the Missouri Sports Hall of Fame; it is the first Special Olympics program to be honored by its state's hall of fame. Missouri sends two athletes to PyeongChang, South Korea, for the World Winter Games.
2014: Team Missouri sends 124 delegates to compete in the USA Games in New Jersey.
2015: Missouri sends a softball team and a tennis athlete to Los Angeles for the World Games. Athlete Leadership holds its first university in Warrenton.
2016: Jefferson City is officially announced as the location for the Training for Life Campus after a 16.5 acre plot of land is donated to SOMO by Twehouse Excavating and the Farmer family.
2017: Construction on the Training for Life Campus begins May 4.
2018: Missouri sends 101 delegates to Seattle for the USA Games. Construction on the Training for Life Campus is completed in the fall.
2019: A tornado hits the Training for Life Campus in May, causing serious structural damage. SOMO vows to rebuild. An official partnership between SOMO and University of Missouri Systems is established.
2020: Re-construction of the Training for Life Campus is completed. Athlete Leadership programs has officially trained its 100th athlete-leader. The deadly coronavirus pandemic halts most in-person trainings and competitions for the year; SOMO adapts and offers a series of virtual trainings called #SOMOatHome.
2021: SOMO hosted its first-ever Gary Brimer Sports Camp at the Training for Life Campus in Jefferson City. This was also our Team Missouri Selection Camp ahead of the 2022 USA Games.
2022: Team Missouri sent 126 delegates to the 2022 USA Games in Orlando, Fla. Team MO Magic was made up of 77 athletes, 24 coaches/sports managers, 17 Unified partners and eight staff members. We brought home 71 medals, but more importantly - lifelong memories!
Every three years a committee is selected to create a strategic plan for the next three years. With the mission in mind, the strategic plan sets the tone for everything from the budget, to staff and board expectations, to how events are run. Below is the overarching strategic plan for 2019-2021.
2019-2021 STRATEGIC PLAN: TRAINING FOR LIFE
Board Approved January 19, 2019
VISION:
Remain a premier Special Olympics program worldwide and become a charity of choice in Missouri.
BUILD TOTAL ATHLETE PROGRAMMING
Develop an athlete lifelong participation map and comprehensive communication strategy for educating stakeholders.
Grow athlete participation, satisfaction and retention.
Grow mentor, volunteer and coach participation, satisfaction and retention.
Develop & implement a sports partnership plan with NAIA and MSHSAA.
MAXIMIZE & INTEGRATE THE TRAINING FOR LIFE CAMPUS (TLC)
Maximize TLC programming through additional programs and resources.
Ensure new stakeholders are invited to the TLC while programming is occurring.
Engage, educate and generate revenue from outside sources or groups.
CULTIVATE SUPPORTERS & SUSTAINABLE RESOURCES
Identify, engage and leverage key stakeholders.
Maximize campaign donor relationships annually to become engaged donors.
Implement a growth strategy to support revenue goals.
Maximize SOMO's 50th Anniversary in 2021.
Celebrate SOMO's 35th Annual Law Enforcement Torch Run in 2020.
GROW TEAM SOMO
Identify resources to increase volunteer satisfaction and engagement.
Develop a program to encourage and educate families on the benefits of being part of the SOMO team.
Identify key resources to maximize efficiencies across the organization.
Develop and execute a talent strategy that propels SOMO to develop, recognize, retain and attract top talent.