2022 USA Games: Day 4 of Competition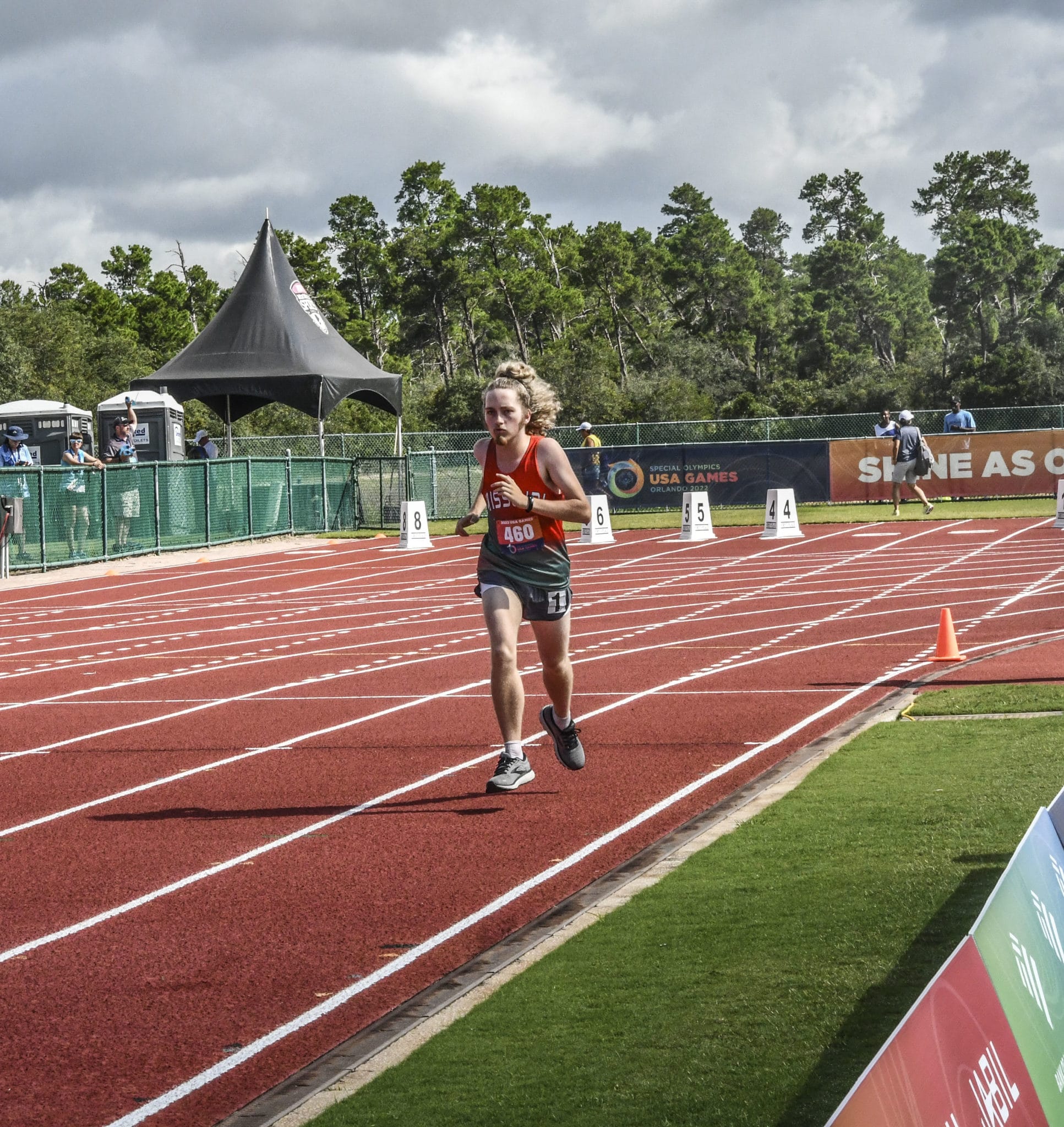 With only one day left to compete, we have now finished most of the competition at the 2022 USA Games. But today was another great day for Team Missouri!
Over at the track, SOMO athletes, Liam Arbuckle and Shyanne Pyatt both took 4th in the 800 meter run and both set new personal records! Way to go!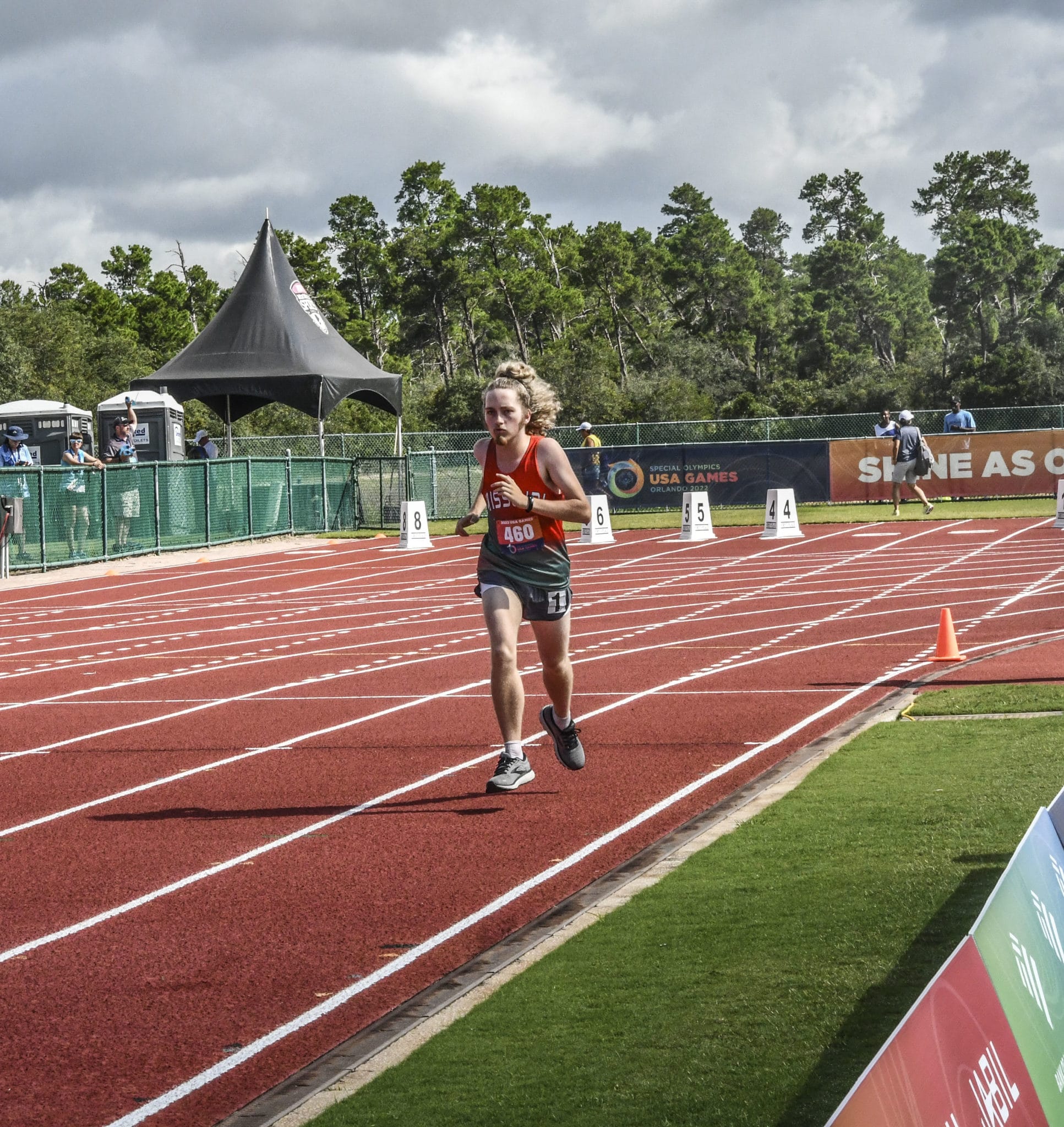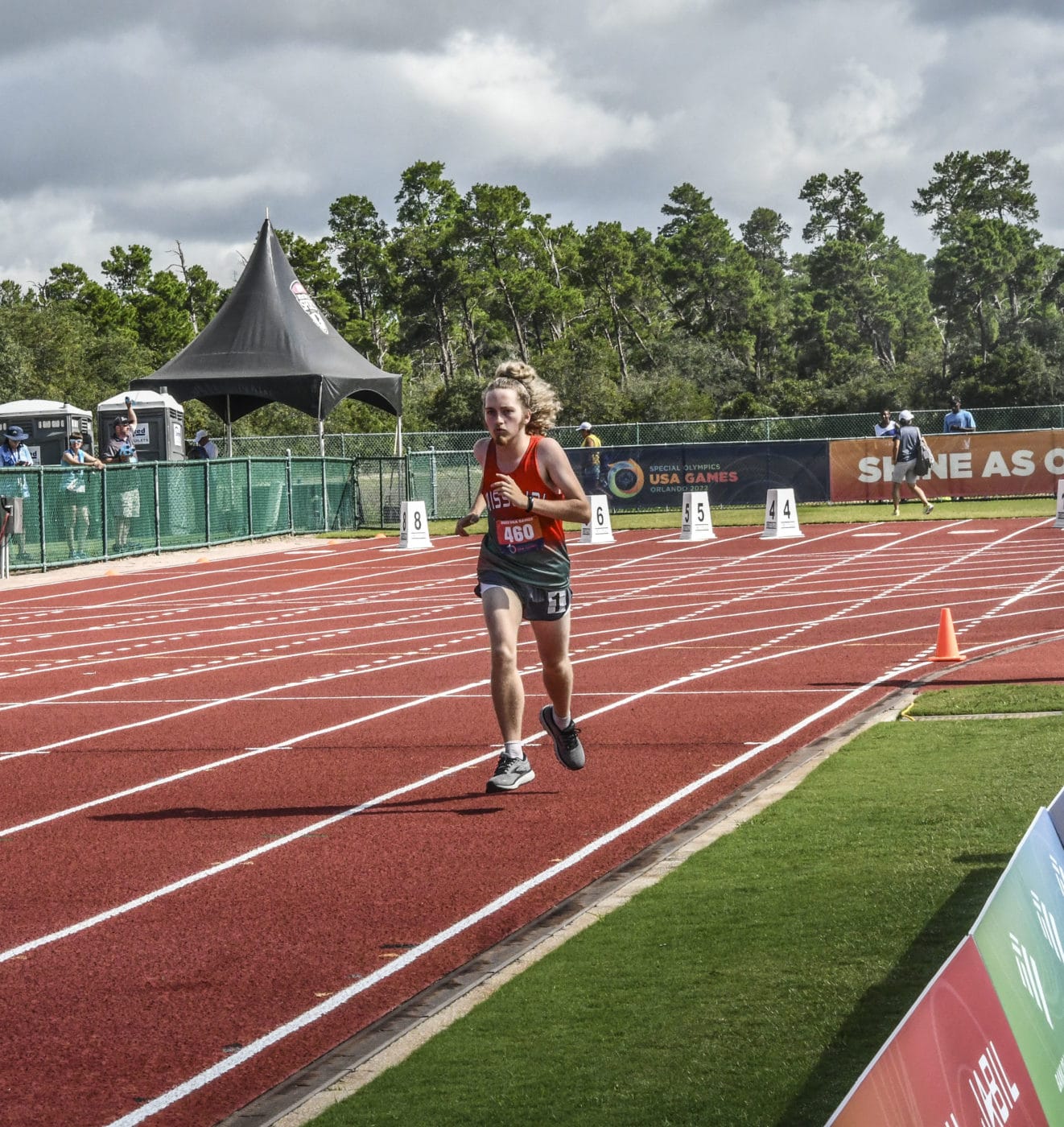 At the bowling ally, SOMO athlete, Robbie Gregg, had an excellent game. He had a split and was able to pick the 4,10 split!
Our SOMO athletes have taken turns going to Healthy Athletes and attending all the free health screenings being offered. We have had several SOMO athletes receive a new pair of hearing aides!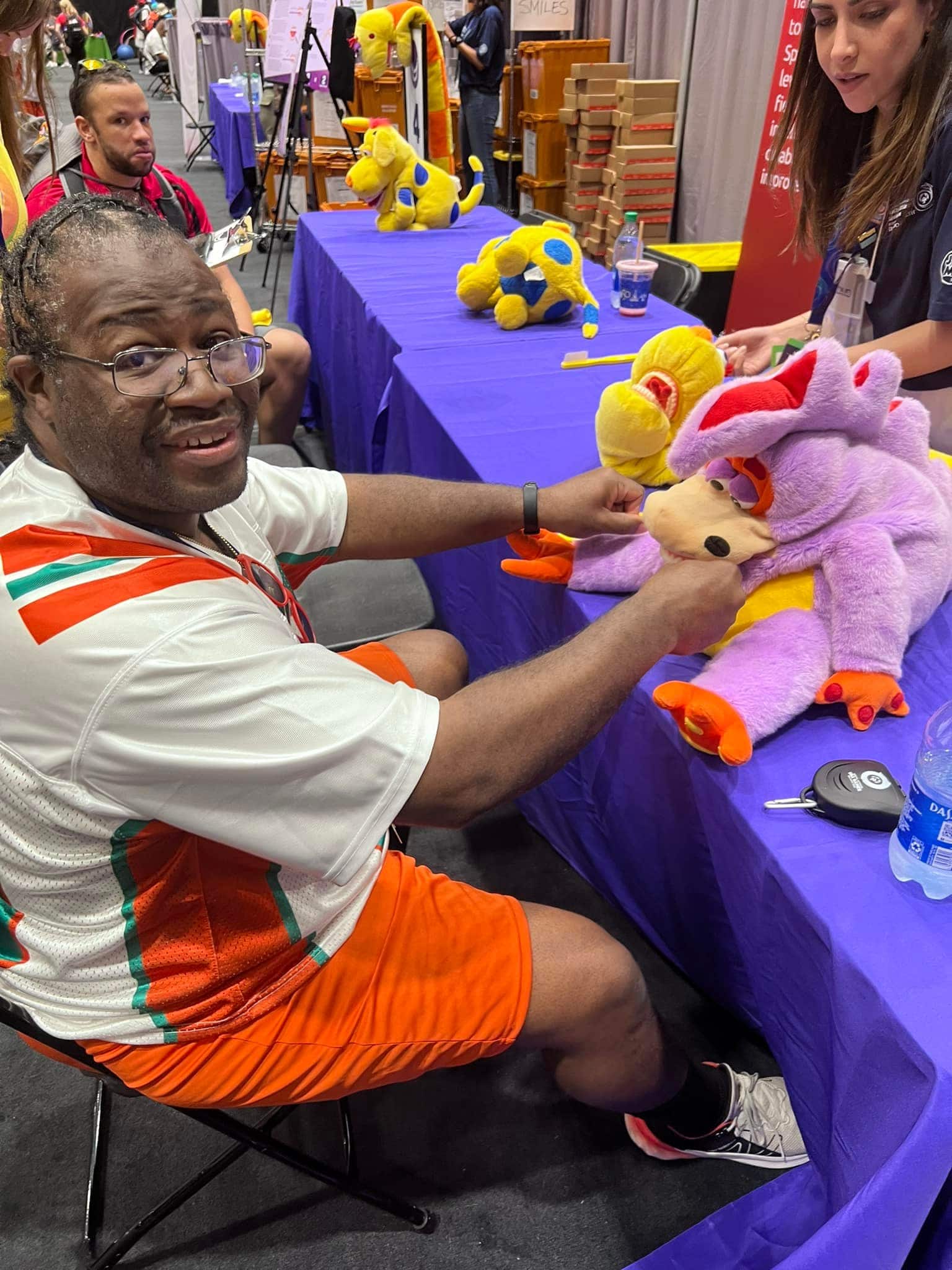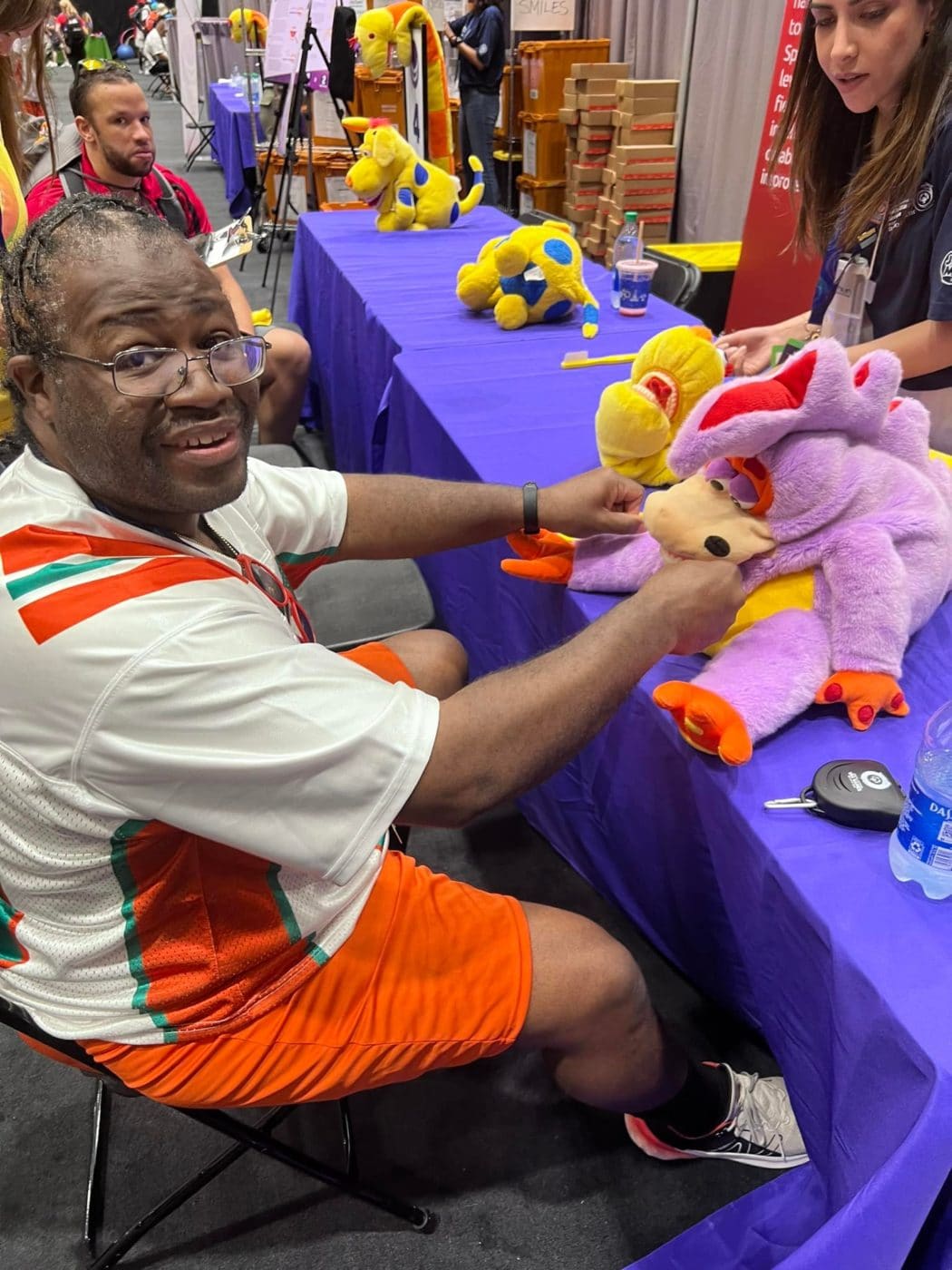 We have also had several of our athletes receive their medals today after earning them earlier in the week. You can see some of those pictures below.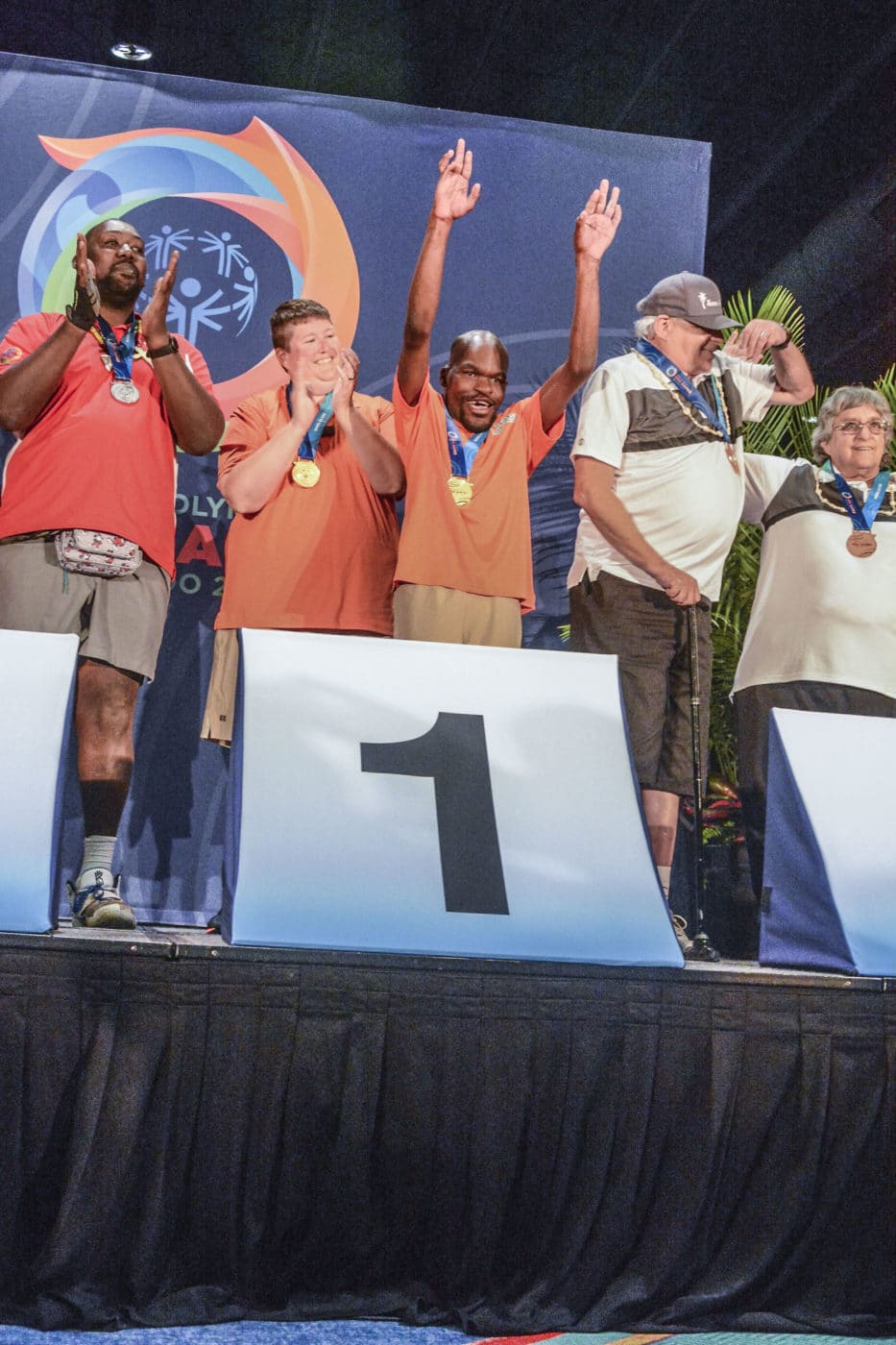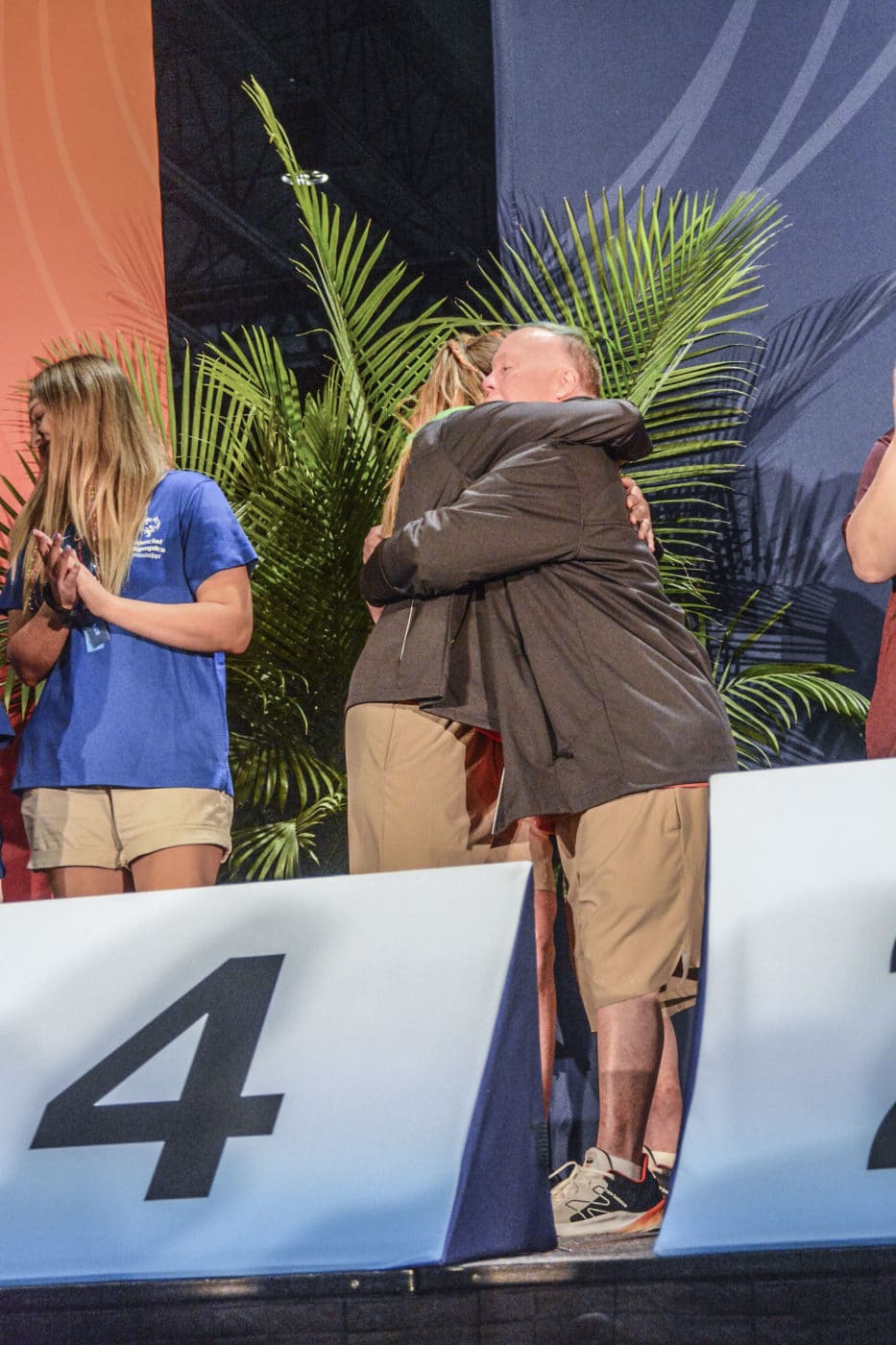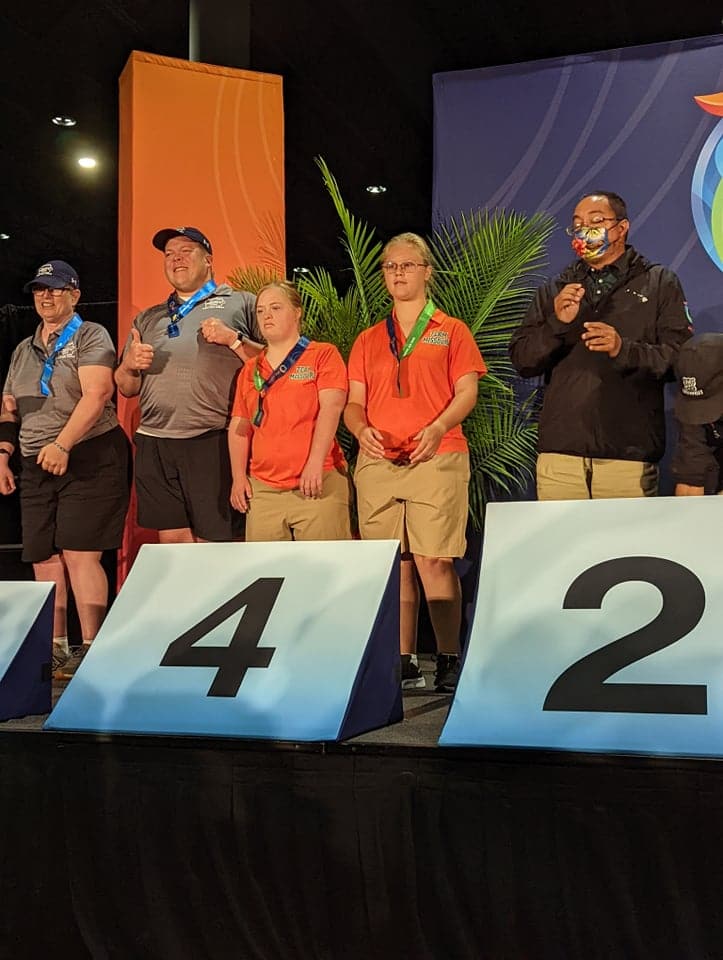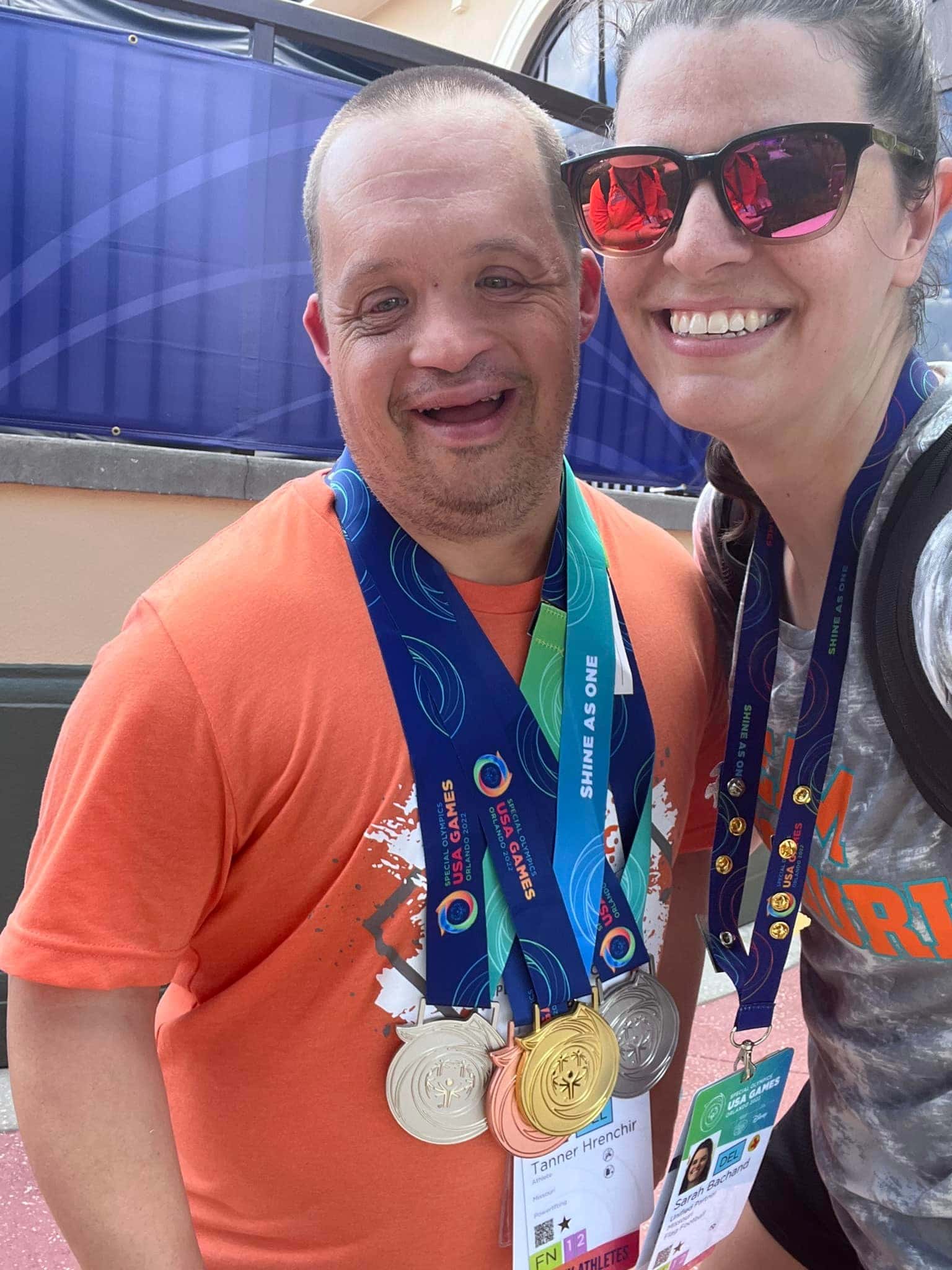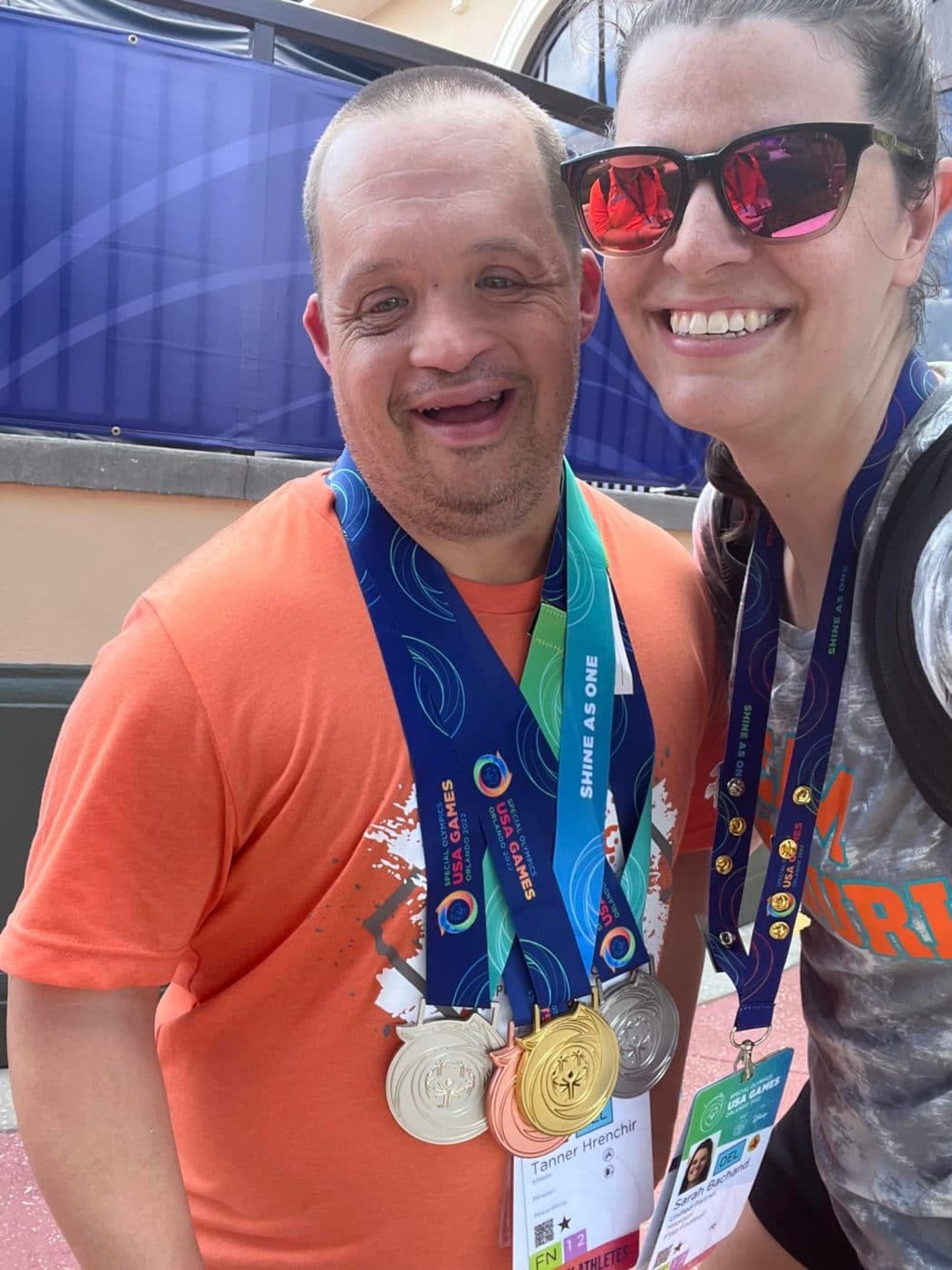 RESULTS:
Aquatics:
Mariah Lucero (Aquatics) — 100 yard freestyle-1:54.70 (2nd place)
Aaron Raines (Aquatics) — 100 yard freestyle- 1:49.63 (gold)
Gaige Wolthis (Aquatics) — 100 yard freestyle -1:21.62 (gold) – 50 yard backstroke- 50.42 (silver) – 50 yard Freestyle- 35.06 (silver)
Anna McDaniel (Aquatics) — 50 yard 1:09.34 (bronze)
Abigail Bax — 50 yard freestyle 57.94 (bronze) Drew Thompson – 50 yard freestyle 47.88 (bronze) Athletics Alyias Bass — 100 M run (1st place)
Elvis Snyder (Aquatics) –1 00 M run- (8th place)
Leah Shoemaker — Mini Jav (1st place) -Running Long Jump (1st place) -100 meter run (5th place)
Janel Ronneburg — 100 meter run (2nd place) – running long jump (2nd place)
Liam Arbuckle — 800 M Run (4th place) (PR)
Shyanne Pyatt — 800 M run (4th place)(PR)
Jody Davis — Mini Jav (5th place) Kayla Brewer – Mini Jav (4th place) Bocce Doubles
Bocce:
Morgan & Jennifer (6th place)
Grace & Nichole (4th place)
Shirlene & Elizabeth (1st place)
Nick & Derek (5th place)
Unified Doubles -Larin & Tammy (Gold)
Macy & Antonio (4th place)
Jennifer & Joey (4th place) Bowling
Zach Tallevast & Robbie Gregg-Gold (unified doubles)
Jeremy Sebourn & Jim Sebourn – Gold (unified doubles) – Mens traditional
Brandon Nick short nick piel and Patrick (Bronze) Mens unified
Zach Jeremy Jim Robbie (Gold) Women's traditional
Alaina Jessica Angie Stephanie (Gold) Women's unified
Bowling:
Brooke Linda Bea Shaquana (Gold)
Tennis:
Ken lost his first competition match 5-7, 3-2 due to the hour of play expiring.
Florica won her first competition match 7-5, 2-1 due to the hour of play expiring. Florica and Peggy lost their first doubles competition match 0-6, 1-6
Flag Football:
KC Flag Football – lost 14-40 Golf – 2nd
Golf:
Doug and Cade Marian (unified) – 2nd
Scoot LaRue – 2nd
Sarah Byland – 4th
Mike Lowry and Michael Lunceford (unified) – Participation – Jim Osterholt and Matt Smithermann (unified)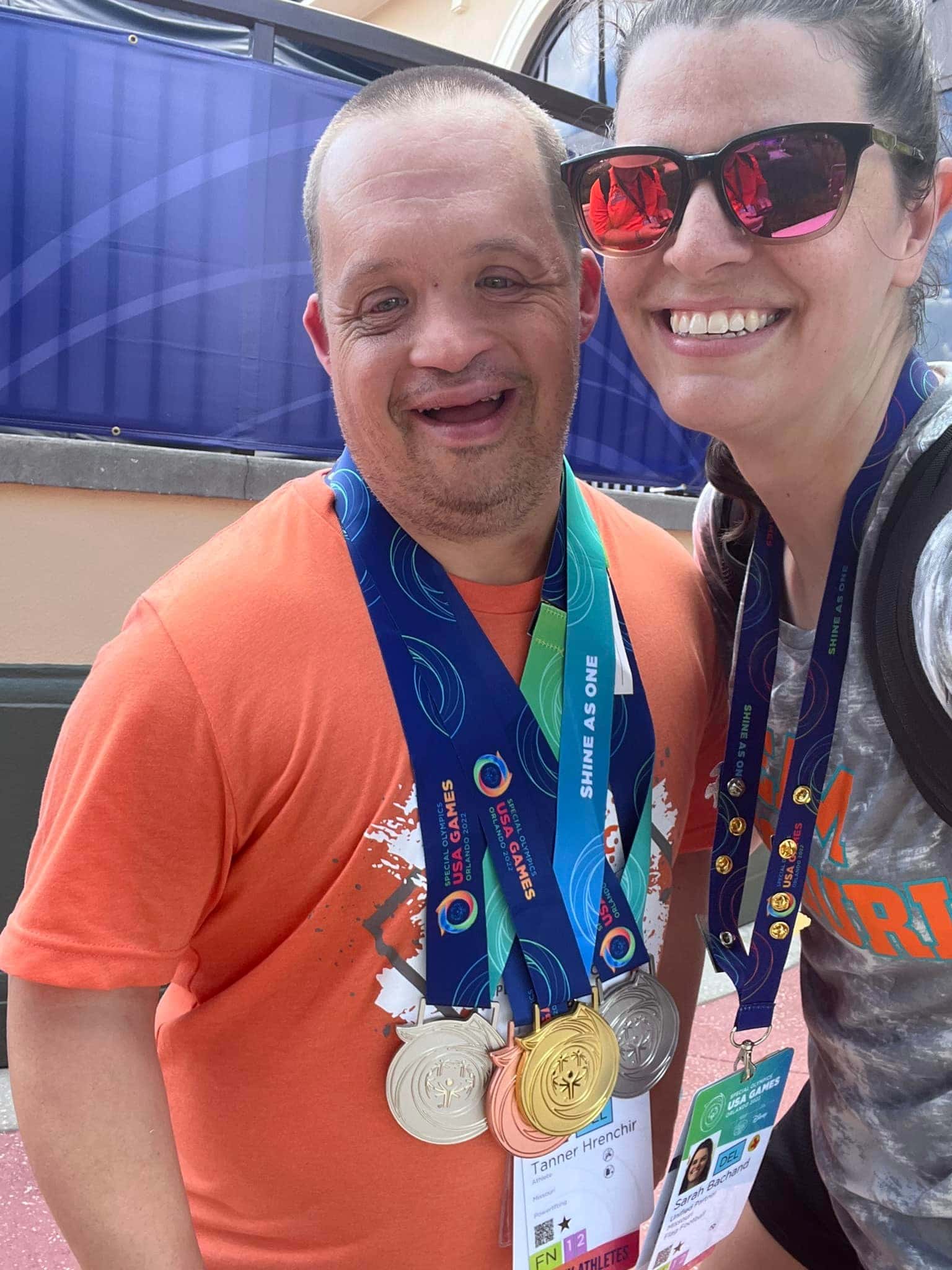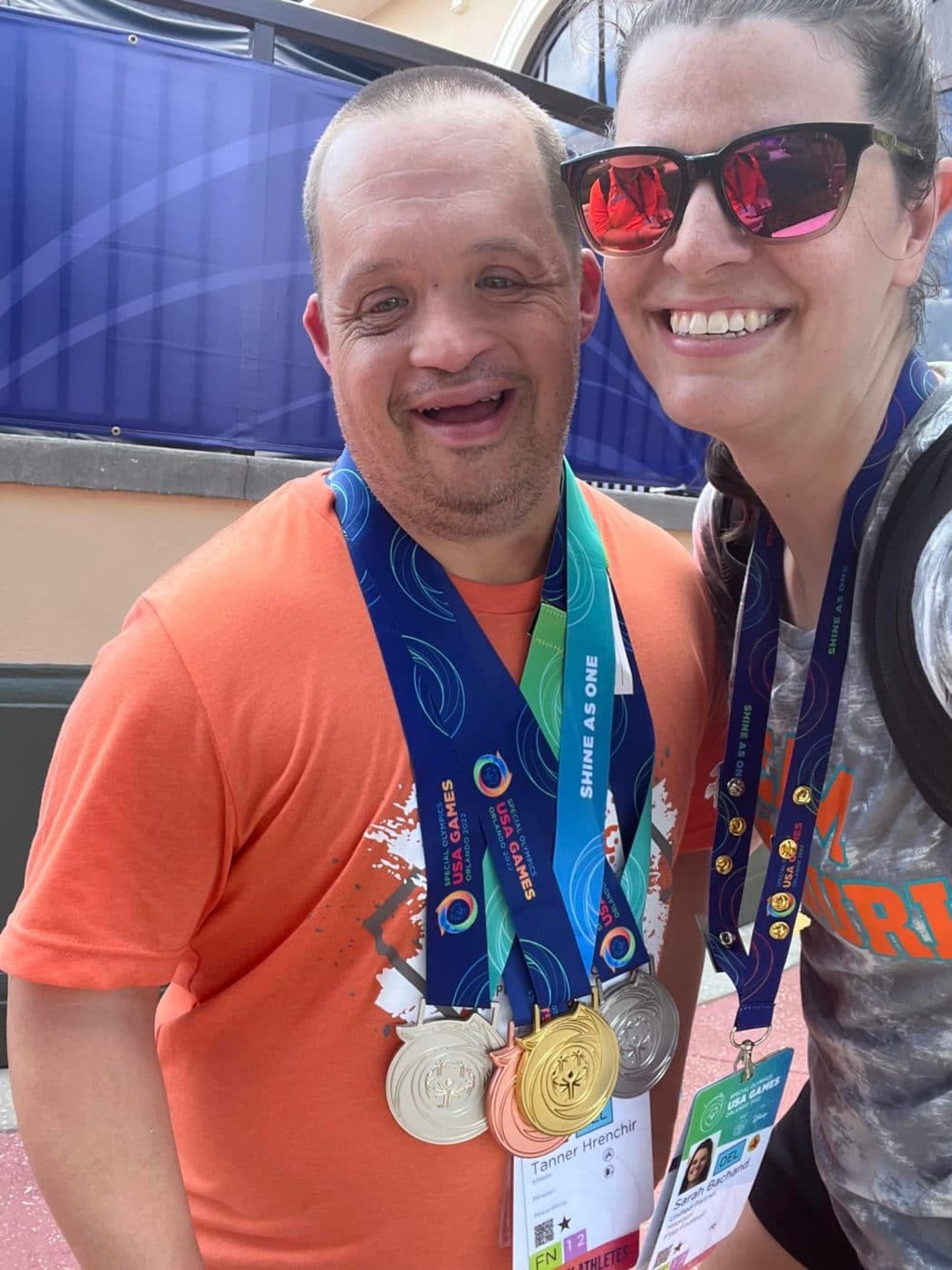 ATHLETE'S RECAP:
Gaige Wolthuis (swimming): I got up ate breakfast rode the bus and I went swimming and got 1st place.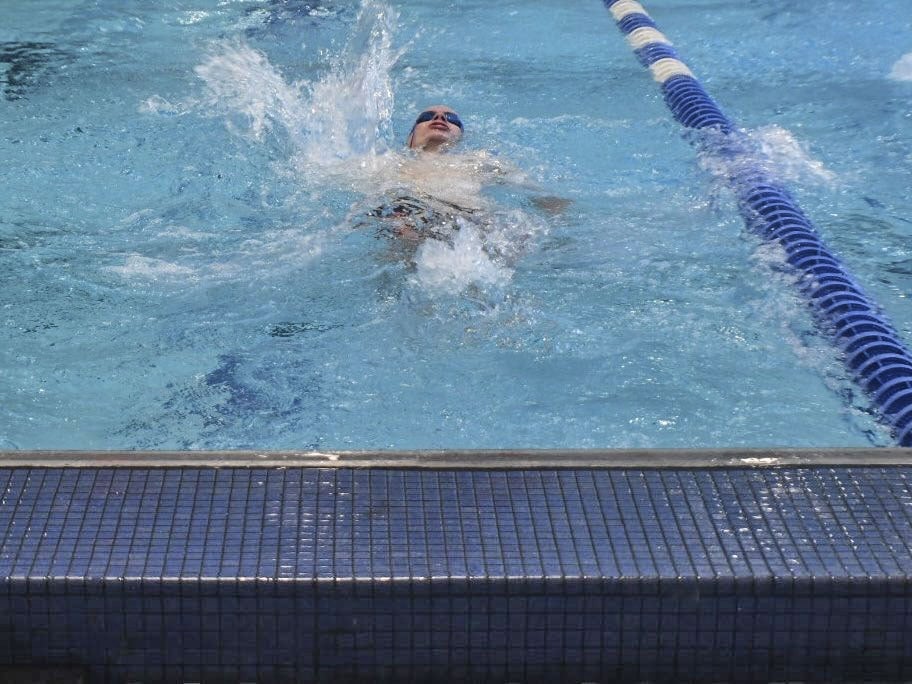 Jeremy Sebourn (bowling): We bowled teams. Robert Gregg, Jeremy, Zach Tallevast and myself. Jeremy shot a 194, 158, and a 145 for a series total of 497. Out series total for the team was 2187. We took gold. 2nd place team was 2179 and 3rd place team was 2160. We only had 3 teams in our division.
Michael Mohrmann (flag football): I think we my team and u did ok a little better then on Monday. For me I know I need to do better on blocking on offense for my Chase and Dillen our quarterbacks. But I was do ok for the most part just need to do better to help Chase to pass ball in time.
Jody Davis (track and field): Today was the last day of competition for me! I had mini javelin this morning. I gave it my all and I am 5th in the nation. We then waited out the storm an watched my teammates awards.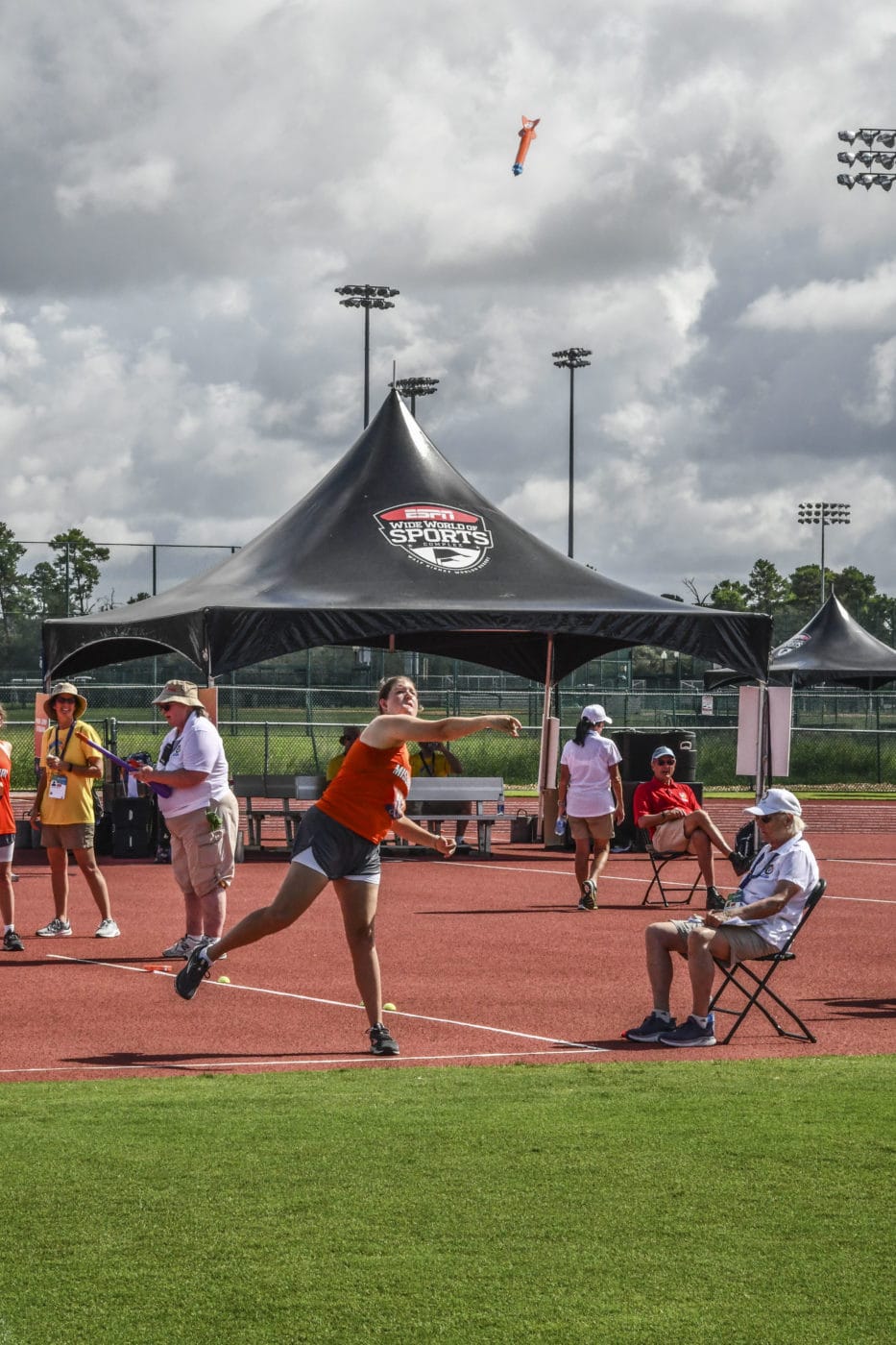 Florica Gault (tennis): I won my singles match (1st place) and lost our doubles (4th place) match but medal rounds are tomorrow.
Lynna Hodgson (PR Assistant): Day Seven Thursday June 9, 2022 This morning my alarm went off at 5pm. I got ready and left the room. I met up with the swimmers, we went to breakfast and then took a shutter to the swimming venue. They don't start until 9am. We got here at 9:10am. I checked in the media, they told me where I could go and the places I shouldn't stand to take pictures. Wow what a day. Everyone did a great job!